Farm incomes rose by 6% in 2014, thanks in part to declining input costs, according to Teagasc's National Farm Survey.
The rise brings the average farm income to €26,974.
The average figure is across all farm holdings, including many part-time and smaller farms.
The dairy sector had a particularly good year but the figures show that incomes of beef farm families fell and run at just one fifth of what diary farmers are earning.
This survey of farm incomes has been running for 40 years and aims to measure the financial performance of almost 80,000 family farms in Ireland.
Speaking at the launch of the survey, Dr Thia Hennessy of Teagasc said while prices received for farm outputs fell, farmers benefited from good weather and a recovery from the 2013 fodder crisis.
Dairy farmers benefited from increased production in the lead-up to the abolition of milk quotas, however as a result of this some farmers were also penalised for over-production through superlevy bills.
A turbulent year in the beef sector saw lower slaughter prices lead to a 12% fall in income for beef finishers.
Farmers involved in cattle rearing for the beef sector did however experience an 8% rise in income compared to 2013.
Income on sheep farms rose by 24% in 2014, although this is still lower than the average income recorded in 2012 following a steep fall in income in 2013.
Good growing conditions and falling prices combined to leave the average income on tillage farms almost unchanged at €28,468.
The average income on dairy farms was almost €69,000 in 2014, compared to an average of just over €10,000 on cattle rearing farms.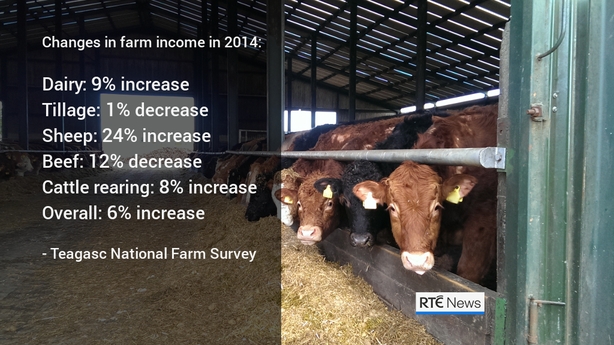 Less than 20% of Ireland's farms earned an income of €50,000 or more, while 40% earned less than €10,000.
The Teagasc report also noted farming continues to rely on direct payments, with the average direct payment of €18,859 comprising 70% of average farm income.
Responding to the figures, IFA President Eddie Downey said they show "profitability at farm level remains a major challenge".
Mr Downey also said the increase in income was due to a drop in input prices rather than due to stronger prices for farm produce.
The survey also shows the typical farmer in Ireland is now 57-years-old, the average farm is 47 hectares, and 51% of farm households have off farm employment.
It shows the average income subsidy payment to farmers was €19,000, but that without that income the average cattle and sheep farmers would have made no money at all.