The Stormont Assembly has rejected a proposed bill on welfare reform.
The vote was 58 in favour and 39 against, but Sinn Féin and the SDLP used a mechanism where measures require cross-community support to block the legislation.
The DUP now wants the British government to intervene and take control over welfare policy in Northern Ireland.
During the debate that began this morning, sharp divisions emerged between the two main parties leading the power-sharing administration, the DUP and Sinn Féin.
The DUP's Arlene Foster said Sinn Féin's position was influenced by electoral considerations in the south and accused it of indulging in fantasy politics.
But Sinn Féin's Martin McGuinness, Northern Ireland's Deputy First Minister, said: "the crisis we are facing is not of the making of the parties in the Executive.
"It has been created by the austerity cuts agenda of a Tory administration in London, which is attempting to decimate our public services and punish the most vulnerable people in society."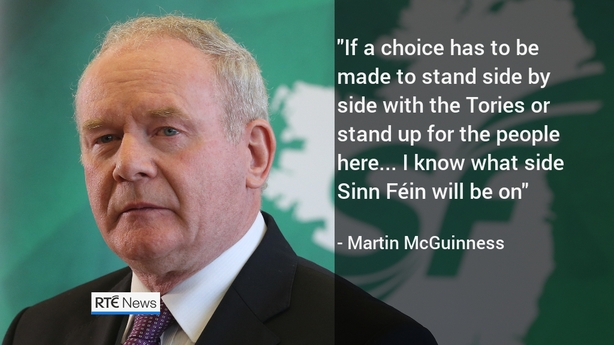 Minister for Foreign Affairs Charlie Flanagan earlier said the impasse over welfare reforms in Northern Ireland has serious implications for the stability of the political institutions at Stormont.
He said the Government has agreed that every effort must be made to encourage the parties to reach an agreement that is "politically acceptable and financially viable".
Introducing the welfare reforms was a key plank of December's Stormont House Agreement.
Failure to introduce the changes will endanger other deals struck at Stormont, such as the devolution of corporation tax powers and new structures to address the legacy of the Troubles.
But it will also pose a real existential threat to the Executive, as ministers will have failed to remove the burden of Treasury penalties for non-implementation, which are currently running at around £10 million a month.
DUP First Minister Peter Robinson was absent from the debate after suffering a suspected heart attack yesterday morning.
He was visited in Belfast's Royal Victoria Hospital tonight by two of his party colleagues, DUP Chairman, Maurice Morrow and Deputy Chairman, Rev Willie McCrea.
He is said to be making good progress after a procedure yesterday. Mr Robinson was briefed about developments at Stormont.