The Government is to support IAG's proposed takeover offer for Aer Lingus.
Minister for Transport Paschal Donohoe said that, following detailed discussions with British Airways' owner IAG, the group had provided additional information and "certain commitments" in relation to its bid.
Mr Donohoe said that the Cabinet was updated on the matter today and, following "detailed consideration", it was agreed that the Government would support the proposal.
Speaking at a press conference, Mr Donohoe said the takeover was the "best way for securing Aer Lingus' future in an increasingly competitive airline market".
In addition, he said the sale would be the "best means of securing and enhancing Ireland's connectivity with the rest of the world, and maintaining a vibrant and competitive air transport industry in Ireland".
Mr Donohoe said the deal would also be in the best interests of consumers and the wider tourism industry here.
Paschal Donohue says Govt has decided that it will support IAG's proposed takeover offer for Aer Lingus https://t.co/HKHWZvqG56

— RTÉ News (@rtenews) May 26, 2015
Mr Donohoe said the Government had obtained clear assurances from IAG - which were stronger than the assurances currently in place.
This will see the Aer Lingus brand remain, as will its head office in Dublin.
IAG has also said it plans to grow the airline and potentially add an extra 635 new jobs by the end of the decade.
The company also assured the minister there were no plans for compulsory redundancy, while it has agreed to include "legally binding" agreements in its offer letter in relation to Aer Lingus' Heathrow slots and other routes.
The existing slots at Heathrow will remain under Aer Lingus control and is "unlimited" in time.
Mr Donohoe said the Government will receive €335m for its stake in Aer Lingus but will retain one share in the airline.
Mr Donohoe said the sale proceeds would be used for a new connectivity fund under the State's Strategic Investment Fund.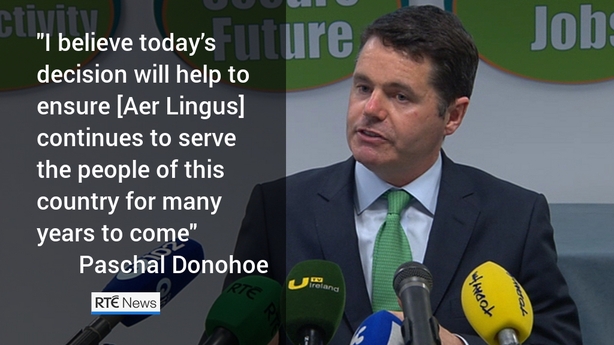 There has been mixed reaction to the Government's decision this evening.
Aer Lingus said: "This is a compelling transaction for Aer Lingus, its shareholders, its employees, its customers and for Ireland."
It added: "The company will reap the commercial and strategic benefits of being part of the much larger and globally diverse IAG Group and as a member of the oneworld alliance of 17 airlines that together carry over 500 million passengers."
However,  the IMPACT trade union "maintains the view that the proposed takeover of Aer Lingus is bad for jobs, for Aer Lingus workers and for Ireland's connectivity and economic development.
"The union remains concerned that any assurances given by either company offers no real guarantees to address these concerns."
IAG said the deal "is expected to provide substantial benefits to both IAG and Aer Lingus customers through an enhanced network, particularly to North America, using Dublin as a natural gateway hub for transatlantic routes".
In a statement released following the Government's decision, it said the company "has agreed the basis for legally binding commitments with the Government of Ireland which ensure that Aer Lingus will continue to hold its existing slots at London Heathrow".
IAG reiterated some of the assurances given as part of its offer, and said Aer Lingus will operate its current daily winter and summer scheduled frequencies between London Heathrow and Dublin, Cork and Shannon for at least seven years.
It added that it would operate the airline's other London Heathrow slots on routes to and from airports on the island of Ireland for five years post acquisition.
Furthermore, "Aer Lingus will operate all of its scheduled international air transport passenger services under the Aer Lingus brand, and maintain Aer Lingus as its registered name and its head office and place of incorporation in the Republic of Ireland, in each case unless otherwise agreed by the Minister for Finance of Ireland."
The group also said the offer was conditional on Ryanair accepting the offer and selling all its Aer Lingus shares to IAG.
Ryanair said the airline's board has not yet received any offer from IAG for its Aer Lingus shares and will not be commenting until it does receive an offer.
If and when it does receive an offer it will consider it on its merits.
Aer Lingus CEO gives assurances over jobs
Earlier, the CEO of Aer Lingus has said he did not expect compulsory redundancies, or the increased use of agency staff at the airline, if it is acquired by IAG.
In a letter to Minister Donohoe, Stephen Kavanagh said Aer Lingus has a "strong preference" to directly employ people "wherever this can be done efficiently and effectively".
He also said the airline's preference is to continue to use Irish crew bases - provided it continues to be as competitive and efficient as at present - and to only restructure its business when required.
In the letter Mr Kavanagh said employment and union-relations issues remain the responsibility of individual companies within IAG, meaning that these preferences should not change if a takeover goes ahead.
The airline also committed to expanding its existing registered employment agreements in order to include staff not already covered by them, he said.
"We believe that the collective agreements that we currently have provide flexibility and mobility across our workforce without unduly restricting other possible approaches," Mr Kavanagh says.
"Having clear registered employment agreements that safeguard the respective interests of employees and the company is mutually beneficial."