Fianna Fáil Senator Averil Power has announced that she is leaving the party and will continue in politics as an independent.
She said many Fianna Fáil TDs and senators had not canvassed for the same-sex marriage referendum and said that was the "final straw" for her.
The party's "cynical and cowardly" approach to the referendum campaign had prompted her decision to quit the party and become an independent senator, she said.
Ms Power said that Mr Martin is not an effective leader and that Fianna Fáil is not fit for government.
Fianna Fáil leader Micheál Martin said her comments do not paint a fair or true picture.
He hit back at her claims, saying that Ms Power's decision had more to do with her constituency convention than anything else.
She has in turn disputed his comments.
In a statement earlier today, Ms Power said she is "not in politics for the sake of it". She said she ran for election in 2011 because she "wanted to make a difference".
She said she thought Fianna Fáil "would learn from its mistakes and work hard to rebuild the trust of the Irish people by showing it had changed for the better".
Over the past few years, she said, she has "tried hard to help deliver that change" but has "repeatedly been rebuffed by my own party," she added.

On the same-sex marriage referendum, she said many Fianna Fáil TDs and senators had not supported a Yes vote and she said she was the only TD and senator who had conducted a proper canvass.
Some of those who were voting Yes were afraid to canvass for fear of losing votes, she said.
She said she had not spoken to Mr Martin about her decision ahead of her announcement but said he would not be surprised.
Ms Power also said she has not spoken to other members of her party about her decision.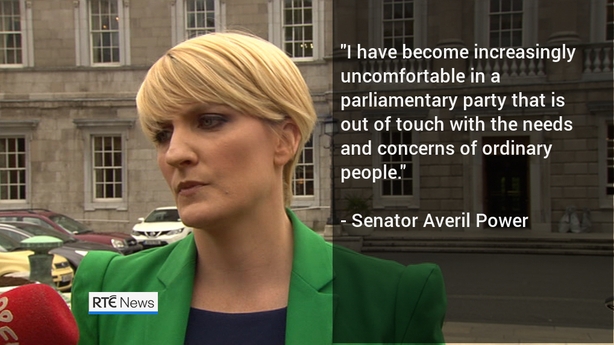 She also was critical of the implementation of the party's policy on female participation on politics.
Ms Power described the party as "out of touch" and not for government and said the party was afraid of taking a clear position on many issues.
She also said she made her decision a few weeks ago but did not want to resign in the middle of the same-sex marriage referendum campaign.
Speaking on RTÉ's News at One, Ms Power said if Mr Martin was the only problem with Fianna Fáil, she would have stuck it out, but she said she believes the party lacks cohesion and vision.

She said she could not ask the people of Dublin North to vote for a party she did not believe in.
Martin 'disappointed' with Power's decision
Meanwhile, Mr Martin said he is disappointed with Ms Power's decision and takes issue with a number of things she has said.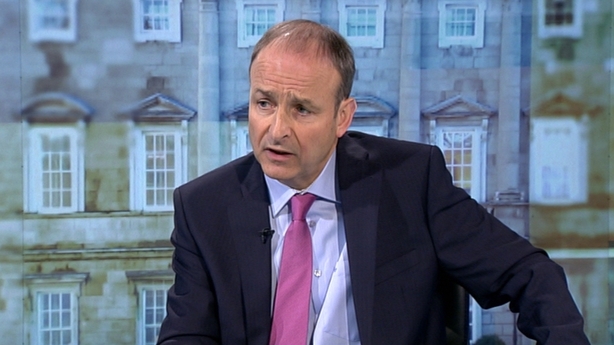 He told RTÉ's News At One that Ms Power gave no indication she was going to leave the party and he said he believes it is to do with the politics surrounding Dublin Bay North.
He said Ms Power got so much support from the party and he travelled the length and breadth of the country asking people to vote for her because he wanted her in the Senate, describing the intervention as "unprecedented".
Mr Martin said he is far more than a good communicator and the Fianna Fáil party has a distinguished reputation surrounding radical policies.
He said her assertions and comments are "disingenuous" and "not a fair or true picture".
Mr Martin said Ms Power had been saying for some time that she wanted to run in Dublin Bay North, irrespective of what was to happen in terms of the selection convention.
He said she made it clear to him that there should only be one candidate in a five-seater constituency.
Mr Martin said Ms Power said to him he should tell Seán Haughey that he should not put his name before convention, adding that Deirdre Heney did not seem to rate in her estimation.
He said that, essentially, Ms Power wanted him to suspend the internal democratic procedures of the party and he should, somehow, orchestrate her selection as the only candidate for Fianna Fáil in Dublin Bay North.
Mr Martin said the party did its own research in the constituency, which did not indicate that Ms Power, on her own, could win a seat for the party.
He said he felt that by imposing one candidate only was, simply, not right, proper or correct.
This evening, Ms Power disputed Mr Martin's comments.
Speaking on RTÉ's Ray D'Arcy Show, she said she met Mr Martin and the party's general secretary, separately, months ago who both said it was their view that only one candidate be run in her constituency.
She said she was told that she was the best-placed person to take the seat for the party because of her local work and national profile.
Ms Power said that they had discussed whether she would get through convention, or not, and she said that she thought she would.
She said that they had also discussed the risk of her not getting through convention and that they made it clear to her that she would be added.
Ms Power said that she has been unhappy for some time and that she has tried to change the party since from as early as 2011, when she called for Bertie Ahern to be expelled from the party.
She said she was later reprimanded by Mr Martin for this.
Speaking on RTÉ's Six One News, Mr Martin reiterated that he has no doubt that Ms Power's decision is related to the internal selection process within Fianna Fáil for the Dublin Bay North constituency.
He he described her resignation as vindictive and personal, saying that she never gave him any indication that she was going to resign and that she is overstating the case when she said she had a range of differences on a range of issues.
He said that he would have welcomed an opportunity for a conversation and discussion with her.
The Fianna Fáil leader paid tribute to Ms Power's contribution in the marriage referendum campaign and said that his party's campaign was on a par with most others.
Elsewhere, Fianna Fáil leader in the Seanad Darragh O'Brien has said that he disagrees with what Ms Power had to say in her statement and that he believes her resignation has a lot to do with local considerations in Dublin Bay North.
He told RTÉ's Drivetime that the Dublin Bay North convention will be competitive and that this has been a concern for Ms Power.
He said that Ms Power made serious charges in her statement and he finds this regrettable.
Senator O'Brien said that he and others support Mr Martin and that he does not believe anyone could have done a better job since 2011.