Former RTÉ broadcaster and PR executive Bill O'Herlihy has died aged 76.
He passed away peacefully at home this morning.
The Cork man retired from RTÉ last year, at the end of the 2014 World Cup, after a 49-year broadcasting career.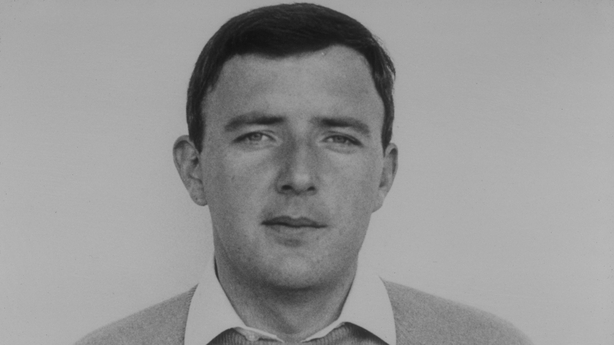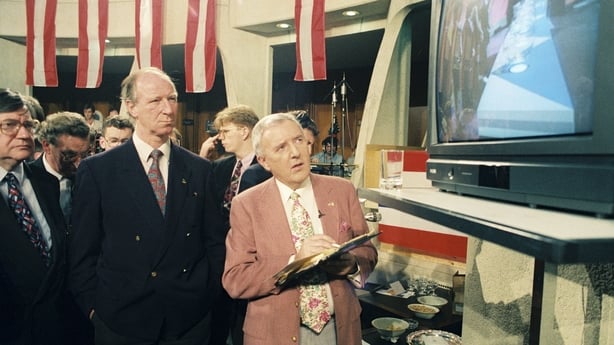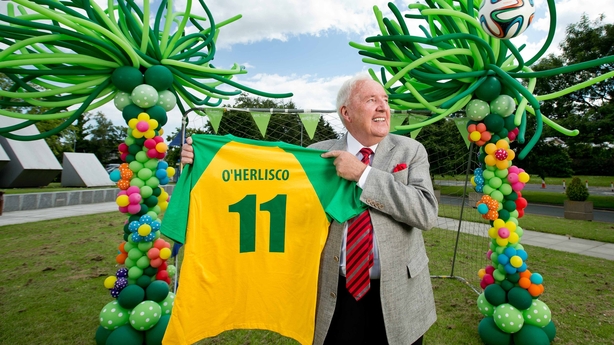 At 16, he became a journalist for the Cork Examiner.
His first broadcast for RTÉ was a piece on commemorations of the sinking of the Lusitania off the Cork coast for Newsbeat in 1965.
He later worked on the programme 7 Days, but moved away from news a year after an episode of the programme on illegal money lending became the subject of a tribunal of inquiry.
In 1973, he founded the O'Herlihy Communications Group.
He had worked in broadcasting since the 1960s, and had been RTÉ's chief sports presenter for major events such as Olympic Games, FIFA World Cups, UEFA European Football Championships and European and World Track and Field Championships.
Gallery: O'Herlihy's broadcasting career
Tributes to a broadcasting giant
O'Herlihy covered ten World Cups, including Brazil 2014, and ten Olympic Games.
He also presented the first Rugby World Cup on RTÉ television, as well as co-presenting the very first Sunday Game with Jim Carney in 1979.
He had a heart attack in 1984 and needed a major operation in 2007 because of a colon cancer tumour - but recovered to resume his place as anchor of RTÉ's soccer coverage.
He won a Jacob's award for his presentation of the 1990 World Cup, Irish Sports Journalist of the Year 2003, and in 2007 he was named the Irish Film and Television Academy's Television Personality of the Year.
He is survived by his wife and two daughters.
President Michael D Higgins led the tributes, saying: "Bill was the face of Irish sports broadcasting for several decades and his rapport with sports fans all around the country was legendary, especially as part of the panel which he chaired for major soccer competitions.
"Beginning his career in journalism at the age of sixteen, over 60 years he made a remarkable contribution to journalism, politics, public relations, broadcasting and our enjoyment of major sports events.
"Extremely professional in every detail of his work and knowledgeable in his endeavours; however, it was his unique capacity for humour which he used to connect with diverse audiences, which made him so special."
Taoiseach Enda Kenny said: "Throughout his career in the media, Bill was a consummate professional, both in current affairs journalism and, latterly in sports broadcasting.
"In his role in RTÉ sport, Bill O'Herlihy was central to many of Ireland's international sporting occasions and became a national treasure."
RTÉ Director-General Noel Curran also paid tribute to the former broadcaster, saying: "Everyone in RTÉ is devastated at today's news.
"Bill O'Herlihy was a giant of the sporting and broadcasting worlds in this country. His contribution to broadcasting was utterly unique.
"For decades he was at the centre of some of Ireland's greatest sporting moments," Mr Curran added.
Minister of State for Tourism and Sport Michael Ring said: "Bill was an absolute gent of a man, and was truly loved all over the country and was synonymous with all good things in RTÉ Sport over the years."
Sports pundit Eamon Dunphy said O'Herlihy made a massive contribution to the happiness people derived from sport and to the understanding of sport.