US Pentagon chief Ashton Carter has said Iraqi forces "failed to fight" in Ramadi, which has fallen to self-styled Islamic State militants, adding the troops lacked the will to defend themselves.
IS jihadists took control of the strategic city, the capital of Anbar province, a week ago, in Baghdad's worst defeat in almost a year.
Mr Carter said the city fell to the militants because Iraqi forces, despite strength in numbers, were not mentally ready for battle.
He told CNN: "What apparently happened was the Iraqi forces showed no will to fight. They were not outnumbered, and they vastly outnumbered the opposing force, and they failed to fight and withdrew from the site."
"That says to me, and I think to most of us, that we have an issue with the will of the Iraqis to fight ISIL and defend themselves," he said, using an alternative name for the group.
In the wake of Ramadi's capture, US officials announced that 2,000 AT4 anti-tank weapons were on the way to Iraq to help Iraqi troops counter massive car bombs.
But Mr Carter said training and equipping the army was of little use if the troops lacked the necessary morale.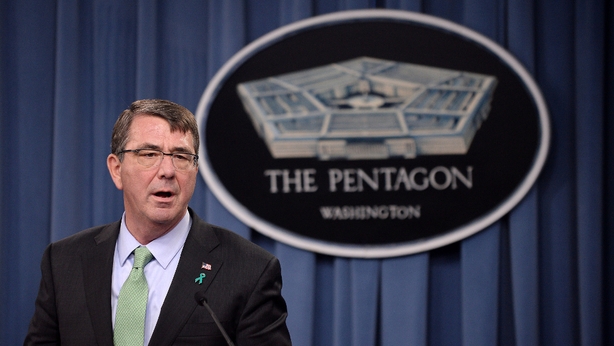 "We can give them training and we can give them equipment and we can't obviously give them the will to fight," he said.
However, he said he remained optimistic that the situation could improve.
"If we give them training and equipment and support and some time, I hope they will develop the will to fight because only if they fight can ISIL remain defeated," Mr Carter said.
On Saturday Iraqi forces retook territory from IS east of Ramadi, their first counterattack since the jihadists' capture of the city.
Three days after taking Ramadi, the ancient Syrian city of Palmyra also fell to the IS militants, putting its archaeological treasures in peril and positioning IS for a possible drive on Damascus.
Despite the recent losses, Mr Carter said the US-led air campaign against the group, which already controls large swathes of Iraq and Syria, is still working.
"Air strikes are effective but neither they, or really anything we do, can substitute for the Iraqi forces' will to fight," he said.
"They are the ones that have to beat ISIL and keep them beaten."