Minister for Justice Frances Fitzgerald has said today marks "a great message to send out to the world".
Speaking on RTÉ Television, Ms Fitzgerald said that legislation will be brought in this summer to make same-sex marriage a reality.
The minister said that today will lift a burden for young people.
Referendums are the will of the people, she said, and to be the first country in the world to vote in this way sends out a positive message.
Rory O'Neill, aka Panti, said: "It's an incredible day that even two years ago we could not have even dared to imagine."
He said the whole country came together and decided that "we are full and equal citizens".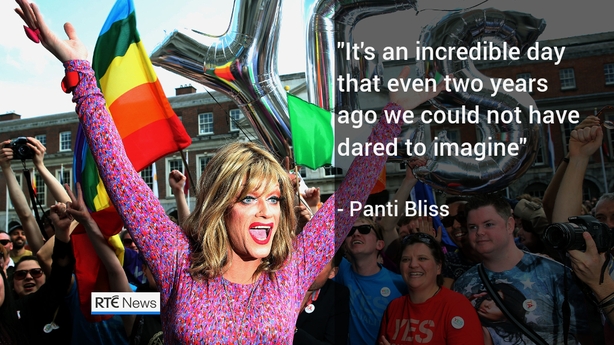 Minister for Health Leo Varadkar has said it is a really historic day.
Speaking on RTÉ Television, he said the campaign was more a social revolution than a referendum.
He said Ireland is set to be the first country in the world to enshrine marriage equality in its Constitution.
Ireland is now a beacon of liberty and equality, he added.
Minister for Health Leo Varadkar says the same-sex marriage referendum campaign was a 'social revolution' https://t.co/dEKYosLdBx

— RTÉ News (@rtenews) May 23, 2015
Taoiseach Enda Kenny said that a Yes vote will be a first globally and will send out a message of pioneering leadership from the Irish people.
Commenting on the number of young people who voted, he said that 60,000 registered especially for this referendum and made a real effort to express their vote.
Mr Kenny said Ireland was a small country with a big message.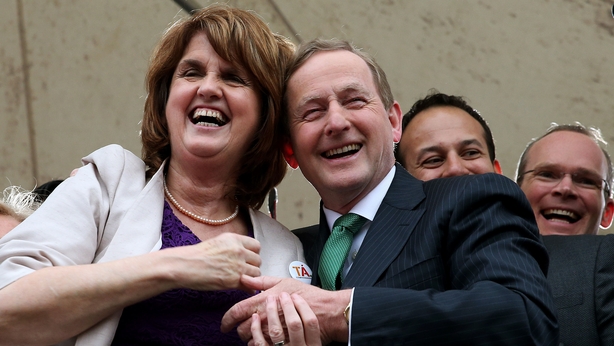 "Gone are the dark clouds that had me down, it's gonna be a bright, bright shiny day," Mr Kenny said. "Today Ireland made history I welcome that."
He said "today people truly answered Ireland's call," and that "all people now have an equal future to look forward to."
Tánaiste Joan Burton said "together the people of Ireland have struck a massive blow against discrimination."
Quoting the late US LGBT rights activist Harvey Milk, Ms Burton said "hope will never be silent".
The Tánaiste thanked her predecessor Eamon Gilmore, saying without him "today would not have happened"
The former Labour party leader Eamon Gilmore expressed his appreciation to the Taoiseach for his support on this issue and during the campaign.
Independent Senator David Norris said the Yes result was a vindication of his belief in the compassion, decency and tolerance of the Irish people.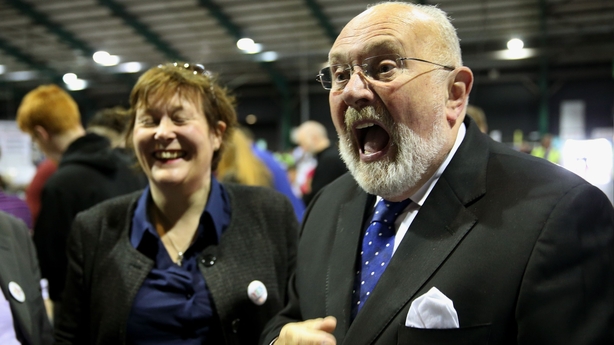 He said it was a placard up to the rest of the world, saying that this was the way to go.
Senator Norris made reference to a man who had died by suicide after suffering homophobic bullying.
He said on this day of triumph, it was appropriate to have a moment of remembrance for those people who died, who were casualties of this struggle.
Former minister Máire Geoghegan-Quinn paid tribute to Senator Norris and others who had fought tirelessly for equality over more than three decades.
Ms Geoghegan-Quinn was responsible for the decision to decriminalise homosexuality acts.
Speaking to RTÉ News at the Galway West count centre in Salthill, she said today shows that the country has come of age and that the passing of the marriage referendum was the end of a very long journey.
Live: Referendum and by-election counts
No groups happy to give 'voice' to people
Leading No campaigners congratulate Yes side
Sinn Féin leader Gerry Adams said it was a good day for equality and a good day for Ireland.
In a statement, he said: "Irish people have demonstrated that we are a decent, tolerant and compassionate people."
Sinn Féin deputy leader Mary Lou McDonald called it a "momentous day".
Speaking on RTÉ Television, she said that people all across the country had said, by a wide margin, that gay and lesbians are fully equal in the eyes of the law.
Fine Gael's Director of Elections Simon Coveney said gay people in Ireland will feel "an extraordinary lift" in their souls today.
Right across the country, Ireland was seeing a big endorsement of a new attitude towards a minority that had been discriminated against for far too long, he said.
Speaking in Cork City Hall, he said today is about Ireland letting go of its "dark past".
Minister for Children James Reilly said the result would send a loud message that Ireland is an inclusive country.
Senator Katherine Zappone said every person who had voted Yes, and all of those who had campaigned, had got Ireland to this point.
While speaking to RTÉ News, Senator Zappone asked her wife, Dr Ann Louise Gilligan, to marry her in Ireland.
After saying "yes", Dr Gilligan recalled that she was a Loretto Nun at 17 years old.
She said that today's result "has saved us from prejudice and all the rejection of old".
Senator Katherine Zappone has proposed to her partner Ann Louise Gilligan live on RTÉ's referendum coverage https://t.co/ZnCfMqwmcI

— RTÉ News (@rtenews) May 23, 2015
Former minister Pat Carey said that "the signal that Ireland has given today is extraordinary".
He said he has been crying for half the day and added: "We invited Irish people to give us their hand and now we will return that trust and we will not let them down."
He thanked people who had been uncomfortable in voting Yes who had trusted the Yes side.
An alliance of Christian organisations also welcomed the outcome, saying it hopes that Catholic bishops and Protestant church leaders in Northern Ireland will drop their opposition to the campaign for marriage equality there.
Faith in Marriage Equality said it was delighted that so many people of faith voted to embrace their gay and lesbian fellow citizens.
In a statement, it singled out for praise the two Church of Ireland bishops, Michael Burrows and Paul Colton, who called for a Yes.
This evening, Bishop Colton said that he is proud to have been the first bishop to have supported the referendum proposal to legalise same-sex marriage.
He tweeted: "Watching the declaration of the marriage referendum result (on television)... Proud to have been the first bishop to support it."