Ireland has become the first country in the world to bring in same-sex marriage by a popular vote.
The official result was declared at Dublin Castle shortly before 7pm this evening.
A total of 1,201,607 people (62.1%) voted Yes and 734,300 (37.9%) voted No.
The total poll was just under two million.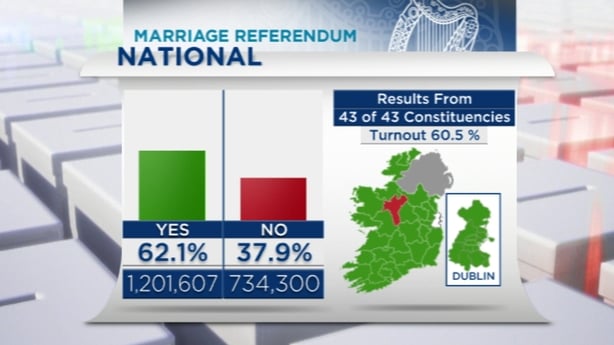 The result has been described as a social revolution, an expression of decency and a country coming of age.
The highest Yes vote, at almost 75%, was declared in Dublin South East.
One constituency voted No; the result in Roscommon-South Leitrim saw over 51% of voters there reject the marriage referendum proposal.
The tightest margin was in Donegal South - West where it was Yes by just a whisker, with only 33 votes separating the sides there.
More people voted in the same-sex marriage referendum than in any other since the foundation of the State, reflecting the growth in the size of the electorate, and the substantial numbers that applied for late registration.
Over 1.9 million voters turned out yesterday compared with over 1.8 million who voted in 2004 in the poll to restrict Irish citizenship.
Over 1.6 million voted in the divorce referendum 20 years ago.
Meanwhile, the referendum on the age of presidential candidates has been defeated.
In the Carlow-Kilkenny Dáil by-election, Fianna Fáil's Bobby Aylward has been elected.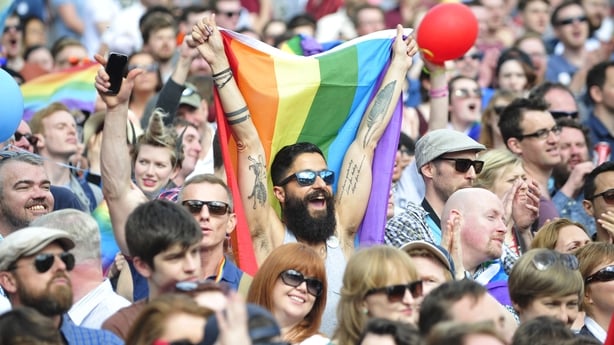 Reacting to the result, Taoiseach Enda Kenny said "Gone are the dark clouds that had me down, it's gonna be a bright, bright shiny day".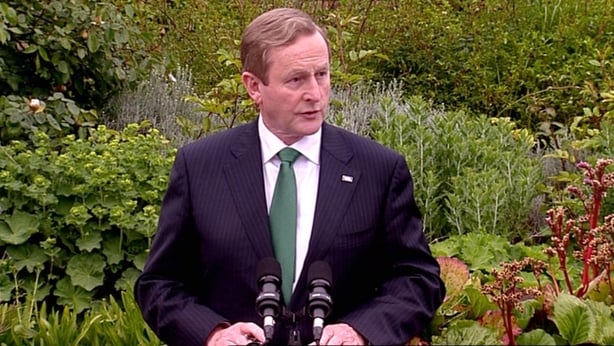 Mr Kenny said today "Ireland is a small country with a big message", adding "people truly answered Ireland's call". 
Tánaiste Joan Burton said "Together the people of Ireland have struck a massive blow against discrimination."
Quoting the late US LGBT rights activist Harvey Milk, she said, "Hope will never be silent."
She also thanked her predecessor, former Labour party leader Eamon Gilmore, saying without him "today would not have happened."
Mr Gilmore stood over his comments made in mid-2012, that gay marriage was "the civil rights issue of a generation".
He said this referendum "was a moment where Irish people expressed their decency and their generosity".
Minister for Justice Frances Fitzgerald said that legislation will be brought in this summer to make same sex-marriage a reality.
Minister for Health Leo Varadkar said it was a special day.
"It seems to me that the Irish people had their minds made up on this some time ago," he said.
Minister for Agriculture Simon Coveney said right across the country there is a big endorsement of a new attitude towards a minority that had been discriminated against for far too long.
Rory O'Neill, aka Panti Bliss, said: "It's an incredible day that even two years we could not have even dared to imagine."
Crowds began gathering in the upper courtyard of Dublin Castle from around 9.45am on Saturday morning to watch the declarations being announced for the results of the referendums on the big screen. 
Lines of people outside Dublin Castle to get in for the #MarRef declaration pic.twitter.com/HPIHOdIvkj

— Conor Barrins (@ConorBarrins) May 23, 2015
Huge crowd now at Dublin castle #MarRef #rtenews pic.twitter.com/RJi2vNnubH

— Martina Fitzgerald (@MartinaFitzg) May 23, 2015
Senator David Norris, one of the key figures in having homosexual acts decriminalised in the 1990s, said it was a wonderful result.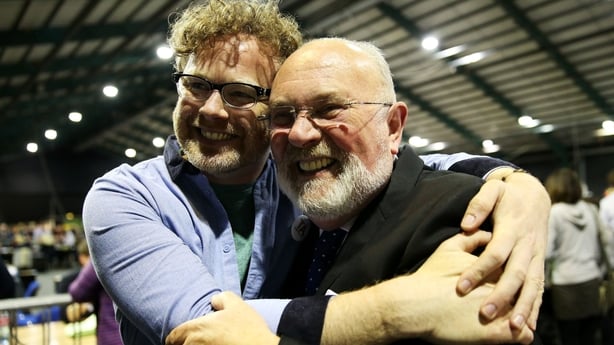 "I believe that by the end of today gay people will be equal in this country. I think it's wonderful," he said.
"It's a little bit late for me. As I said the other day I've spent so much time pushing the boat out that I forgot to jump on and now it's out beyond the harbour on the high seas, but it's very nice to look at."
Director of the National Youth Council of Ireland Mary Cunningham praised a new generation of voters for making a difference.
"It represents a victory not only for the Yes side, but also for Irish society, Irish democracy and the young people of Ireland," she said.
"This result sends a strong message to young people across Ireland that they are valued equally; and that we want to promote respect and eliminate homophobia."
Yes Equality spokesperson Grainne Healy said: "It's an extraordinary day.
"We were going out not telling people to vote Yes, we were going out saying I am voting yes and I'd like to tell you why. That's how the campaign started and that's how it has worked."
Senator Katherine Zappone said she had anticipated a Yes but was not sure how wide the margin would be.
She said every person who had voted Yes and all of those who had campaigned had got Ireland to this point.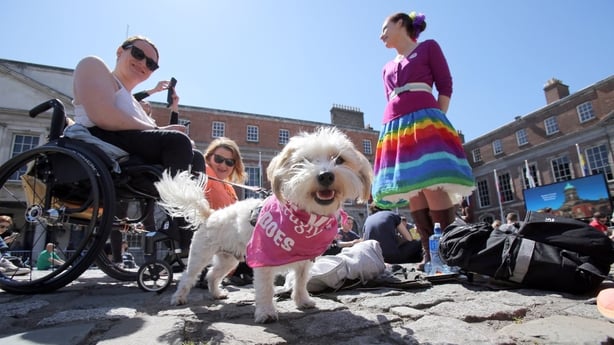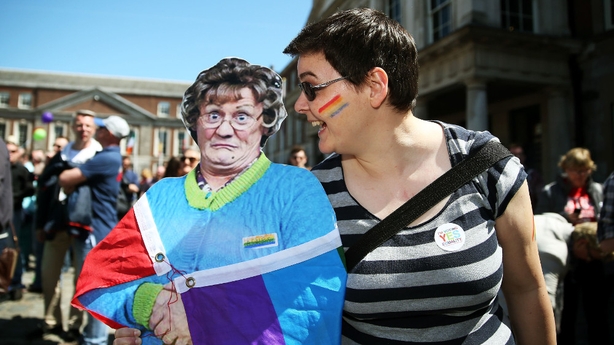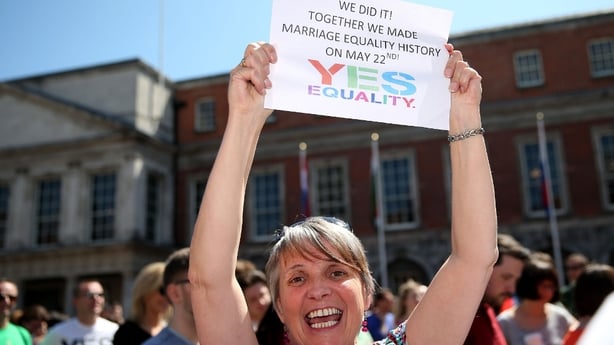 No campaigners congratulate Yes side
A number of campaigners against same-sex marriage have offered congratulations to the Yes side. 
David Quinn of the Iona Institute said: "Obviously there's a certain amount of disappointment but also I'm quite philosophical about the outcome."
Congratulations to the Yes side. Well done. #MarRef

— David Quinn (@DavQuinn) May 23, 2015
He said that going forward the institute will continue to affirm the importance of the "biological ties and of motherhood and fatherhood".
In a statement, the Iona Institute said it was "proud to have helped represent the many hundreds of thousands of Irish people who would otherwise have had no voice in this referendum because all of the political parties backed a Yes vote".