The Upper Courtyard of Dublin Castle will be open tomorrow, allowing people to view the declarations for the referendums on same-sex marriage and presidential-age, on a big screen.
The voting period finished at 10pm this evening with polling stations reporting an "unusually high" electorate turnout.
Residents of the Carlow Kilkenny constituency also voted in the Dáil by-election.
This evening Minister of State Simon Harris announced the grounds of Dublin Castle will be open to 2,000 people on a first come first serve basis, from 9.45am.
The area will marshalled for health and safety reasons and access to the courtyard will be closed when the crowds reach 2,000.
A result is expected by mid to late afternoon.
Turnout figures at the close of polling
The final turnout in the Dublin county area reached 65%, covering the constituencies of Dun Laoghaire, Dublin South, South West, Mid West, West and North.
In the city area turnout was slower in some areas with just 39% voting in Dublin Central by 9:30pm and 46% in both Dublin North West and South East.
Some of the Limerick City suburban polling stations reported a final turnout of 70% at - one of the highest in the stations history.
At the St Paul's School polling station in Dooradoyle in Limerick, voting was busy throughout the day with the final turnout at 65%.
In polling stations on the eastern side of the city the turnout was 43%.
Roscommon - South Leitrim reported a turnout of 65.7% in the Athlone area, 57% in the Roscommon town area, 61.5% in Boyle, 53.4% in Castlerea and 58.6% in Ballaghaderreen.
In Tipperary turnout ranged between 50 -60%, significantly higher than usual for referendum votes.
Cavan-Monaghan reported a turnout of just under 52%.
In Cavan polling ranged from 48 – 54%. In Monaghan a 52% voter turnout was recorded at booths in mid and north of the county.
The final turnout in Waterford reached 69%.
Offaly rural turnout was recorded as 70.5%.
The turnout in Galway City reached between 52 – 58%.
Numbers were high in Galway West, especially in rural areas, with Moycullen reporting voter numbers at 58%, Cararoe reporting 45%.
In north Louth the turnout for Dundalk town reached 70%.
In Drogheda the final turnout was recorded as at least 56%, possibly higher.
The Dublin Road in Drogheda had 66-67% voter turnout, while between 42 – 43% was recorded in the Rathmullen and Finian's Park area.
Turnout topped 65% in some urban areas of Sligo, with a figure of 66% recorded in Scoil Ursual.
In Clare there was an average turnout of 54%, the highest figure recorded for the county was 63% in the East Clare town of Tulla.
The turnout in Kerry North-West Limerick reached an average of 55% and a high of 58% at one urban polling station in Tralee.
Overall indications from across the country suggest voter turnout has been higher than in recent referendums with Dublin, Limerick and Waterford passing the 60% electorate turnout mark.
Large numbers of young voters were noted across all constituencies, with queues reaching outside the door at several polling stations during rush hour periods.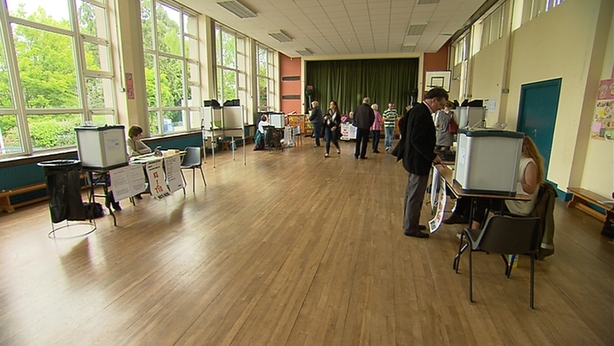 Over 60,000 registered in recent weeks to vote in today's referendums on same-sex marriage and whether to reduce the minimum age of presidential candidates from 35 to 21 years.
More than three million people were entitled to vote.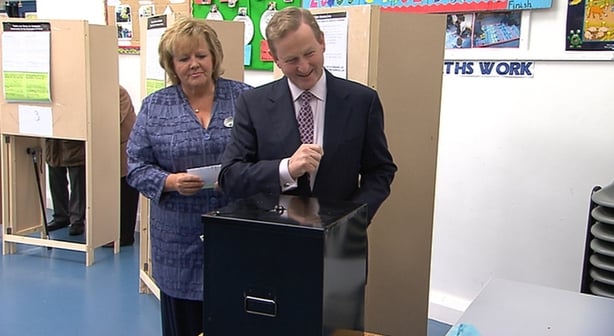 Taoiseach Enda Kenny voted at St Anthony's School in Castlebar, Co Mayo shortly after 10am, accompanied by his wife Fionnuala.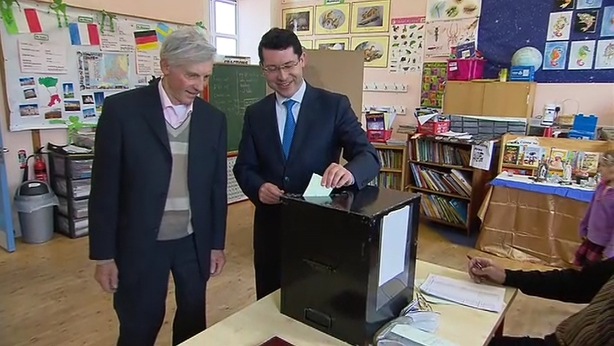 Independent Senator Rónán Mullen cast his ballots in the two referendums at Kilglass National School near Ahascragh in Co Galway just after 12pm.
Department explains why polling stations have Bibles