President Michael D Higgins and his wife Sabina have attended a private dinner, hosted by Prince Charles and his wife Camilla.
The dinner, held at Lough Cutra Castle near Gort in Galway, marks the end of the first day of the Prince of Wales' official visit in Ireland.
Prince Charles and his wife will spend the night at the caste, where tight security measures remain in place overnight.
They will depart in the morning for a day of engagements in Co Sligo.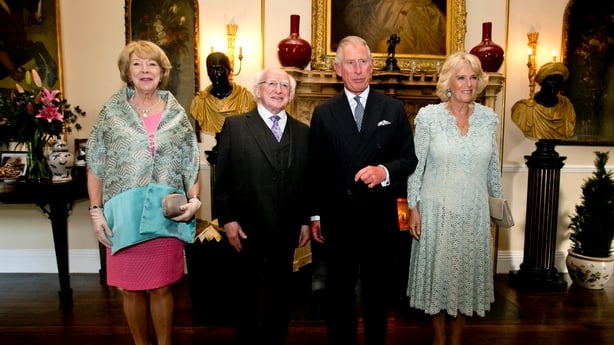 The royal couple arrived at Shannon Airport this morning.
They visited NUI Galway where they were greeted by a number of Irish dancers.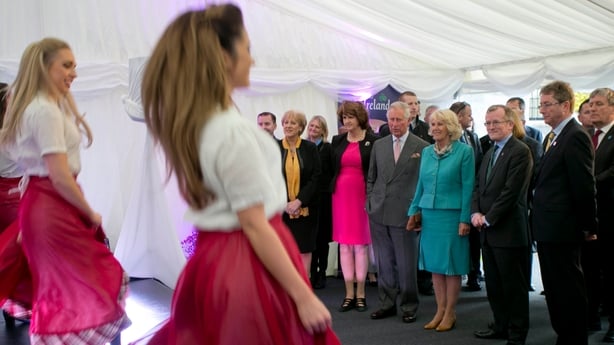 Speaking to a crowd of around 150 guests Prince Charles said it was a great pleasure to be in the west and that he had been overwhelmed by the welcome he had received.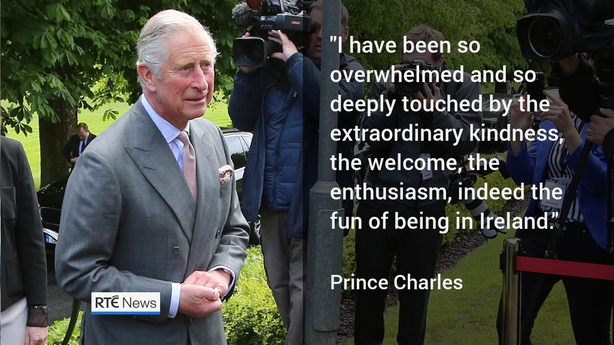 Prince Charles and Sinn Féin Gerry Adams shook hands during the event at the university.
Following the function Mr Adams, Northern Ireland Deputy First Minister Martin McGuinness and Senator Trevor Ó Clochartaigh met privately with the prince for between 15 and 20 minutes.
Speaking after the meeting, Mr Adams said he had welcomed Prince Charles to Ireland: "I said céad míle fáilte - welcome back."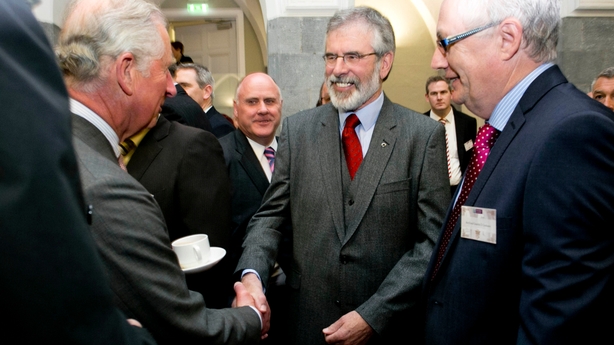 Mr Adams said he told Prince Charles in Irish and English that he was glad he was back on the island of Ireland.
He said he told Prince Charles that the visit could be built upon.
Mr Adams said they also spoke about the loss of family members.
He said they had a "good meeting" and he described it as a "big thing for him [Prince Charles] to do it and a big thing for us".
He said that given where they had come from, he and Mr McGuinness and Mr Ó Clochartaigh would not ordinarily have had a lot in common with a British Monarch, however they had had a meeting of minds.
Historic Handshake - Sinn Féin's Gerry Adams and Britain's Prince Charles shake hands in Galway https://t.co/x8CZBO0OyA

— RTÉ News (@rtenews) May 19, 2015
He said Prince Charles reflected on how he had suffered loss, and how this had given him an affinity for other people's loss.
Mr Adams said "he and we expressed our regret for what had happened from 1968 onwards".
Mr McGuiness said that "difficult issues" such as Mullaghmore, Bloody Sunday and Ballymurphy were met head on in the meeting.
The most important thing, he said, was that they were in a meeting with someone who wants to assist peace and reconciliation, and asked why they would not want to meet someone who was interested in doing that.
Mr McGuinness said that on his way into the meeting he was asked if he would apologise.
He said that in the meeting no-one asked anyone to apologise. 
Later in the afternoon the Prince of Wales visited the Marine Institute outside Oranmore.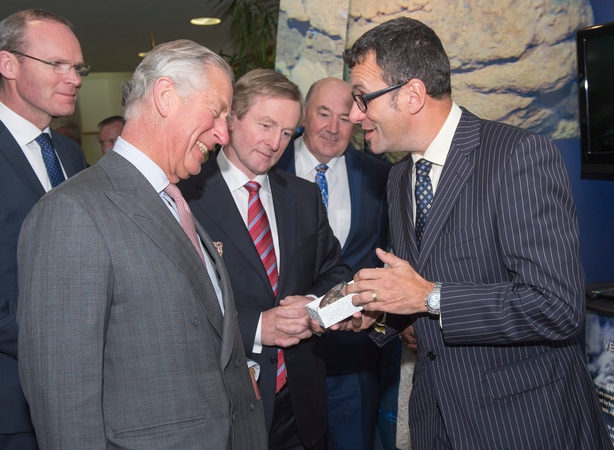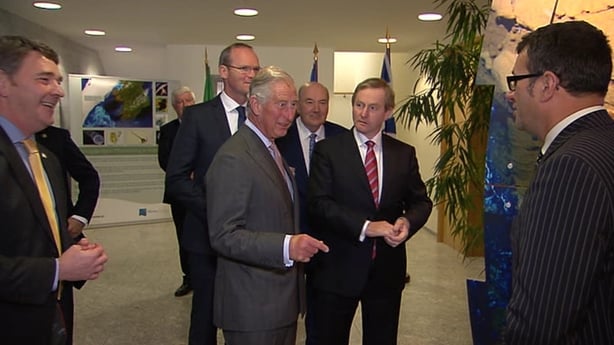 He then travelled to the Burren in Co Clare.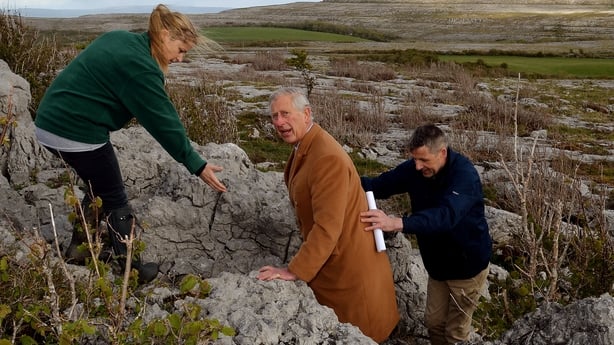 The Prince of Wales, who is a pioneer in organic and sustainable farming has long expressed a wish to visit the Burren - regarded as one of the most unique landscapes anywhere in the world.
The keen conservationist visited the farm of Patrick Nagle near Corofin, to hear about the challenges of farming to preserve the fragile ecology.
He also met Brendan Dunford of the Burren Life project, which has helped farmers to work successfully in this landscape.
He met members of the Burren Beo Trust, which has been spearheading an educational project about the Burren in schools for the past decade.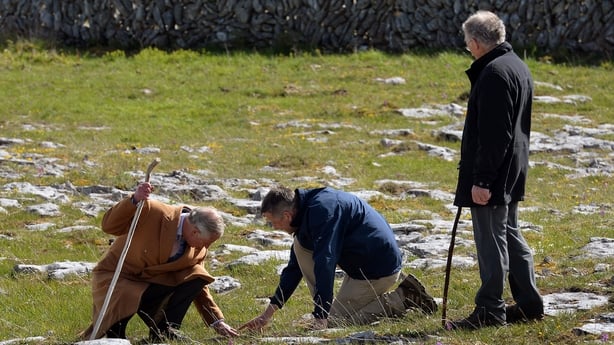 The Duchess of Cornwall spent the afternoon in Galway city, where she visited Claddagh National School and the Druid Theatre.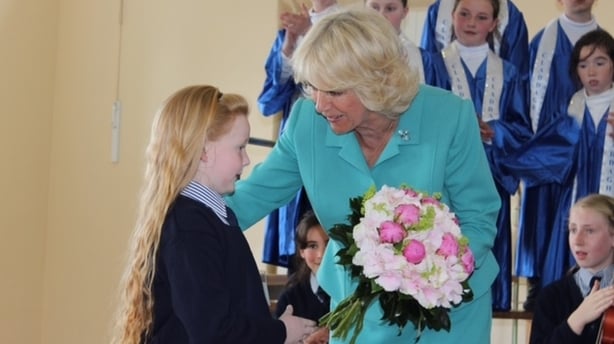 Small demonstration in Galway following the arrival of Prince Charles
This morning a small group of protesters opposed to the visit gathered at Eyre Square in Galway before moving to NUIG.
The protesters, from the Galway Anti-Monarchy Campaign Group, said they were opposed to the visit on the basis of the British army's actions both in Ireland and internationally.
They were also protesting the cost of the visit at a time of austerity both in Britain and Ireland.
Gallery of images from first day of the visit of Prince Charles and the Duchess of Cornwall