Minister for Health Leo Varadkar has said those campaigning for a No vote in the Marriage Referendum are "throwing up other issues" to try and change the argument surrounding same-sex marriage.
Speaking on RTÉ's Claire Byrne Live programme Minister Varadkar said he believes No campaigners are against marriage equality, but they know they cannot win on that argument so they are bringing in extraneous issues.
He said the referendum is about liberty and equality and we have a chance for Ireland to do something really wonderful for society.
Asked by Claire Byrne if he believes a male-female parenting couple is the same as male-male and female-female, the health minister said of course it is different but it can also be equal.
On Catholic ethos schools, the minister said schools will be able to educate the teaching of their church in religion class but in civics they will have to teach what the law is.
He also said the vote on Friday is not about surrogacy and there is no constitutional right to surrogacy.
Speaking on the same programme, Senior Counsel  and No vote campaigner Patrick Treacy said the referendum presents people with the thesis that the distinction of sex is irrelevant when it come to marriage, when in fact the very essence of marriage is the distinction as to sex. 
He said gender is hugely important in Ireland and we have gender quotas but when it comes to marriage and family we say gender is irrelevant.
He said in the last week there are concerns about donor assisted reproduction, surrogacy , education and the solemnisation of marriages and these should all have been studied and green and white papers done. 
We should not be writing an implied right to procreate for same-sex couples into our constitution, says Patrick Treacy on #MarRef #cblive

— Claire Byrne Live (@ClaireByrneLive) May 18, 2015
Fitzgerald 'wrong' on surrogacy issue - Mullen
Earlier, Independent Senator Rónán Mullen said Minister for Justice Frances Fitzgerald was wrong to say the issue of surrogacy was not bound up with the same-sex marriage referendum.
Speaking on RTÉ's Today with Sean O'Rourke, Mr Mullen quoted Mr Justice Kevin Cross of the Referendum Commission as saying that it was very difficult to imagine how you could in future give preference to heterosexual parenting.
Mr Mullen said an attempted ban on commercial surrogacy could be struck down by the courts and all of this uncertainty would be caused by a Yes vote, whereas a No vote would send the Government back to the drawing board.
He also said schools would be up against the equality police when it came to what they could teach in regard to marriage.
Speaking on the same programme, Ms Fitzgerald said people had huge concerns about surrogacy, particularly commercial surrogacy, but said it was primarily an issue that affected heterosexual couples.
The minister said as a country Ireland has big decisions to take in relation to surrogacy, but said it is "primarily a heterosexual couple as opposed to a same-sex couple issue".
Ms Fitzgerald also said statements made by Catholic bishops over the weekend were inaccurate, referring to letters read out in mass across several diocese in which a number of bishops called for a No vote, saying same-sex marriage would force religious institutions to teach contrary to their beliefs.
Referendums in Ireland – A quick look at past votes and turnout https://t.co/7NNvyisErF

— RTÉ News (@rtenews) May 14, 2015
The Catholic bishop of Clogher has said many fair-minded people have praised the Government's courage in tackling the challenge of ensuring the rights of same-sex unions are protected while the traditional Christian ideal is accorded its rightful place as the choice of the clear majority here.
Dr Liam MacDaid said many fair-minded people also question the wisdom of the Government's proposals in Friday's marriage referendum.
He also cautions that further reflection will be needed before the electorate makes any major changes.  
In a pastoral letter from the bishop of the border diocese to weekend mass-goers that was published today, Dr MacDaid says Catholics in general accept gay people's right to form their own relationships and to have the rights and responsibilities inherent in them enshrined in law.  
He adds that the vast majority of Irish people are baptised Christians whose beliefs, rituals, laws and practices relating to marriage and the family are drawn from the Word of God and the teaching of their Church and have a basis in reason.
He says if the people accept the Government's view that the union of same-sex couples is essentially the same as the marriage of a man and a woman, the Coalition administration would then remove all mention of mothers and fathers from a whole raft of previous legislation. 
"Getting things right in this fundamental area of people's lives would require the Wisdom of Solomon,"  Dr MacDaid writes.  
"Getting it wrong will almost inevitably further destabilise the family and society; it will pose major problems for legislation and enforcement in a society where a rich understanding of marriage and family is already in place and rooted over centuries," he said.
Meanwhile, the Mothers and Fathers Matter group has welcomed the "strong and clear clarification" provided by Judge Cross in relation to the issues of surrogacy, adoption and parenting.
The group, advocating a No vote, said it has "pointed out that a Yes vote would make it extremely difficult to pass a law giving married men and women priority over same-sex couples in matters of adoption, or surrogacy".
The Iona Institute has also said that Yes campaigners are trying to convince the public the referendum has nothing to do with surrogacy, something it claims is entirely false.
Atheist Ireland launches campaign for Yes vote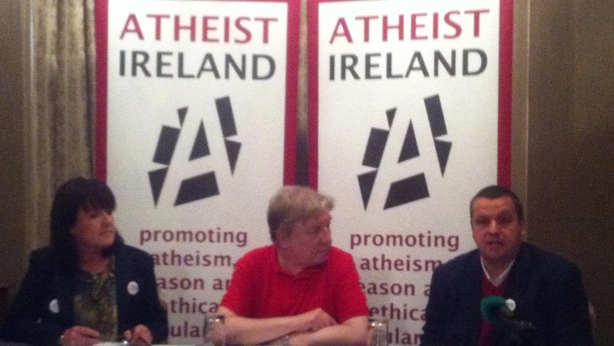 The Atheist Ireland group has called for a Yes vote in Friday's referendum, saying it will increase equality and decrease religious discrimination.
The group has also called for a No vote in the referendum to reduce the age of presidential candidates, as it says an atheist can never become president as they would have to swear a religious oath. 
It also made the point that a 21-year-old could still become president at 35 years of age, however an atheist can never hold the office because of the oath. 
Meanwhile, First Families First, which is calling for a No vote in the same-sex marriage referendum, has said it believes "the present Referendum Commission mechanism is deeply flawed, because of a built-in tendency to favour the side promoting a Constitutional amendment".
It called "for either a return to the model of Referendum Commission in place between 1998 and 2001, which we believe far more conducive to fair and balanced debates on referendum questions.
"If this is not possible, we would favour the complete abolition of the Referendum Commission," it said in a statement.