Three opinion polls for tomorrow's newspapers indicate that the Yes side is leading the Marriage Referendum campaign.
These poll results follow similar findings in an Irish Times Ipsos MRBI survey published this morning.
However all polls show the gap is narrowing, as a growing number of voters say they are undecided or intend to vote No. 
Tomorrow's polls all suggest the referendum on same-sex marriage would be passed if the vote was taken in recent days, however, there are evident differences across these results as to what exact percentage of voters intend to back the proposals.
The Sunday Business Post REDC poll finds 69% of voters would vote Yes, that is down three points.
While this poll saw the No vote jump by five points to 25% with 6% undecided, that is down two points.
A Sunday Times Behaviour and Attitudes Poll recorded a ten point drop in support for a Yes vote, it now stands at 63%.
The No vote rose by four points to 26% with the number of undecided voters also increasing, it is up six points to 11%.
A Sunday Independent MillwardBrown poll reported the biggest drop in the Yes vote.
It was down 13 points to 53% compared to the last poll in April.
The No vote increased by 3 points to 24% and there was an even bigger jump in the number of undecided voters.
It rose by 10 points to 23%.
These findings all suggest that with less than a week to go to polling the Yes side are leading this campaign.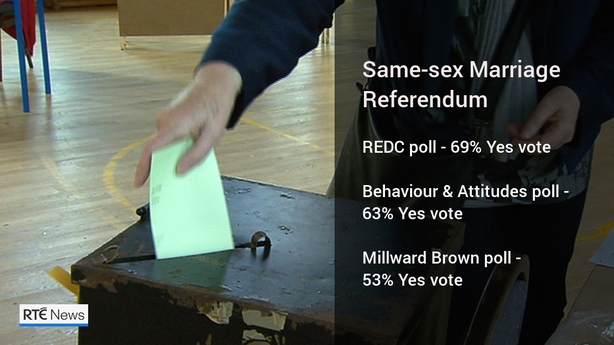 But an increasing number of voters are becoming unsure of their intentions or plan to Vote No.
That all makes for a frantic last week of campaigning for both sides.
Ipsos MRBI suggests majority Yes vote for marriage referendum
The Irish Times/Ipsos MRBI poll taken last Wednesday and Thursday surveyed 1,200 voters across the country indicates a majority vote for next Friday's referendum.
Asked how they would vote next Friday, 58% said yes, that is down six points on the last comparable poll in March.
Some 25% of those surveyed said they would vote No, this is up two points.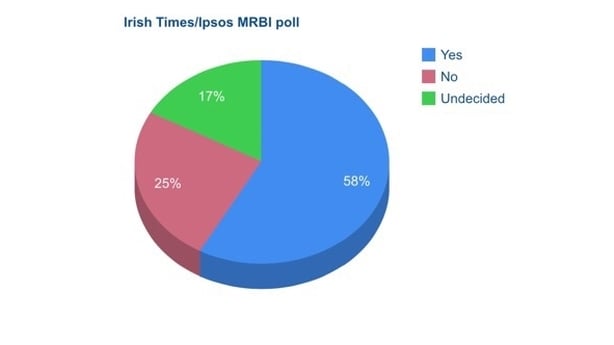 Meanwhile, there has been an increase in the number of undecided voters, it now stands at 17% of voters, which is up five points.
When you excluded those undecided voters, the poll finds that 70% (down 4 points) will vote yes and 30% (up four points) will vote No.
The findings show that younger voters are more likely vote yes while only a third of voters aged over 65-years are likely to vote that way.
The other referendum next Friday to lower the age of presidential candidates from 35 to 21 looks likely to be rejected.
When undecided voters are excluded 73% said they would vote No and 27% were in favour of the proposal, according this opinion poll that has a margin of error of almost 3%.