The Naval Service Flagship, LÉ Eithne, is en route for the Mediterranean to assist in the humanitarian operation to rescue migrants fleeing North Africa.
The Eithne, which departed from Cork Harbour today, has a crew of 68 Naval Service personnel and two medics from the Army Medical Corps.
The ship is expected to be deployed in the Mediterranean until the end of July.
This is the first time in the 59-year history of the Naval Service that an Irish Navy ship has been deployed in an overseas humanitarian search and rescue operation.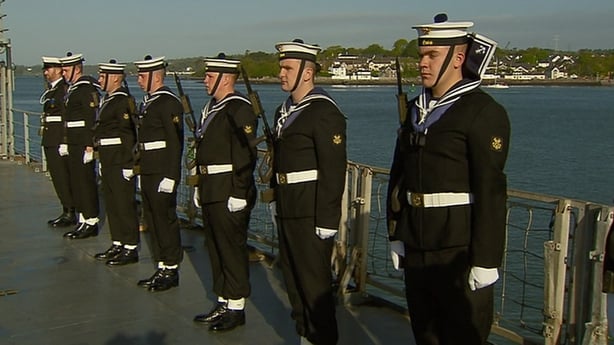 LÉ Eithne was chosen because of her large deck space, which could accommodate more than 200 migrants in an emergency.
The ship's deployment is part of the Government's response to the migrant crisis in the Mediterranean, with an estimated 40,000 people making the crossing from North Africa to Italy and Greece in the past four months. 1,700 people have died.
LÉ Eithne is expected to join the humanitarian operation immediately on its arrival in the Mediterranean.
Taoiseach Enda Kenny addresses the crew of LE Eithne in #Cork on her departure to the Mediterranean. @rtenews pic.twitter.com/vDFwuQYp6d

— Paschal Sheehy (@PaschalSheehy) May 16, 2015
The crew's deployment is expected to last for around ten weeks, when operational demands in the Mediterranean will be re-assessed.
Taoiseach Enda Kenny and Defence and Marine Minister Simon Coveney met the crew prior to their departure from the Naval Service headquarters this morning.