A meeting between Minister for Health Leo Varadkar and families associated with the Midland Regional Hospital in Portlaoise has ended tonight after five and a half hours of deliberation.
The minister was met by over 100 people at a hotel in Portlaoise, who told him their own stories with regard to treatments at the maternity services and other sections of the hospital.
Mr Varadkar did not comment after the meeting, but several of the mothers whose babies died at Portlaoise hospital said it was a useful meeting that heard many harrowing stories from family relatives.
The minister was joined by the Chief Medical Officer from the Department of Health Dr Tony Holohan and Susan Reilly, CEO of the Dublin and Leinster Hospital Group.
The parents have told Mr Varadkar they want guaranteed assurances that maternity services at the hospital are safe.
Earlier, Mr Varadkar said the future of the maternity service at Portlaoise hospital, or any other maternity service, cannot be guaranteed until an expert review group has reported back to him.
He said the hospital had a good future ahead of it.
However, he said areas which required scrutiny would be examined before any decision was made to close down a department.
The meeting comes after the publication last week of a highly critical report by HIQA on safety and standards at the hospital.
Going into the meeting, Shauna Keyes and Sharon McCarthy told RTÉ News that they had found the HIQA report to be outstanding but now wanted specific assurances that the hospital would be safe.
Last night, Mr Varadkar told the Dáil that patients and families were treated dreadfully and sometimes inhumanely at the hospital.
Meanwhile, the Health Information and Quality Authority has said that there must be the political commitment to improve quality, safety and governance in the health system, given the findings and recommendations in its report into Portlaoise hospital.
Speaking at the Oireachtas Joint Committee on Health and Children today, HIQA Chief Executive Phelim Quinn said that an unpublished HSE review last year concluded that 24/7 emergency care was not clinically sustainable at Portlaoise hospital and also that critical care there should end.
Call for action plan to deal with safety
The father of a baby who died at Portlaoise earlier called for a clear plan of action to deal with safety and standards at the hospital.
Mark and Roisín Molloy were among the bereaved parents who met Mr Varadkar today.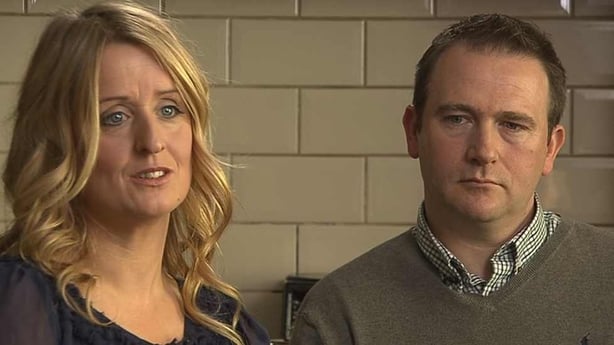 Speaking on RTÉ's Morning Ireland, Mr Molloy said the minister needs to clearly set out a plan following the publication of the highly critical report by HIQA.
"I hope people who maybe haven't had a direct voice to the minister for now get some answers themselves and I hope the minister doesn't just use this as a PR exercise."
He added: "I don't think he will in fairness to him, when I've met him, he seems genuinely concerned by this.
"But I hope he clearly sets out for people and puts their minds at ease about how he intends to deal with this thing going forward, it needs to be sorted out now once and for all," he added.
Mr Molloy also said he was very disturbed by the reports that a newborn baby had died at Cavan General Hospital.