A fresh 7.3-magnitude earthquake has hit Nepal and northern India, killing at least 41 people and injuring hundreds in the region.
Many buildings already weakened by last month's massive earthquake were sent tumbling to the ground this morning.
Most of the reported fatalities were in villages and towns east of Kathmandu, only just beginning to pick up the pieces after the massive earthquake on 25 April.
Villagers who watched their homes collapse said they only survived because they were already living in tents.
A US Marine Corps helicopter involved in disaster relief efforts in Nepal was declared missing while working in the vicinity of Charikot village, a spokesman for US Pacific Command said.
The spokesman said US military personnel were responding to the disappearance of the UH-1 Huey helicopter and the incident was under investigation.
Six US marines and two Nepalese soldiers were on board the helicopter.
The helicopter crew was overheard talking on the radio about fuel problems before the aircraft went missing.
Pentagon spokesman Colonel Steve Warren said US search lights have been suspended due to darkness but a ground search by Nepalese army troops in the mountainous area continued during the night.
"Essentially what we have right now is truly a missing helicopter. We simply don't know its location," Col Warren said.
Charikot was one of the villages hardest hit by today's earthquake, which the US Geological Survey said was centred 68km west of the town of Namche Bazaar, close to Mount Everest and the border with Tibet.
It was felt as far apart as New Delhi and Dhaka, the capital of Bangladesh.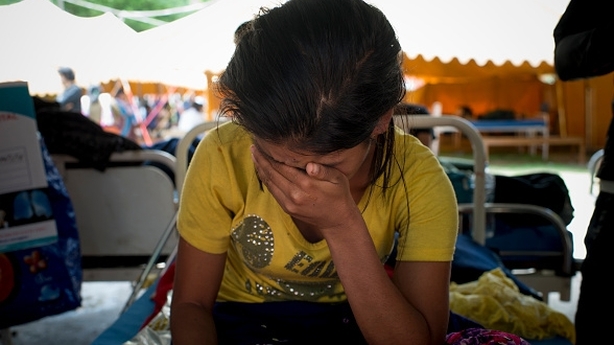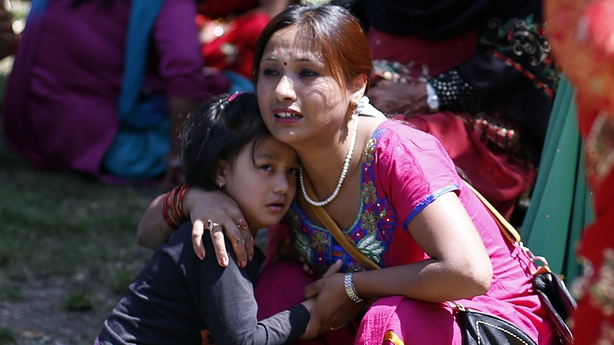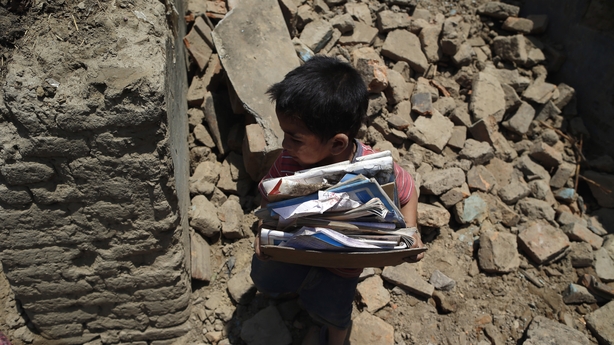 Aid workers reported serious damage to some villages seen from the air and witnesses reported seeing rocks and mud crashing down remote hillsides lined with roads and small hamlets.
The quake was followed by at least half a dozen aftershocks, including one 6.3 magnitude quake.
The temblor, which struck around 12.30pm local time, came just weeks after a 7.8-magnitude quake killed more than 8,000 people and damaged hundreds of thousands of buildings in Nepal.
The epicentre of today's quake was close to Everest Base Camp, which was evacuated after an avalanche triggered by last month's quake killed 18 climbers.
Mountaineers seeking to scale the world's tallest peak have called off this year's Everest season.
Nepal is still picking up the pieces from the devastation caused by last month's earthquake, the worst in more than 80 years in the country.
Hundreds of thousands of buildings, including many ancient sites, were destroyed and many more were damaged.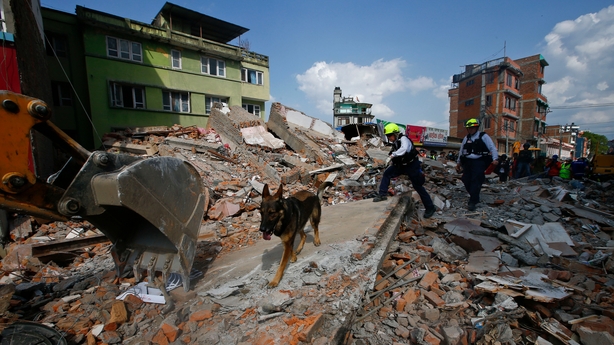 The Regional Director for GOAL in Kathmandu has said that the international community has not responded quickly enough and the problem has been exacerbated by the latest quake.
Speaking on RTÉ's Six One, Darren Hanniffy said the Nepalese government needs to make a coherent effort, along with the international community, to organise the shipment of supplies into the airport, into storage and out to the regions.
He said that there have been logistal challenges because, without the heavy-lift of air operations, emergency supplies can not reach those on the ground who need it most.
Mike Bruce, Regional Communications Manager with Plan Ireland, was in Kathmandu when this morning's quake struck.
Speaking on RTÉ's News At One, he said: "Initially everyone assumed it was another aftershock, we get aftershocks alarms daily at least, we get aftershocks frequently.
"We just assumed that's was happening but seconds later it was clear we were dealing with something new, something much larger than an aftershock.
"The shaking went on for what felt like an unbelievable amount of time but was actually a minute."
He said the latest earthquake would damage the ongoing aid operation in Nepal.
"We certainly know that the state of the roads has worsened, members of our team right now are accounted for but stranded by road conditions," he said.
"This is going to hamper the aid effort. It's also going to increase the aid effort. We're going to need more support and we're going to need more support from the international community."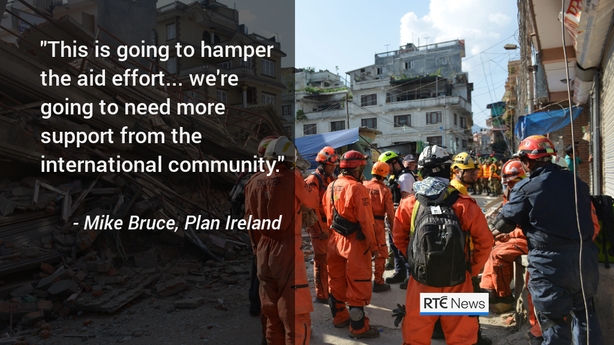 Mr Bruce said people had already set up shelter outside for the evening and there were ongoing concerns about the wet weather, with monsoons due to arrive in the next couple of weeks.
Kathmandu airport closed after latest quake
Today's earthquake sent people in Kathmandu rushing out on to the streets.
Patients were carried out of a hospital building in Kathmandu as the earthquake hit.
Politicians dashed for the exit of Nepal's parliament building.
Nepalese authorities ordered the closure of Kathmandu airport today after the earthquake sparked panic in the capital.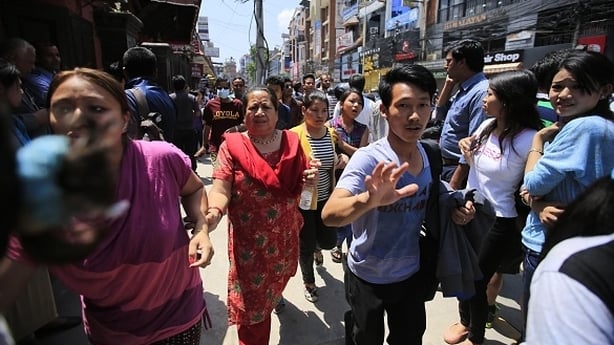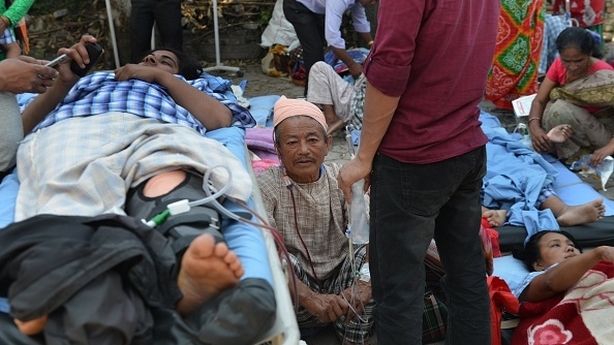 MAP Nepal hit by a 7.3-magnitude quake Tuesday and several powerful aftershocks @AFP pic.twitter.com/bZpuUATG70

— AFPgraphics (@AFPgraphics) May 12, 2015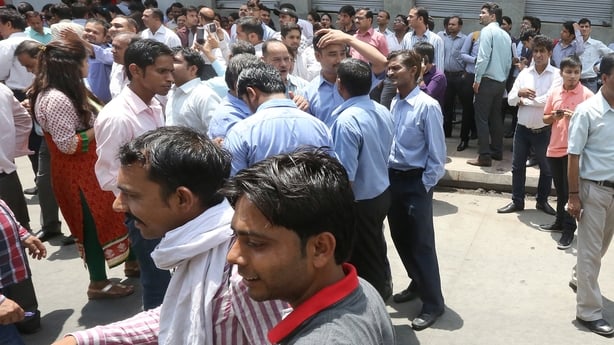 Dom Hunt, Disaster Risk Reduction Advisor with Concern Worldwide, said there was a lot of shaking and noise when the earthquake hit and other people had said a lot of dust was visible.
Speaking on RTÉ's Morning Ireland, from Kathmandu, he also said he had heard reports of landslides following the earthquake.
He said there had been one small aftershock and people were expecting more.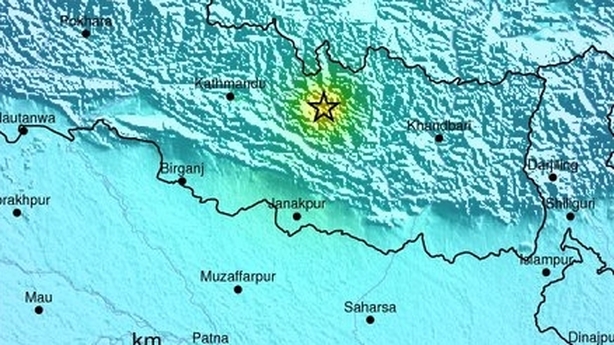 A shake map was released by the US Geological Survey showing the location of today's earthquake, near the Chinese border.
The United Nations has only raised 13% of the $423m (€375m) it said was needed to help Nepal recover from the April tragedy, and relief workers warned that even more funding would now be needed.