A painting by Pablo Picasso has set a new record for the most expensive piece of artwork ever to be sold at auction.
The masterpiece, entitled 'Women of Algiers' sold at Christie's in New York for $179 million.
The auction house had estimated 'Les femmes d'Alger' would sell for about $140m.
However, several bidders competing via telephone drove the winning bid to $160m, for a final price of $179m including Christie's commission of just over 12%.
The previous world record for a painting sold at auction was $142m set by the Irish-born painter Francis Bacon for his work "Three Studies of Lucian Freud"
'It will be fascinating to see how long it holds,' Jussi Pylkkanen, Christie's global president, who also served as auctioneer, said of the record price.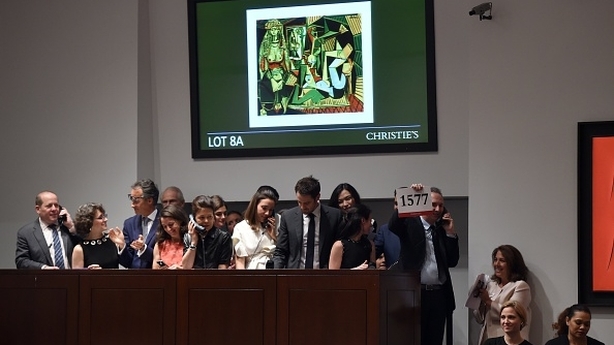 Giacometti's 1947 sculpture, 'L'homme au doigt' (Pointing man), set a world record for a sculpture, selling for $141.3m, in line with the pre-sale estimate of about $130m.
The previous record of $104.3m had been held by Giacometti's 'L'Homme qui marche I' since 2010.
The record-setting Picasso was last auctioned in 1997, selling for $31.9m or nearly three times its pre-sale estimate.
Bidding started this time at $100m, with collectors driving the price upward in $1m increments.
"We saw tremendous competition, with five major collectors bidding at the $120m level," said Mr Pylkkanen.
"The market has certainly changed dramatically," he said.
Christie's said active bidders came from 35 countries, with European and Asian collectors in particular competing with Americans for the top-tier works.