No charges in shooting of black teen in Wisconsin
A white police officer who shot and killed an unarmed 19-year-old African-American youth in Wisconsin used justifiable force and will not face criminal charges, authorities said.
The 6 March shooting touched off protests in the city of Madison, scene of one of the most recent incident of police shootings of young blacks, which have set racial tensions on edge in the United States.
"I conclude that this tragic and unfortunate death was the result of a lawful use of deadly police force and that no charges should be brought against officer (Matt) Kenny in the death of Tony Robinson, Jr.," Dane County District Attorney Ismael Ozanne said in a press conference.
Coppinger abortion bill defeated
A bill by Socialist Party TD Ruth Coppinger to repeal the 8th Amendment has been defeated by 74 votes to 23.
The bill called for a referendum to allow the section of the constitution that outlaws abortion be changed.
This was the third bill tabled by opposition TDs since 2012 aimed at liberalising the State's abortion laws.
Labour has said it will support the campaign to repeal the 8th Amendment at the next general election.
Grangegorman application put back for a week
An application by a receiver seeking to have people allegedly remaining in occupation of a several premises in Grangegorman in Dublin jailed for contempt of court has been put back for a week.
Receiver Luke Charleton has sought the orders because he claims that between 20 to 30 people had not left the site, despite the fact that in March the High Court ordered the properties at Lower Grangegorman and North Brunswick Street be vacated by 5 May.
Mr Charleton, who was appointed by NAMA, wants to sell the properties to meet an unpaid debt of €21.9m owed by businessman Paschal Conroy.
An appeal was lodged against the court's ruling in March requiring that the properties be vacated.
Italian nurses tests positive for Ebola
An Italian nurse who returned to Italy last week after working in Sierra Leone has tested positive for Ebola, the health ministry said.

The man began to feel unwell on Sunday evening and was taken to a local hospital in Sardinia, two days after coming back from the west African state where he had been treating patients for the often deadly disease.

He is to be transferred to Rome's main hospital for infectious diseases, the ministry said.

Italy's only other Ebola patient, who had also been working in Sierra Leone, recovered and was released from hospital in January.
Al-Qaeda commander killed in Yemen drone strike
An al-Qaeda provincial commander was among four militants killed in an apparent US drone strike on the jihadist-held Yemeni city of Mukalla, an official has said.
The strike on Monday outside the presidential palace in the port city killed Maamoun Hatem, who heads al-Qaeda's forces in the central province of Ibb, the official said.
Among those killed with him was Mohammed Saleh al-Ghorabi, an al-Qaeda operative who is wanted for masterminding a series of armed assaults on banks.
Third blogger hacked to death in Bangladesh
A blogger has been killed by machete-wielding attackers in Bangladesh. It is the third killing of a critic of religious extremism in the Muslim-majority nation in less than three months.
Ananta Bijoy Das, a blogger who advocated secularism, was attacked by four people in the northeastern district of Sylhet this morning, a senior police official said.
Das, 33, wrote for 'Mukto Mona', or free mind, a website propagating rationalism and opposing fundamentalism that was founded by US-based blogger Avijit Roy.
Mr Roy himself was murdered in February while returning with his wife from a Dhaka book fair.
Mandate welcomes pay increase for Dunnes Stores workers
The Mandate Trade Union has welcomed concession of its 3% pay claim for Dunnes Stores workers.
However, the union says the pay increase must be implemented with secure, banded-hour contracts for it to be meaningful.
Mandate lodged a claim for the pay increase last month and today Dunnes Stores management confirmed concession of the claim at in-store meetings with staff across the country.
Mandate members in Dunnes Stores have won a total of 9% in pay increases over the last three years.
Le Pen plans to set up 'grouping' after suspension
The founder of the French National Front, Jean-Marie Le Pen, has said he plans to set up his own "grouping" after being suspended from the far-right party.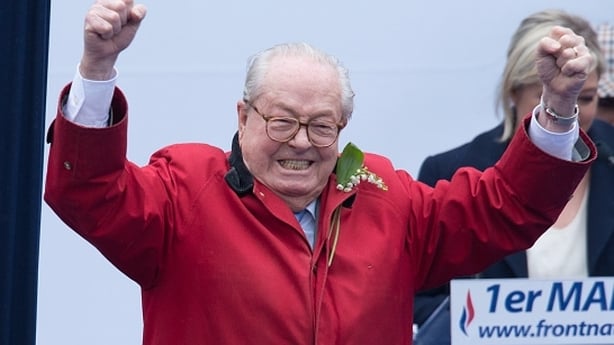 The 86-year-old was suspended this month after he repeated his view that the Holocaust was "a detail of history".
The party has been led by his daughter, Marine, since 2011.
At least 20 killed in barrel bomb attack in Aleppo
At least 20 people have reportedly been killed in a barrel bomb attack by regime forces on the rebel-held Syrian city of Aleppo, according to a monitoring group.
The British-based Syrian Observatory for Human Rights said 20 civilians, including a number of children, were killed in the attack with a further 30 injured.
Video footage distributed by activists and posted on YouTube showed rubble and twisted scraps of metal strewn across the cratered pavement after the attack.