David Cameron has promised voters "we are on the brink of something special in this country" as he returned to Downing Street as a British prime minister with a Tory Commons majority.
The premier saw his seat tally tick over the all important mark of 326, an absolute majority, while he was at Buckingham Palace with Britain's Queen Elizabeth.
He paid tribute to Nick Clegg's work as Deputy Prime Minister and welcomed Ed Miliband's "typically gracious" concession call earlier today.
Standing in Downing Street in front of the famous black door, Mr Cameron said: "We can make Britain a place where a good life is in reach for everyone who is willing to work and do the right thing."
The Tories were projected to win 331 seats in all, with 232 for Labour, 56 for the SNP, eight for the Lib Dems and just one for Ukip.
Ed Miliband announced his resignation as Labour leader after the result, something made inevitable after a night in which his party was blown away north of the border by the Scottish Nationalist Party while also failing to take any seats from the Conservatives.

Shadow chancellor Ed Balls, was one of the most high profile victims in a result which has shaken the party to its core, while shadow foreign secretary Douglas Alexander and Scottish Labour leader Jim Murphy also lost out.
Mr Clegg also had little choice but to quit after the Lib Dems' tally of MPs was reduced from 56 to a rump of just eight, with Business Secretary Vince Cable, Treasury Chief Secretary Danny Alexander, and Energy Secretary Ed Davey among the fallers.

While Mr Clegg acknowledged that the Lib Dems had paid the price for five years in coalition with the Tories, he said the history books would judge their time in government "kindly".
And he warned that Britain was at a "very perilous point" where the politics of grievance and fear risked driving the country apart.
"It is no exaggeration to say that, in the absence of strong and statesmanlike leadership, Britain's place in Europe and the world and the continued existence of our United Kingdom itself is now in grave jeopardy," he said.
Nigel Farage also announced his resignation as leader of Ukip after failing to win a seat in the new parliament, however he said he could run for the position again later this year.

After a night that will go down as one of the biggest general election shocks since the Second World War, Mr Cameron told jubilant activists the result was the "sweetest victory of them all".
In his acceptance speech following his re-election as MP for Witney, Mr Cameron set out his intention to press ahead with an in/out referendum on Britain's membership of the European Union and to build on the economic foundations laid by the Coalition since 2010.
"My aim remains simple - to govern on the basis of governing for everyone in our United Kingdom," he said.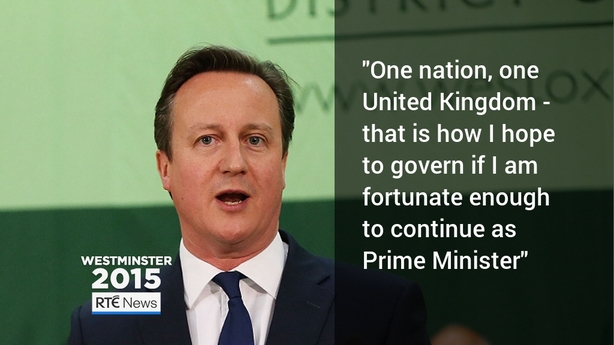 Seats filled:
CON 327 | LAB 232 | SNP 56 | DUP 8 | LD 8 | PC 3 | SF 4 | SDLP 3 | UUP 2 | IND 1 | UKIP 1 | GP 1
Live updates: UK Election
Updates: Part One
Three outgoing MPs lose seats in Northern Ireland
SNP surges in Scotland at expense of Labour
Mr Cameron made clear that he was determined not to allow the rising tide of nationalism to lead to the break-up of the UK, saying: "I want to bring our country together, our United Kingdom together, not least by implementing as fast as we can the devolution that we rightly promised and came together with other parties to agree both for Wales and for Scotland.
"In short, I want my party, and I hope a Government I would like to lead, to reclaim a mantle that we should never have lost - the mantle of One Nation, One United Kingdom. That is how I will govern if I am fortunate enough to form a Government in the coming days."
With the Tories far outperforming expectations in an election which had been forecast to be a neck-and-neck race, Mr Cameron will have a wafer-thin overall majority.
The scene was set for a difficult few years for the prime minister, who will be acutely vulnerable to rebellions by 30-40 Conservative backbenchers, who have already shown themselves ready to defy him on issues such as Europe and the family.
Analysis - The big issues on David Cameron's agenda
As the SNP swept up one Labour stronghold after another the party's former leader Alex Salmond said there had been an "electoral tsunami" north of the border.
Mr Salmond, who returned to Parliament as MP for Gordon, said: "There's going to be a lion roaring tonight, a Scottish lion, and it's going to roar with a voice that no government of whatever political complexion is going to be able to ignore."
But the party was denied the clean sweep some had predicted north of the border, as the Liberal Democrats held Orkney and Shetland, Ian Murray held on to Edinburgh South for Labour, and David Mundell remained the only Tory MP in Scotland, holding on to Dumfriesshire, Clydesdale and Tweeddale.
In Northern Ireland, the DUP returned eight seats, while Sinn Féin took four after losing Fermanagh & South Tyrone to UUP candidate Tom Elliott.
He joined Danny Kinahan as one of two MPs for the party, while the SDLP held three seats.