Minister for Health Leo Varadkar has defended the Government's record on tackling the growing problem of obesity, saying it has taken a number of steps in recent years to address the issue.
The minister was responding to new research by the World Health Organisation which predicts Ireland is on course to be the fattest country in Europe by 2030.
The proportion of obese and overweight men in Ireland is projected to rise to 89% by 2030 with a corresponding 85% of women falling into this category.
The forecast puts Irish men at the top of an "overweight" table of 53 countries, matched only by Uzbekistan.
In terms of obesity alone, the estimates show a big jump for women in Ireland, soaring from 23% to 57%.
The proportion of obese Irish men was expected to increase from 26% to 48% while the figure for those either overweight or obese rising from 74% to 89%.
Minister Varadkar acknowledged that much more needs to be done to tackle obesity and said the Cabinet has agreed that legislation will be passed to ensure calorie counts are placed on menus.
He said the National Physical Activity Plan is at a draft stage and will be published in the next few months.
He said the special action group on obesity would be advising the Government on new obesity policy and it would publish its findings by the end of the year.
He described obesity as a major personal and public health problem which needs to be treated as seriously as tobacco was treated in the past.
He said up to date research suggests that the obesity problem among children has plateaued and that fresh adult figures are due later in the year.
Jury is out over sugar tax - Varadkar
The health minister said the jury is still out on whether or not a sugar tax is needed.
He said the Government would wait to see whether such a tax has worked in Mexico where it was recently introduced.
He said if it does not work then it becomes just another tax, adding that research has shown sugar tax to be an ineffective measure.
He said the reformulation of processed and packaged food and reduction of portion sizes were regarded as more effective measures.
He also said a cross-sectoral approach was needed to tackle the problem.
Among the measures that could be contained in the new action plan on obesity are doctors prescribing exercise, a boosting of sport at school and a plan to get more people involved in physical activity, he said.
Govt must act on Healthy Ireland 2013-2025 plan
An expert on obesity has said the Healthy Ireland framework needs to be aggressively rolled out to address the obesity crisis in Ireland.
Speaking on RTÉ's Morning Ireland, Professor Donal O'Shea said new World Health Organization figures show that Ireland is on course to be the fattest country in Europe by 2030.
He said action is needed to reverse this trend.
Prof O'Shea, Head of Weight Management Service in St Columcille's and St Vincent's hospitals, said this report has to be seen as a tipping point.
He said the Healthy Ireland 2013-2025 plan is the only way forward but if action is not taken, it's just another document sitting on a shelf.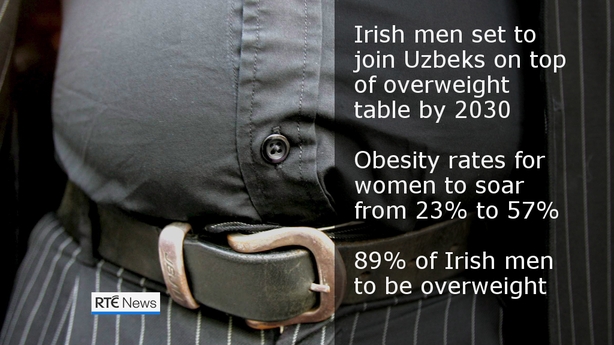 The as-yet unpublished WHO figures found the Netherlands to be top of the league in terms of weight management.
Fewer than half of Dutch men were predicted to be overweight or obese, and just 8% obese, by 2030 compared with 54% and 10% in 2010.
For Dutch women, overweight and obese rates were due to fall slightly from 44% to 43% while the level of obesity alone was expected to drop significantly from 13% to 9%.
"Overweight" is clinically defined by a Body Mass Index (a measure relating to height and weight) of 25 to 29.9, and "obese" by a BMI of 30 and above.
Prof O'Shea described the findings as "extremely scary", and "unthinkable" in terms of physical and mental healthcare.
He said they are likely be accurate in Ireland and the UK as these were the only countries which measured participants, while the other 51 countries used self-reported data.
Prof O'Shea said he believed Ireland was leading the trend because we have a particular problem with physical activity levels, especially among young women.
He said there has been a levelling off of childhood obesity rates overall, because of falling levels in better-off, better-educated socioeconomic groups.
However, he said in less well educated, less well-off groups, the upward trend is dramatic.
He said 12% of three-year-olds in lower socioeconomic groups are obese compared to 4% in better-off, better-educated groups.
IHF says figures are 'alarming'
The Irish Heart Foundation has described the latest figures on predicted obesity levels in Ireland as truly alarming.
Speaking on RTÉ's News at One, Head of Health Promotion with the Irish Heart Foundation Maureen Mulvehill said obesity would increase the levels of heart disease and stroke.
"We're going to see a reversal of the trends we've seen in the last 40 years where heart disease and stroke have reduced in prevalence and in terms of premature deaths, and we're going to see that reversed.
"We do know that people who are overweight and obese, that heart disease and diabetes can accompany obesity and people are deprived of up to eight years of life and up to 19 years of a healthy life."
Ms Mulvehill said that regulation governing the marketing of unhealthy food to children needs to be extended immediately.
She said that there was no standard to guide schools on the type of food they provide to children and a tax on sugary sweets and drinks needs to be introduced.