British Prime Minister David Cameron came out on top in a poll following the last televised set piece of the UK's general election campaign.
Mr Cameron was speaking on a BBC 1 Question Time general election leaders' special where he, along with Labour leader Ed Miliband and Liberal Democrat leader Nick Clegg separately answered questions from a studio audience.
The programme was aired in a format devised after Mr Cameron refused to take part in a head-to-head encounter with his Labour rival proposed by UK broadcasters.
The Prime Minister faced tough questioning from the studio audience about Conservative plans to cut welfare.
Mr Miliband was also put on the spot over the last Labour government's spending.
He was questioned on whether he would do a deal with the Scottish National Party but insisted there would be no Labour government if it meant relying on their support.
Mr Cameron rejected suggestions he was planning to cut £8 billion from child benefit and child tax credit.
But both Mr Miliband and Mr Clegg responded that his comments did not amount to a guarantee that the benefits were safe.
Mr Miliband said he did not accept that the last Labour government overspent while in office and promised the party was "absolutely, deadly serious" about balancing the books in the next parliament.
An instant poll of Question Time viewers conducted by ICM for The Guardian showed that 44% thought Mr Cameron had "done best on the night", against 38% for Mr Miliband and 19% for Mr Clegg.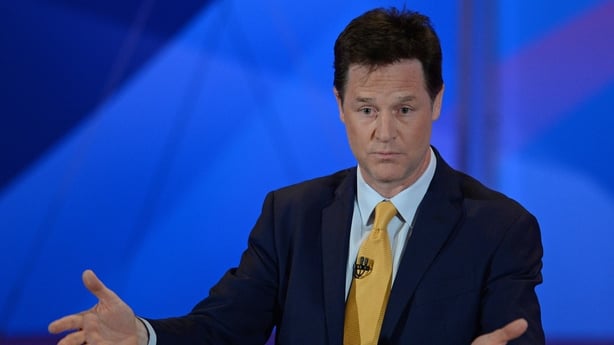 An audience member directly asked Mr Miliband: "Do you accept that when Labour was last in power it overspent?"
He replied: "No, I don't ... There was a global financial crisis which caused the deficit to rise. President Obama isn't dealing with a high deficit because we built more schools and hospitals.
"He is dealing with a deficit because of the global financial crisis."
As he explained the financial difficulties the coalition faced when it entered office in 2010, Mr Cameron took from his pocket the famous letter left by former Treasury minister Liam Byrne telling his successor "there's no money left".
He said he had been "carrying it with me everywhere" during the campaign, but Mr Miliband dismissed it as "his regular prop".
Mr Clegg reiterated his assertion that the Lib Dems would first try to seek a coalition deal with the largest party in terms of votes and seats after 7 May.
But the Deputy Prime Minister also indicated that if a deal cannot be struck then he would consider speaking to the second-placed party.