Taoiseach Enda Kenny has said that it is not acceptable that banks do not pass on low interest rates.
He said the banks were in receipt of State help for the benefit of customers and not their own benefit.
Mr Kenny said it is not acceptable when they borrow cheap and apply higher rates to customers.
"It is wrong that banks do not pass on lower interest rates that they themselves have to take out mortgages.
"Remember this, these banks were restructured and capitalised by the tax payer for the benefit of the customers not for the benefit of the banks," Mr Kenny said.
"The Minister for Finance asked the Central Bank to do a body of work on the relative charges on competitive that banks are charging, that work will be presented to the minister very shortly, and he intends to call in the banks.
"From any moral point of view from any ethical point of view when banks have been restructured and are on the way to making profit again - it's just not acceptable that while they themselves can borrow at much cheaper rates that they continue to have higher rates applied to mortgage holders," Mr Kenny added.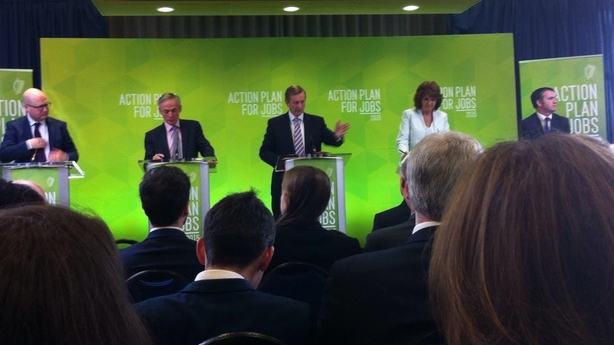 Meanwhile, Tánaiste Joan Burton said that maybe it has "slipped the bankers mind" that taxpayers saw a significant drop in their pay to fund the banks.
They were speaking at the launch of the Government's quarterly report on the action plan for jobs.
Fianna Fáil leader Micheál Martin has said he was angry with the arrogant attitude of the banks in relation to variable mortgage rates.
Mr Martin said they got support when they were in a critical state and their behaviour was outrageous.
He said the Government has to make it clear they have to take actions on the rates.