A former head of Bank of Ireland has told the banking inquiry that on 29 September 2008, the Central Bank asked them to take over Irish Life & Permanent and they also declined an approach from Anglo Irish Bank to take it over.
Brian Goggin also said the financial regulator told him he could not ban 100% mortgages.
Mr Goggin told the inquiry the 29 September 2008 was the "worst day of his life".
He said BOI was more conservative than its peers, but he regretted that it needed State capital.
Mr Goggin said that they asked for a guarantee for four banks on the 29 September 2008 and that Anglo and Irish Nationwide would be dealt with as they were having a "ferocious contagion" effect on the rest.
(Stream provided by HEAnet)
Mr Goggin said it did not play out that way and he said they became aware that day that Anglo would default the next day and the situation was extremely grave.
The bank's governor Richard Burrows informed the governor of the Central Bank at a pre-scheduled meeting in the afternoon and the governor told them there was nothing he could do. 
They were asked by the Central Bank that day to take on Irish Life and Permanent, and that Anglo and Irish Nationwide would be dealt with and there would be a guarantee for the rest.
He also said Anglo Irish Bank approached Bank of Ireland that day to ask if it would consider acquiring Anglo Irish Bank, but Bank of Ireland responded that it would not do so.
Mr Goggin said the Bank of Ireland representatives arrived at Government Buildings at 9.30pm and were called in at 11.30pm
In the early stages of the meeting, he said it was clear the Government was not minded to intervene with any of the banks. 
The request was for us and AIB to provide a solution, he said.
They agreed to put up €5bn together with AIB's €5bn to keep Anglo going, backed by a bilateral guarantee.
Mr Goggin said there was a palpable sense of relief and the immediacy of an Anglo default had been dealt with.
They were then told a blanket guarantee would be provided and they left at 3.30am and there was no ambiguity in his recollection of what had been done.The decision had been made.
They were told in June or July 2008 by the governor of the Central Bank that there was lobbying for a system wide guarantee but he did not say by whom.
He said at that stage Bank of Ireland did not need a guarantee and he did not support one.
He said he deeply regrets the bank's failure to anticipate the exceptional fall in property prices and the consequences that followed.
Mr Goggin was group chief executive from 2004 to 2009 and spent 40 years with the bank.
Under questioning from Fianna Fáil's Michael McGrath, he said they took too much risk with a €145 billion loan book.
However, he said the problem was not due to an over-concentration in particular sectors, it was the due to the absolute amount of the loans given the subsequent collapse.
Mr Goggin said the NAMA discount of 43% surprised him and reflected the scale of the reduction in property values and that gave rise to the capital requirement.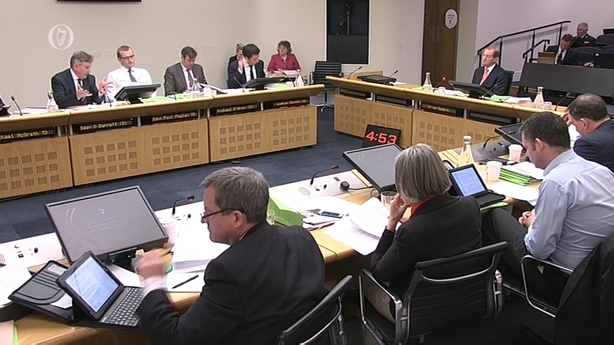 Anglo requested 'urgent' meeting with BOI
Mr Goggin said on 29 September 2008, Anglo asked for an urgent meeting and he and Mr Burrows met their chair and CEO in Bank of Ireland's headquarters on Baggot Street at 2.30pm.
They were told Anglo could not pay €1.5-2bn which was due the next day and Anglo asked them to take it over but they said they had no interest in doing so.
Anglo told them they would ask AIB but later he learned AIB had declined the meeting.
Mr Goggin said both they and AIB asked for a guarantee but he said Bank of Ireland did not need one. 
However, he said it was suggested early on in the evening that Anglo alone could have a guarantee.
However, he said that would have caused chaos and all the deposits would have gone to Stephens Green with the rest in chaos.
One bank on its own guarantee would not work. 
Goggin paid 'exceptionally well'
Mr Goggin also acknowledged he was paid "exceptionally well" when asked about his total pay package of almost €4m in one year.
He refused to provide details of his pension payments.
He was asked how he could justify his salary by Kieran O'Donnell and asked if his pay was driven by profit.
Mr Goggin said all of the bonuses at the bank had been defined by profit prior to 2005 and 2006.
He later aligned the bank's pay to strategy to motivate executives to deliver on that plan.
He said the board of the bank determined his remuneration.
Mr Goggin said Bank of Ireland did not pioneer 100% mortgages and which he said was started by Ulster Bank.
He said: "We were reluctant followers. We were opposed to them." 
Mr Goggin said he told the Financial Regulator in 2006 that they should be banned.
"I said he should he should ban mortgages of more than 90%. The regulator said it was not his role to interfere in the market"  
Mr Goggin also said: "No matter how conservative a bank is if you have a 60% correction in property prices no bank can withstand it."
He said the bank had sophisticated stress tests and one test was for a sudden 20% drop in property values.
Mr Goggin confirmed he had a relationship with US group Apollo Global Management.
However, Mr Goggin declined to answer a question from Joe Higgins about Apollo's purchase of distressed assets.
When asked about anger felt by ordinary people by Mr Higgins he said: "You point finger at bankers but it is much wider than that. I do not think all banks should be cast in same manner." 
Deputy McGrath asked Mr Goggin to disclose his pension in the context of an investment in the bank by the taxpayer. Mr McGrath refusing to do so, saying the taxpayer was being fully compensated for its investment.
Mr McGrath asked if Bank of Ireland stood to benefit most from junior bonds being included in the guarantee, to which Mr McGrath replied the bast majority of junior bond would fall outside the timeframe of the guarantee.
Mr Goggin also said he was not asked to make a reduction in his pension.
He added he had an option to retire in his contract.