Northern Ireland midwives strike over pay dispute

Midwives in Northern Ireland are on strike in a dispute over pay.
They are calling for a 1% wage increase, which they say was given to their colleagues in Scotland, England and Wales.
It is the first time in the near 150-year history of the Royal College of Midwives that a strike has been staged.
Northern Ireland's health service and the RCM say arrangements are in place to ensure a safe service is provided during the stoppage.
Labour TD votes against Government
Labour TD Michael McNamara has voted against the Government on his Bill, which provides for the right of garda and defence forces representatives to carry out negotiations on pay and conditions of its members.
The Industrial Relations (Members of the Garda Síochána and the Defence Forces) Bill 2015 would also allow gardaí to take industrial action. It does not allow members of the defence forces to strike.
Labour Party whip Emmet Stagg said Mr McNamara will not losing the party whip, adding it is a unique situation and he would not expect a member to vote against his own bill.
Investigation underway into suspicious Co Clare fire
Two men are recovering in hospital following a fire at a house in Co Clare.
Gardaí are treating the fire as suspicious.
Three units of the fire brigade and two ambulances from Ennis responded to the incident.
A technical examination of the scene has been completed and a garda investigation is now underway.
Irish searches as part of Europe-wide horsemeat probe
As part of a Eurojust operation across seven EU member states into the illegal trade of horsemeat, gardaí have carried out two searches in Ireland.
Authorities from France, Belgium, Germany, Ireland, Luxembourg, the Netherlands and the UK were involved in the operation, while there have been 26 arrests - none of which were in Ireland.
Investigations into a Belgian national operating from his home country began in November 2012, while France started its investigation in July 2013.
The operations have revealed links to the activities of an organised criminal group in other member states, such as Ireland and the Netherlands, while police in the UK started an investigation as a result of information received.
Brazilian teachers clash with police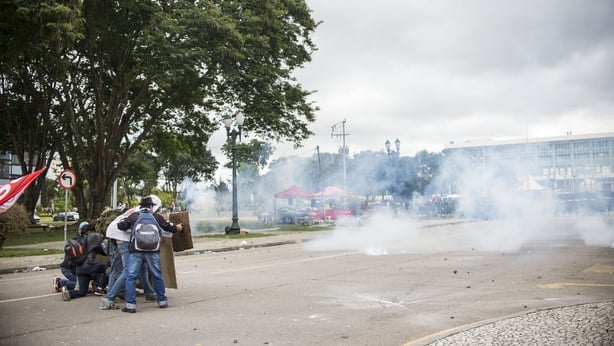 Brazilian riot police fired smoke bombs and rubber bullets at striking teachers protesting a new law that will withhold more money from their salaries towards retirement.
A total of 213 people were injured and 13 arrested in the violence in the city of Curitiba in southern Brazil, officials said.
Organisers said around 20,000 took part in the rally outside the legislature in Parana state.

The violence began when the teachers tried to break through a security perimeter established by police outside the state assembly.
NI woman seeks answers over husband's death
A widow suing a senior UK army officer over alleged actions during the Northern Ireland Troubles has said she is entitled to accountability.
Mary Heenan is taking the civil suit against former general Frank Kitson over the death of her husband Eugene 'Patrick' Heenan in a loyalist grenade attack in February 1973 in east Belfast.
Mr Kitson has been named as a co-defendant in the case on grounds that he and others used agents knowing, or should have known, that they would take part in criminal actions.
It is the first time a retired senior British soldier has been personally sued in connection with the Troubles.
Australian woman faces death penalty in Malaysia
An Australian woman faces a possible death sentence for drug trafficking in Malaysia after a prosecutor said a chemist's report confirmed the substance found in her bag was crystal methamphetamine.
Maria Elvira Pinto Exposto, a 52-year-old mother of four, was arrested on 7 December at Kuala Lumpur airport with 1.1kg of the drug, also known as ice, court documents showed.
The case has now been transferred to Malaysia's high court.
Malaysia has a mandatory death penalty for anyone found guilty of carrying more than 50 grams of a drug.
Prisoner injured in Wheatfield incident
The Irish Prison Service has confirmed that a prisoner is being treated for serious stab wounds following an incident at Wheatfield Prison yesterday.
The man, who was in his 20s, was attacked by three other inmates using an improvised weapon at around 10am.
The man had been transferred to Wheatfield from the Midlands Prison in Portlaoise on Tuesday.
Study suggests people would like children to learn coding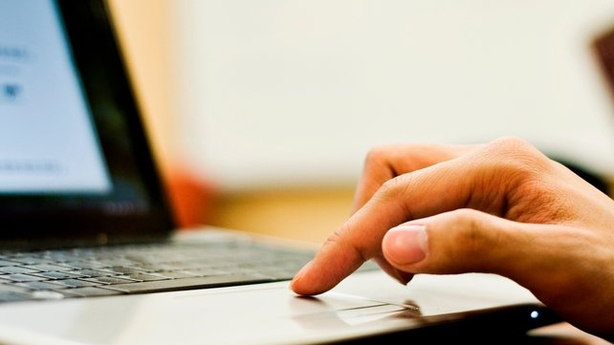 A new survey has found that over half of people think that computer coding should be taught at primary and secondary level as part of the curriculum.
The study by Amárach research also found just half of those questioned had a good or very good understanding of what coding is, with levels of knowledge worst among those aged over 55.
Almost three quarters of those asked thought coding should be introduced to children between the ages of 6 and 12, with the optimum age identified as 9-10.
The research carried out among 1,000 participants, was commissioned by UPC, to mark Tech Week 2015.