Developers Sean Mulryan, Joe O'Reilly and Michael O'Flynn have all been called to the next phase of the banking inquiry, along with financier Derek Quinlan.
Former attorney general Paul Gallagher, former secretary general of the Department of the Taoiseach Dermot McCarthy and former advisers to Brian Lenihan Cathy Herbert and Alan Ahearne have also been called.
Brendan McDonagh of NAMA has been called back, along with former NTMA head Michael Somers.
Two consultants at Merrill Lynch have also been called.
A committee spokesman said: "The Nexus Phase, when the committee will engage with institutions and individuals who had roles relating to the crisis, will focus on three broad elements - Banking Systems & Practices; Regulatory and Supervisory Systems & Practices; and Crisis management systems and policy responses - and how these three elements interacted with each other."
Committee chairman Ciaran Lynch added: "Nexus Phase hearings will run until the middle of September with a total of 64 public hearings planned. It is now envisaged that around 60 witnesses will be called to the public hearings during the Nexus Phase."
"This phase of our hearings includes a move by the committee to compelling witnesses and statements and the use of evidence.
"Under the witness management protocol, there will be a structured witness engagement with a seven week lead-in between the notification and the public hearing. The protocol includes timescales, evidence books and technical briefings."
Inquiry told AIB was solvent on night of guarantee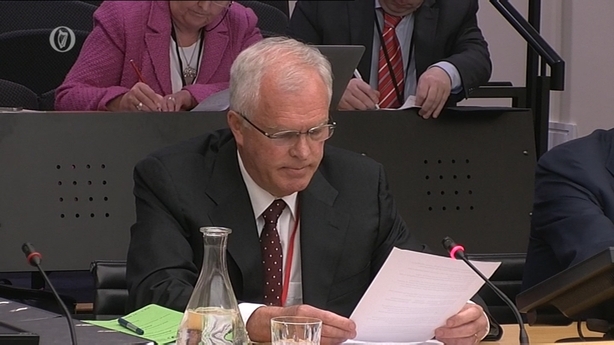 Earlier today the head of AIB during the banking crisis, Eugene Sheehy, told the banking inquiry that he cannot remember comments attributed to him on the night of the bank guarantee where he reportedly said AIB was facing a bankruptcy problem and disaster.
Mr Sheehy said that he could not recall the comments, recorded in an internal Department of Finance memo, but he added that if he did say them they were hypothetical and there was no issue with AIB solvency.
Mr Sheehy was in charge from 2005 to 2009.  
He said that during a six-hour meeting in Government Buildings, AIB was asked to provide money to keep Anglo Irish Bank going and it agreed to provide €5bn, backed by a government guarantee.  
He said AIB could not understand why Anglo and Irish Nationwide were included in the guarantee.  
He said it asked for a four-bank guarantee, which was appropriate and necessary, because an Anglo default would result in downgrades for all banks and a run on their deposits in the UK, and given the public's reaction to Northern Rock, it was likely that domestic customers would panic and Irish branches would not be able to cope.
He said he was very sorry for what happened and his role and he took personal responsibility for his actions and omissions.
Mr Sheehy said his pension was €250,000 but he took a voluntary reduction, although he would not reveal how much that was.  
Asked why AIB needed four times more taxpayers' money than Bank of Ireland, Mr Sheehy said the bank was overweight in development land.  
(Stream provided by HEAnet)
Mr Sheehy said he did not think any Irish bank would have survived if there was not a guarantee including AIB.  
Asked how long AIB would have survived without it, he said that was speculative but months or maybe a year.  
He said the bank could not have survived without liquidity and the guarantee was critical in that. 
He said it was beyond the bank's competence to decide what should be done with Anglo and Irish Nationwide on the night and there was no statutory mechanism.  
Liquidating a bank would be entirely different as it was a public event, he said, and AIB did not know what the best thing was to do.
Sinn Féin's Pearse Doherty referred to an internal AIB note from a board meeting on 17 September 2008 and he asked if the bank was facing a serious liquidity problem in October.
Mr Sheehy said it was facing a manageable liquidity problem.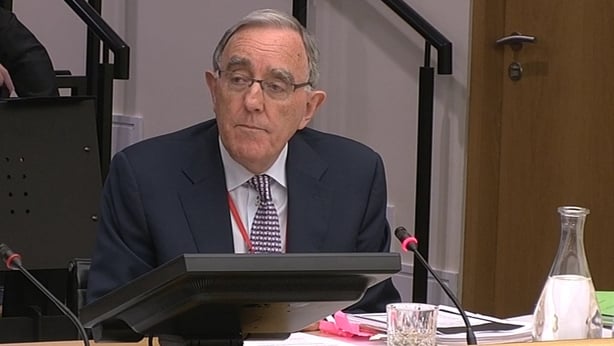 Former group chief executive Michael Buckley, who was in charge from 2001-2005, said he had no premonition, let alone evidence, that the liquidity crisis would build or that AIB would become so vulnerable and would only survive with taxpayers' money.  
He said he deeply regretted what happened and the damage inflicted on people's lives. 
Mr Buckley said he had taken a substantial reduction on his pension but he said he did not feel any obligation to reveal details.  
Mr Sheehy said the minister for finance had asked AIB in November 2008 to look at taking over Anglo in a plan called Project Omega, but the bank rejected the idea and it was not discussed by the board. 
He did not recall using the word bankruptcy on the night of the guarantee and he would reject any inference of issues with solvency.
He said AIB argued that bonds should be included, although he said that on the night AIB did not have any bonds or subordinated instruments and there was no agenda.
It recommended a two-year guarantee as he said a shorter one would not work.
Mr Sheehy did not agree that the Regulator was hopeless.  
He said he found him to be tough enough but the office was dreadfully under-resourced.  
He said Dermot Gleeson regretted those comments and they were said in a fit of pique.
Independent Senator Sean Barrett said the €270m dividend paid on 26 September 2008 was incredible.  
Mr Sheehy said the decision was taken in July and if it had been taken in September, the dividend would not have been paid.
He said all bets were off after Lehmans and the collapse.
Asked about the level of pay in 2007, he said at that stage, there was no inference of what was to come.
Asked by Labour Senator Susan O'Keeffe what exactly he was apologising for, Mr Sheehy said AIB took too much risk in the sector that turned out to be toxic and he could have stopped it but he did not.
Mr Sheehy said if words like bankruptcy were used on the night of the guarantee it was in the context of the whole system.
He said he never held the view "sectoral concentrations" in property were too high.
Fine Gael TD John Paul Phelan referred to a note to the board of the bank in which AIB director Jim O'Leary asked for concentration in property and construction to be reviewed in 2004.
Responding to a question from Socialist TD Joe Higgins, Mr Sheehy said people in the bank never joined with the purpose of looting it, adding they were only interested in long-term repeat business.
Mr Sheehy also said he told the board he wanted his salary to be the lowest in the bank's peer group.
Mr Higgins asked Mr Sheehy if he gave some of his salary to the taxpayer, to which Mr Sheehy replied that he pays tax and took a voluntary reduction in his pension.
Mr Buckley denied the bank took too much risk in his time as chief executive up to 2005.
He said there was no evidence of "reckless lending" from 2001 to 2005.
Mr Sheehy said he was surprised that a haircut of 56% was applied to AIB loans transferred to Nama. He said the thought the number would be 30%. 
He said the market collapsed at that point in 2009.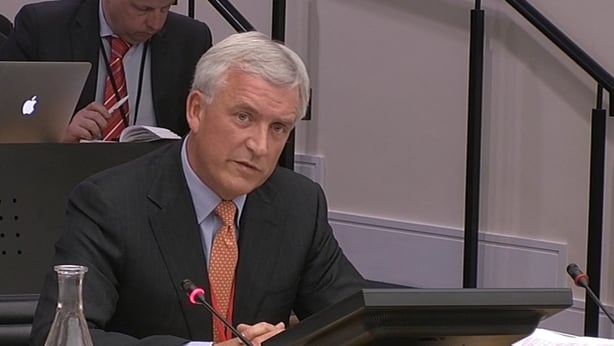 AIB's CEO David Duffy told the inquiry the scale of the banking and economic crisis was "staggering" and he could not understand it until he returned to Ireland to run the bank.
Mr Duffy said uncertainty and a change in leadership at AIB led him to question whether the bank had sufficient skills to manage relationships with the regulator, Troika and Department of Finance.
Mr Duffy, who became CEO in 2011, said AIB is still on a journey of changing the bank to serve the needs of customers as opposed to people who worked in the bank.
He also said the bank's lending levels are increasing and it is his expectation AIB will return money to the taxpayer over time.