Northern Ireland's health minister Jim Wells has resigned.
In a statement, Mr Wells said he had stepped down to care for his wife Grace, who is seriously ill following two strokes.
In a statement, he said as his wife "now faces further challenges I have come to the point where I am no longer able to continue my Ministerial duties and give Grace the attention she deserves."
"Having been my chief supporter throughout my career, my first duty will always be to look after Grace and my family," he said.
Mr Wells said he had spoken to Northern Ireland First Minister and DUP leader Peter Robinson and said his resignation will take effect from Monday 11 May.
He said he was "touched at Peter's willingness to put other supportive arrangements in place to allow me more time with Grace but the portfolio requires more undivided attention than I can now give so I believe my decision is the right one".
Mr Wells is a candidate for the DUP in the South Down constituency.
He was embroiled in controversy last week after he claimed children were more likely to be abused or neglected in "non-stable" marriages.
Video footage showing Mr Wells saying that "facts show you certainly don't bring a child up in a homosexual relationship" was released following an election campaign event in South Down.
Mr Wells apologised for his remarks but faced calls for his resignation from political opponents.
Yesterday, the PSNI confirmed it was investigating an alleged incident during an election canvas in Rathfriland, Co Down.
The daughter of a lesbian woman claimed her mother had been upset after an exchange with Mr Wells on their doorstep.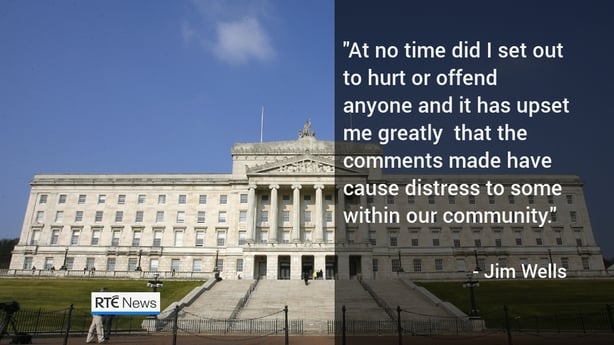 In his statement Mr Wells added: "My focus will be on Grace and supporting my family. The events of the last week have taken place against the backdrop of a difficult period.
"On the issue of comments I have made which have attracted significant publicity, I have already said sorry for the offence caused and acknowledged that the comments were factually inaccurate.
"At no time did I set out to hurt or offend anyone and it has upset me greatly that the comments made have caused distress to some within our community.
"I am deeply saddened that some of those who represent a different viewpoint from me have attacked my family and me in a deeply personal, nasty and, in some cases, threatening way.
"Some of the outbursts on social media have been particularly abusive and menacing in nature."
Mr Robinson said he respected Mr Wells' decision to stand down.
He said: "I would have wanted it to be otherwise but I respect Jim's decision. However, he is right to put his family first and I will fully support his decision."
Sinn Féin's Maeve McLaughlin said Mr Wells had made the right decision to step down as he was under increased pressure due to his wife's illness.
However, she said his position as health minister was "clearly untenable after his attack on the LGBT community, which was completely unacceptable from someone holding the position of health minister".
Ms McLaughlin said the public wants a health minister who will leave their religious beliefs at the door and called on the DUP to end its opposition to "marriage equality, blood donations from gay men and adoption by gay couples".