Yemen's Houthi rebel movement has said it wants to return to United Nations-sponsored peace talks but only after a complete halt to air strikes.
A Saudi-led coalition bombed Houthi positions in southern Yemen today, carrying out at least 12 air strikes, according to residents.
It comes a day after the alliance announced it would end regular attacks on the Iran-allied group.
Fighting between supporters of Saudi-backed president Abd-Rabbu Mansour Hadi and the Houthis has raged throughout Yemen's south and especially in those two provinces since the air strikes began on 26 March.
The coalition announced a halt to its aerial campaign yesterday.
However, it said it would continue to act as needed against Houthi rebels who control the capital Sanaa and have been fighting to take over the southern port of Aden.
Five raids in Lahj and Dalea provinces killed at least ten fighters from the Houthi group, locals said.
In other violence, pro-Hadi militia sources said their fighters killed 11 Houthis in an attack on a Houthi convoy in Lahj, in which one of their militiamen also died.
Hours earlier, around seven Saudi-led air strikes hit military bases around the central city of Taiz after one of the camps was seized by Houthi fighters amid heavy fighting with the soldiers inside, residents said.
Saudi Arabia said its original operation had achieved its military goals.
But it said a new campaign would still target Houthi movements inside Yemen, casting doubt on whether the bombing might soon give way to Yemeni political talks.
The International Committee of the Red Cross said today that the humanitarian situation in Yemen is "catastrophic".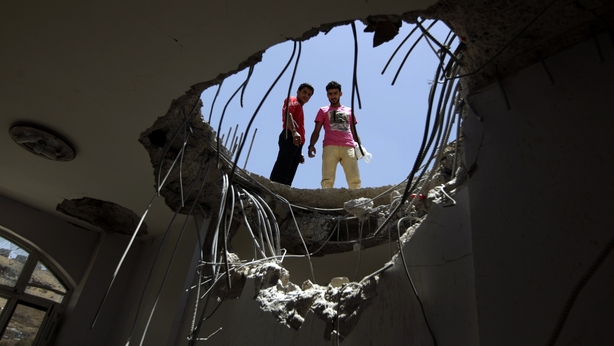 "The collateral damage done to the civilian life and property by the air strikes as well as the ground fighting is absolutely shocking, particularly in the cities of Sanaa, Aden, Taiz and Marib," said Robert Mardini, ICRC regional director for North Africa and the Middle East.
The ICRC appealed to all sides to allow distribution of supplies and respect the laws of war protecting civilians.
Mr Mardini said the humanitarian situation was deteriorating each day in Sanaa, adding: "It is going from bad to worse almost everywhere in the country".
Food, water, fuel and medicines were in short supply and food prices have soared.
The ICRC appealed for funds to provide food for 20,000 families over the coming three months, bringing its 2015 budget for Yemen to nearly €43m.