Greece's economy minister George Stathakis has told RTÉ News that a potentially damaging debt default by Greece was "out of the question."
He said that Greece defaulting on an International Monetary Fund loan, due for repayment on 12 May, would trigger "enormous instability" in the country, with "very, very negative effects".
However, Mr Stathakis also declared that Greece did not have the resources to repay two European Central Bank loans, amounting to some €7.6 billion, which fall due in July and August.
With Greek bond yields continuing to rise, and the country scrambling to gather funds from public utilities to pay salaries and pensions, there has been mounting speculation that Greece could default on the €750 million IMF loan which falls due next month.
Mr Stathakis conceded that Greece had sought to link the repayment of that loan to the ongoing negotiations to release €7.2 billion in European Union bailout funds.
Those funds have been on hold because the EU and IMF remain unsatisfied with Syriza's list of reforms designed to narrow the country's fiscal gap.
IMF managing director Christine Lagarde flatly rejected any attempt by Greece to have the 12 May redemption date deferred or delayed.
However, Mr Stathakis said that negotiations were "ongoing".
He said the last bailout money Greece received was in July of last year and that 93% of the rescue funds Greece receives were going to repay debts.
Greece had its own resources which it was using to meet recent debt repayments, he said, but those resources were limited, he said.
"As you know, July and August have a huge repayment of €6bn to €7bn [to the ECB] which is obviously beyond our own resources," he said.
Mr Stathakis, however, said a Greek default in the short term was "out of the question".
"There would be enormous instability in the Greek economy, all the positive factors will be diminished ... there will be very, very negative effects.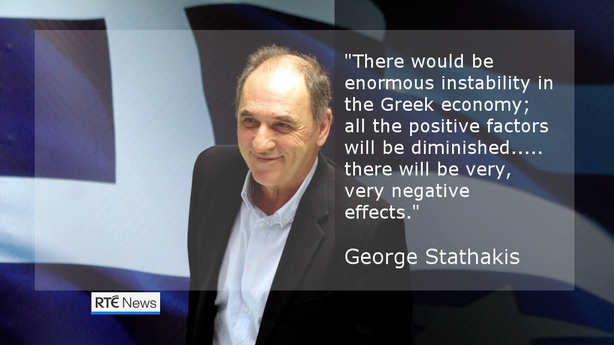 "The idea is very straightforward: we have to work to get the solution right rather than examine various scenarios that will be very negative, and also that will have a negative effect in Europe as well, because it will open up a new area of instability which nobody is asking for."
Asked if the Greek government was seeking an over-arching political agreement involving Chancellor Merkel, Mr Stathakis said that the meeting between prime minister Alexis Tsipras and Ms Merkel was "a turning point".
"Obviously the meeting of Ms Merkel with Mr Tsipras was a turning point, because it indicated that politics are predominant, and that there is common ground for getting things moving ... At the same time we realise and we agree that the specifics have to be done, the work has to be done, the technicalities, each step by step, and we have to work on this area as well.
Both leaders are expected to meet on the sidelines of tomorrow's emergency summit of EU leaders in Brussels, but there are few expectations of a breakthrough.
Mr Stathakis, normally seen as a moderate within the Syriza cabinet, insisted Greece would maintain its red lines that no reforms would be "recessionary".
He said these included areas such as the labour market and pension reform.
A eurozone source said that despite months of contacts between officials from the EU, the ECB and the IMF and the Greek side, progress was still slow and detail lacking.
The source said: "We need to get an overall agreement across a set of policy areas, on a whole range of things which they would have to implement through parliament and through adopting legislation.  It needs to be done by 30 June or the [€7.2bn] is gone to them."