European Union leaders will agree at a crisis summit tomorrow to boost search and rescue operations and step up the fight against traffickers.
The leaders are under pressure to act to stop more migrants dying in the Mediterranean after up to 900 migrants lost their lives on Sunday when their boat sank on its way to Europe from Libya.
The tragedy has led EU governments to reverse last year's decision to scale down search and rescue operations in the Mediterranean.
The leaders are expected to agree on reinforcing EU operations in the Mediterranean, probably by doubling the cash and equipment available to two EU border patrol missions, a senior EU diplomat said.
Their area of operations will also be extended, meaning EU ships would be better placed to spot and rescue migrant boats in trouble off the North African coast.
Another proposal the European Commission will submit tomorrow envisages a military and civilian mission to capture and destroy the traffickers' boats.
"We know where the boats are, where the smugglers gather together the people who are fleeing," Italian Defence Minister Roberta Pinotti told Italy's SkyTG24 television.
The leaders will also discuss a pilot project to resettle 5,000 to 10,000 refugees from Mediterranean countries to other EU states, the senior diplomat said.
"On Thursday our overriding priority is to prevent more people from dying at sea," European Council President Donald Tusk said in his invitation letter to the leaders.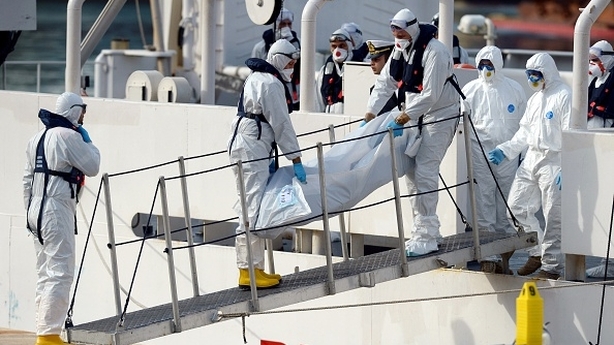 The EU has struggled for years to forge an effective joint strategy to handle migrants fleeing war and turmoil in Africa and the Middle East despite repeated tragedies at sea.
"The stakes are very high on Thursday. EU heads of state have the responsibility of the region's human rights credibility on their shoulders and they need to take firm action to save lives," Iverna McGowan, head of Amnesty International's Brussels office, told a news conference.
Italy has borne the brunt of caring for thousands of desperate migrants.
Italian Prime Minister Matteo Renzi today said that the EU must take a collective stand to tackle human trafficking at source in African countries.
Last year, Italy closed a sea rescue mission that had saved the lives of more than 100,000 migrants, despite warnings from activists at the time that this would mean more deaths.
The mission was replaced with a smaller EU scheme whose main focus was to patrol the bloc's borders.
Some EU countries, including Germany and Britain, were worried that the search and rescue mission would encourage more migrants to take to rickety boats.