A director of the National Treasury Management Agency was called to Government Buildings on the night of the bank guarantee but was not consulted or engaged with in relation to it, the bank inquiry has heard.
Brendan McDonagh, who is now CEO of NAMA, said he was surprised at the scale of the guarantee and there had been no substantive discussion with them beforehand.
He said that, on the night of the guarantee, he arrived home from work at around 7.45pm and then received a call from the Secretary General of the Department of Finance, Kevin Cardiff, asking him to go to Government Buildings.
He said he asked what it was about but Mr Cardiff would not tell him.
Mr McDonagh said he was accompanied by a colleague and they were brought to a meeting room in Government Buildings at around 9pm.
In that room he said was the Assistant Secretary General of the Department of Finance, William Beausang, and a representative from Arthur Cox, Padraic Ó Riordáin.
Mr McDonagh said he did not know what was going on and was not part of the discussions on the bank guarantee.
He said around 1am they were told the Government had made a decision.
"We didn't know what was going - we were not part of discussions on the bank guarantee", Mr McDonagh said.
Mr McDonagh said they had provided some technical input in the weeks prior to that but they were not consulted on the guarantee.
He said he was not aware at any stage that a bank guarantee was being worked on.
Following the decision Mr McDonagh said he had a 90-second, technical discussion with the Taoiseach Brian Cowen and left at 4am to prepare for markets opening at 7am.
He said he thought at the time that the guarantee would weigh heavily on the sovereign and would cost them more to raise money on the markets.
Mr McDonagh said it was his personal view that Irish Nationwide and Anglo Irish Bank were insolvent on the night of the bank guarantee.
Asked by Fine Gael's Kieran O'Donnell whether he had concerns about solvency, he said he was quite sceptical for some time about INBS and Anglo and he could not understand their business models.
He said he was struck that not very much information was available on the night of the guarantee to make such a big assessment.
Mr McDonagh said they had provided some technical input in the weeks prior to that but they were not consulted on the guarantee.
Under questioning from Sinn Féin's Pearse Doherty, Mr McDonagh said when he was told of the decision he was a bit surprised by the scale of it.
Mr McDonagh said there was no substantive discussion with the NTMA prior to the guarantee.
He said most of the discussion had centred on the NTMA providing a credit line to the banks.
He said that since August 2007, they were not going to put any more money into any of the Irish banks and as their deposits matured, they held the money in the Central Bank.
He discussed this with then head Michael Somers.
Daly in scathing attack on 'boom time' developers
Earlier, NAMA Chairman Frank Daly launched a scathing attack at the inquiry on Ireland's boom time property developers.
He said big borrowers from banks had poor financial controls and inadequate building and safety standards.
He said the property industry was also almost completely dependent on bank borrowing.
Mr Daly said developers rarely put in cash, which meant that banks were taking higher risks.
He said the result of this was that banks took 100% of the losses "and that is what happened."
He added: "It is much easier to take an optimistic view of a project when you are not being asked to put your own hard-earned capital at risk."
Mr Daly said: "The banks were quite clearly lending to individuals and companies that, notwithstanding the massive sums involved, had little or no supporting corporate infrastructure, poor governance and inadequate financial controls."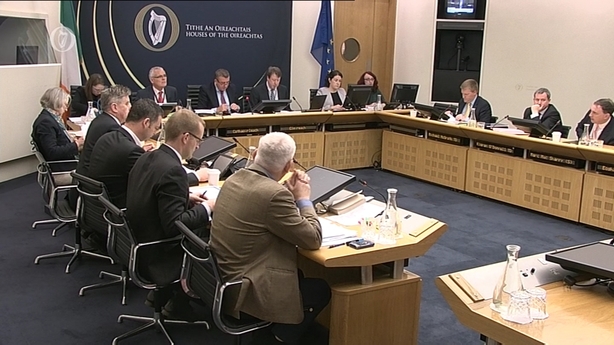 House building was five times the European average during the boom.
He added: "NAMA has incurred multi-million euro costs in remediating building defects, such as non-compliance with regulatory standards, including fire safety standards, as we prepare assets for sale or occupation."
He said NAMA has raised €20 billion from the sale of assets to date and €5 billion from rental income.
As a result it has been able to repay debts faster than expected and will have paid down 80% of its debts by next year.
Mr Daly also outlined how the agency had ruled out any fire sale of assets by beginning to sell properties abroad first.
He said the agency may realise a surplus of up to €1 billion by the time it completes its work as long as economic conditions remain favourable.
NAMA boss defends agency's performance
Mr McDonagh has defended NAMA's performance saying that without the agency, there would have been a phased unveiling of losses over a period of years.
He said this would have resulted in a consequent drip-drip effect in terms of the need for capital, leading to a corrosive impact on the creditworthiness of the sovereign.
Mr McDonagh criticised the banks' attitude to some borrowers and he said a debtor's track record and reputation appeared to be a paramount consideration.
He said there was a highly accommodating attitude among financial institutions towards the more prominent debtors, and a concern that if the institution was not suitably amenable, the debtor would look elsewhere.
He said that debtors were not slow to exploit this unusual lending market.
NAMA acquired €74 billion worth of loans for €31.8 billion between 2010 and 2011 at an average discount of 57%.
However, these documents were not always audited and were often self-certified with asset values assessed by the debtors themselves.
Mr McDonagh rejected an assertion made by NAMA architect Peter Bacon to the inquiry that the agency was more concerned with debt collection rather than maximising values.
He said they were in complete shock when they first began examining the loans from banks, as the losses were much higher than expected and that would have huge consequences for capital.
He said lending was concentrated among a very small group.
Around half of the loans acquired by NAMA or €34 billion related to just 29 debtors and out of a country of 4.2 million that was extraordinary, he said.
NAMA wrote down €500 million of loans because banks had taken defective security on borrowings, the inquiry heard.
Mr McDonagh, answering questions from Fianna Fáil's Michael McGrath, said a lot of these issues arose when the agency found documentation was unsatisfactory.
NAMA spent the last five years going through loans and dealt with these issues in the first two years of operation.
Mr McDonagh said the lowest amount it would have paid for a loan would have been 5% of the original value. He said there had been some "spectacular" examples.
He said NAMA would sell off a tranche of smaller borrower loans later this year.
He added the agency would pay off all debts and return a surplus to a taxpayer by 2020.