A survey of water charge protesters has found that austerity was the single biggest reason for taking part.
Just under 60% gave one of their reasons for marching as "austerity has gone too far".
Nearly 59% said they were protesting to stop the privatisation of water, while just over 57% said their protest was for the abolition of the water charges.
Just under 70% believe they will be successful in stopping the water charges and 92% said they do not intend to pay.
The online poll was organised by Dr Rory Hearne, from the Department of Geography in Maynooth, who describes himself as being involved in left and independent politics and activism.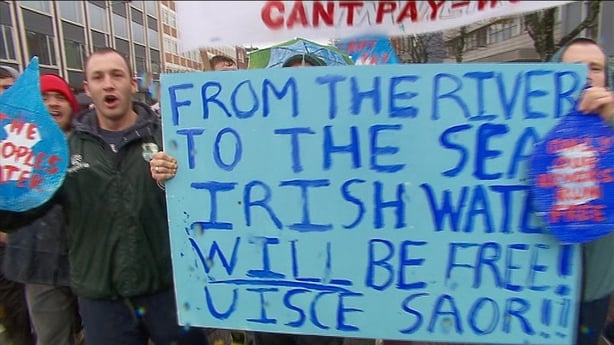 The results were published under the title 'The Irish Water War, Austerity and the Risen People.'
The survey questionnaire was filled out by 2,556 respondents mostly online but around 100 were filled out at protests.
There were slightly more men, nearly 54%, and 52% of the total were working full time.
86% said that media coverage was negative.
73% of respondents were from Dublin and other parts of Leinster.
83% said they will vote for left wing candidates in the next general election, with 65% saying this would be a change in their vote.