94% of Irish bathing waters have passed new stricter water quality standards introduced by the European Union.
Three quarters of beaches were rated as excellent, however, seven beaches failed the minimum standards.
The Environmental Protection Agency measures the levels of microbiological contaminants that cause gastro-intestinal illnesses in the waters at 136 beaches and bathing areas around the country.
This year the EU standards are twice as strict as before.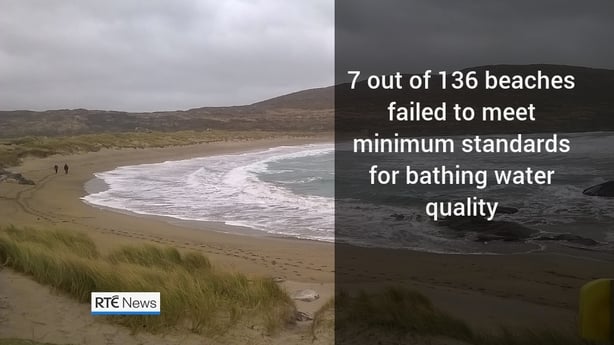 Despite that only seven out of 136 bathing areas failed to meet the minimum standard and were classified as poor quality.
They are Ardmore Strand in Waterford, Ballyloughane and Clifden in Galway, Duncannon Strand in Wexford, Lilliput on Lough Ennel in Westmeath, the South Beach at Rush in Co Dublin, and the Front Strand at Youghal in Cork.
In all seven cases, the EPA said the problems were linked to the impact of waste water discharges, and the local authorities and Irish Water have put in place management plans to tackle the main pollution risks.
In Youghal and Clifden new sewage works are being constructed; a temporary waste water treatment plant is proposed for Duncannon; while in Ardmore improvements to the effluent disinfection system are being undertaken.
The fact that these waters are designated as poor means the local authorities have to put in place notification for the entire summer bathing season advising the public against bathing, and according to the EPA, this could include a bathing prohibition if a pollution incident occurs.
However, because 94% of Ireland's bathing waters have met the stricter standards and three quarters were rated as excellent, Ireland has maintained its position as one of the leading northern European countries for overall bathing water quality.