The EU has unveiled a ten-point action plan to stem the tide of migrants crossing the Mediterranean after the latest disastrous loss of life, promising to step up both control and rescue operations.
The European Commission said the plan, approved by EU foreign and interior ministers at an emergency meeting in Luxembourg, will be submitted to a summit on Thursday as the 28-member bloc tries to halt a growing death toll off its southern shores.
New proposals to tackle a migration crisis include destroying smugglers' boats and a new programme to send migrants home.
The plan put forward by the commission also calls for the reinforcing of EU border control operations in the Mediterranean with more money and equipment and extending its operational area.
It proposes a "systematic effort to capture and destroy vessels used by smugglers" and set up a new programme for the rapid return of migrants.
EU Commissioner for Migration Dimitris Avramopoulos also said the commission will propose a pilot programme to share resettlement of migrants across the 28-member bloc.
Earlier, the International Organization for Migration received a distress call from a sinking boat in the Mediterranean carrying more than 300 people, with at least 20 people reported dead.
IOM's Rome office received a call for help from one of three boats floating near each other in international waters, spokesman Joel Millman said.
"The caller said that there are over 300 people on his boat and it is already sinking [and] he has already reported fatalities," he wrote in an email.
The organisation has contacted the coast guard with the coordinates for the vessels, but said "they do not have the assets to conduct these rescues right now".
"The weekend incident has tied up a lot of resources," he said, referring to yesterday's migrant tragedy when about 700 people were feared killed after a boat capsized off Libya.
"The coast guard will probably try to redirect commercial ships to the area," he added.
Meanwhile, at least three people have drowned after a wooden sailboat carrying dozens of immigrants ran aground off the coast of the Greek island of Rhodes, the Greek coast guard said.
More than 90 people were rescued in the incident and 30 of those were taken to hospital.
The boat was totally wrecked, the coast guard said.
"We have recovered three bodies so far - that of a man, a woman and a child," a Greek coast guard official said.
Greek TV footage showed parts of the boat in the latest disaster floating in the water off Rhodes and people holding onto it or swimming to the shore.
There has been a surge in migrants trying to reach Greece's Aegean islands from the Turkish coast in the last ten days.
Rescuers are continuing to search a wide area of the Mediterranean Sea, after a fishing boat crowded with hundreds of migrants capsized near the Italian island of Lampedusa yesterday.
The Italian authorities say one survivor told them as many as 950 people were on board, including hundreds who had been locked in the holds by people smugglers.
Ahead of today's meeting in Luxembourg, ministers held a minute's silence before proceedings got under way.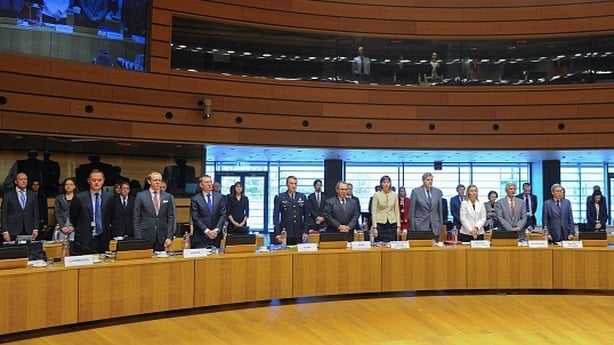 EU leaders have come under pressure to tackle the increasing number of migrants being drowned, as they attempt to enter southern European countries.
Minister for Foreign Affairs and Trade Charlie Flanagan and Minister for Justice and Equality Frances Fitzgerald attended today's meeting in Luxembourg.
Speaking after the meeting Mr Flanagan said: "Ireland strongly shares the concern of our EU and Southern partners and we agree that solutions must be found jointly to address a humanitarian crisis on this scale.
Mr Fitzgerald said: "The EU as a whole and its members states clearly need to use all law enforcement resources and tools available to tackle the organised criminal gangs involved in the smuggling and trafficking of migrants.
EU foreign policy chief Federica Mogherini said it is the EU's moral duty to tackle the migrant crisis, and the bloc could call an emergency summit of leaders later this week.
Arriving at the meeting in Luxembourg, she said: "We must build a common sense of European responsibility ... knowing that there is no easy solution, no magic solution."
In a statement earlier, the commission said: "The reality is stark and our actions must therefore be bold. These are human lives at stake, and the European Union as a whole has a moral and humanitarian obligation to act."
The commission said it is consulting with member states, European agencies and international organisations to prepare a new European migration strategy, which it would adopt in mid-May.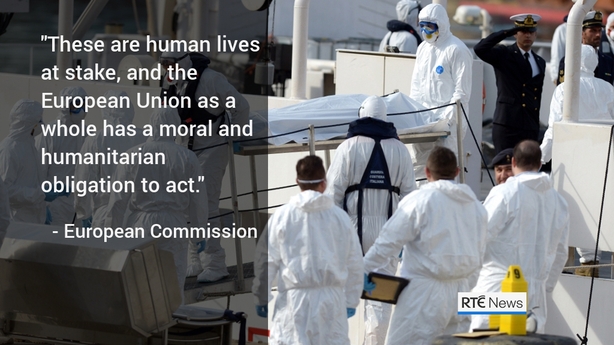 "What we need is immediate actions to prevent further loss of life as well as a comprehensive approach to managing migration better in all its aspects."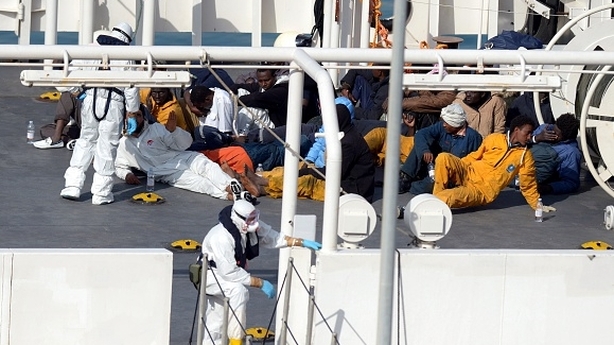 Ms Mogherini said she would present a set of proposals to Libya, one of the main trafficking routes, at today's meeting.
"We need to save human lives all together, as all together we need to protect our borders and to fight the trafficking of human beings," she said, urging that the task be shared and not "left only to the southern countries".
Meanwhile, German Chancellor Angela Merkel said Germany and its European partners need to move swiftly to agree new measures to avert more deadly boating disasters in the Mediterranean.
A spokesman for the Chancellor denied that there was a difference of opinion in Berlin about how to proceed.
It came after officials sent different signals yesterday about whether to revive the so-called 'Mare Nostrum' rescue mission that Italy ended late last year.
Illegal immigration, mostly from Africa, has rapidly expanded with ruthless people smugglers based in chaotic Libya taking overcrowded, unseaworthy boats north, mostly to Italy and Greece.
Southern EU countries have complained that they are bearing too much of the brunt of the rescue work and processing of migrants.
The latest shipwreck took place between Libya and Malta and, if the toll is confirmed, would be the biggest such disaster to date.