The Fianna Fáil leader has accused Sinn Féin of trying to misuse peoples' respect for 1916 and said the party has no connection with the volunteers who fought then.
Speaking at Fianna Fáil's annual 1916 commemoration in Arbour Hill, Micheál Martin accused Sinn Féin of trying to falsify recent Irish history by claiming a connection with the Rising. 
He criticised the party for its handling of child abuse, the legacy of the Troubles and its policies in the Northern Executive.
Mr Martin also accused the Government of underestimating the public interest in the centenary of the Rising and of giving inadequate support to local commemorations.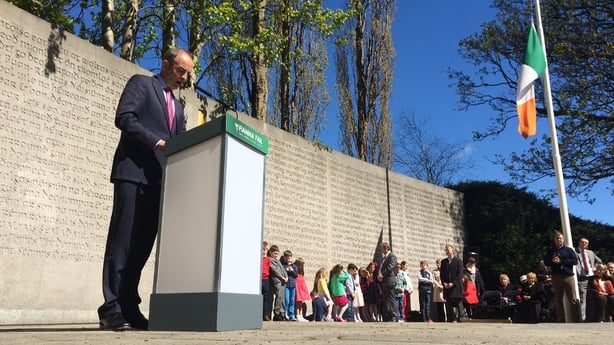 He used his speech to call for a "Yes vote" in the forthcoming marriage equality referendum, saying it would be a fitting beginning to the marking the centenary of the noble vision of the Proclamation.
Sinn Féin president Gerry Adams dismissed Mr Martin's comments as a "hysterical rant" and the "clear sign of desperation at the growth of Sinn Féin and the stagnation of his own party".
In a statement, Mr Adams said Mr Martin is facing huge internal and external pressure over his leadership and his speech "majors on negativity and invective but offers no message of hope or policy proposals which could build a better future."