Ed Miliband was judged the "winner" of the second TV debate of the British General Election campaign in an instant poll conducted after he clashed with leaders of smaller parties who urged him to form a "progressive" coalition to run the country.
Five opposition leaders clashed in a 90-minute "challengers' debate" in the absence of Prime Minister David Cameron or Deputy Prime Minister Nick Clegg.
The Labour leader came under concerted attack from Scottish and Welsh nationalists, but insisted there was a "huge difference" between his manifesto and that offered by David Cameron, rejecting claims he offered voters only a "Tory-lite" alternative.
Mr Miliband also issued a direct challenge to Mr Cameron - who was absent from the BBC showdown - to debate him head-to-head on TV before the 7 May election.
The challenge sparked an immediate response from Liberal Democrat leader Nick Clegg, who said on Twitter: "I'll debate with you Ed Miliband, even if David Cameron won't. Any time, any place, anywhere."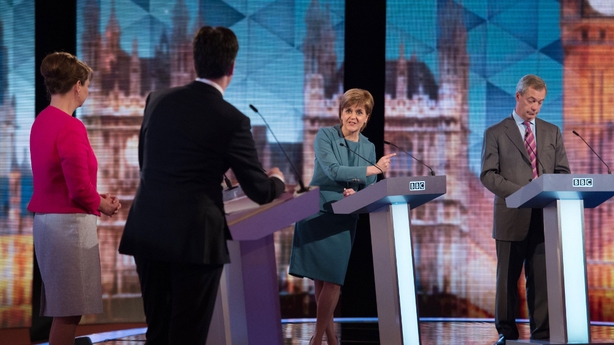 In a poll of 1,013 viewers conducted by Survation, Mr Miliband came out on top, with 35% judging him the winner, against 31% for the Scottish National Party's Nicola Sturgeon, 27% for Ukip's Nigel Farage, 5% for the Greens' Natalie Bennett and 2% for Plaid Cymru leader Leanne Wood.
Some 43% said Mr Miliband would make the best prime minister, against 26% for Mr Farage, 25% for Ms Sturgeon, and 3% each for Ms Bennett and Ms Wood.
Conservatives and Liberal Democrats said the latest leaders debate showed the "chaos" that could result from Labour doing a post-election deal with smaller anti-austerity parties.
Ex-Tory leader William Hague said the SNP would clearly "be in the driving seat" of any arrangement.
"Nicola Sturgeon, it is very clear from this debate, wants to put Ed Miliband into Downing Street and then drive him into more and more extreme positions," he said afterwards.
Liberal Democrat Chief Secretary to the Treasury Danny Alexander said moderate centre-ground viewers "will have come away pretty alarmed.
"There was no one there offering a responsible plan on the economy, there was no one there offering a balanced centre-ground idea.
"Listening to that rabble tonight, people will be very worried about the future of their country if any of them are influencing the shape of the government in the next parliament."
Mr Alexander added Mr Clegg had wanted to take part but was "excluded from this debate by the broadcasters at David Cameron's insistence".
Ukip deputy leader Paul Nuttall said he believed Nigel Farage "would have done very well with people sitting at home" but backed the leader's complaints the studio audience was biased against him.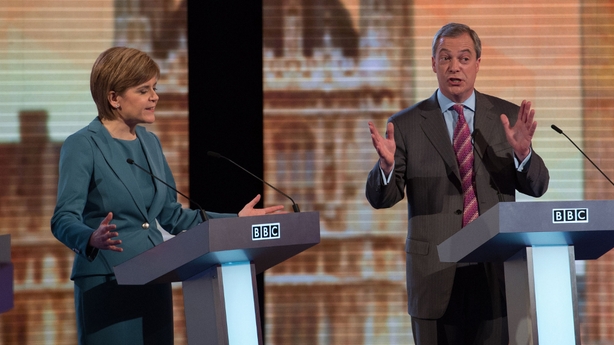 "People at home agree with us and that's what really matters - the millions of people at home watching this. I am not sure whether we will complain. All I will say is I didn't think the audience was representative of the views of British people.
"We are very happy with the way it went. We thought he got out positive messages on the National Health Service ... he got positive messages out on wanting to control our own borders and indeed in making Britain a truly free and democratic country out of the European Union," Mr Nuttall said.
Labour's energy and climate change spokesperson Caroline Flint told reporters Mr Cameron was the "loser" tonight, adding Mr Miliband had "laid down the gauntlet".
"Ed Miliband said 'face me in a one-on-one debate between the two of us, let the public see us debate' and I hope David Cameron will step up," she said.
Ms Flint said Mr Miliband had shown himself to be an "alternative prime minister to this country".
There was also a rare statement from David Axelrod, the former adviser to Barack Obama who has been recruited by Labour to advise on its election campaign.
"Strong, confident debate for Ed Miliband," Mr Axelrod wrote on Twitter.
"The only plausible alternative to five more years of top down, Tory economics. And where WAS Cameron?" he added.
Senior Lib Dem Tom Brake on the prospect of entering into coalition talks with the parties on show in the debate said: "What is most scary is the prospect of seeking a coalition deal with a wide range of parties?
"We've seen that today - the different demands made by the nationalist parties and the difficulties, if that is what Ed Miliband tries to embark, he will find in trying to pull together something that is coherent and has any prospect in dealing with the economic problems we still face and have got to try and tackle in the next three years", he added.