A Health Service Executive survey of staff across the public health sector has found that most who responded do not have confidence in senior management in terms of their decision making, communications and change management.
The survey also found pessimism among some staff about what the future holds and a lack of clarity on the health service strategy and direction.
Some staff feel that care of patients is not the top priority of the health service.
The survey found that 65% believe the overall level of service in health services is deteriorating.
Just 12% of those who responded had confidence in the decisions made by senior management.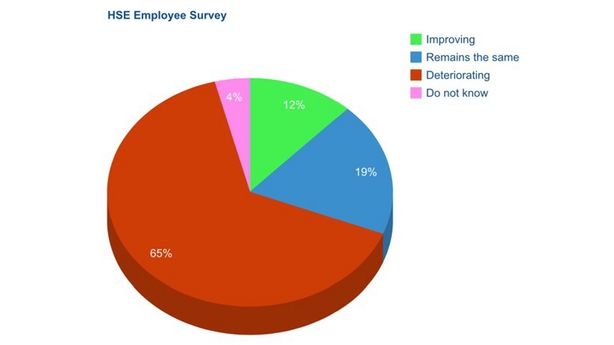 Speaking today President of the IMO Dr Ray Walley said the survey results testifies the "crisis of morale" across the health services. 
More than 8,600 of almost 121,000 health service staff responded to the survey, a response rate of just over 7%.
Among the positive findings were that most staff were motivated and enthusiastic about their job.
Staff also tend to know their individual role and those of their team.
Most staff were positive about working conditions and are likely to stay with the HSE.
The survey also found not all employees who report errors, near misses or incidences are treated fairly and have a lack of confidence that the organisation would address reported concerns about fraud, malpractice, or wrongdoing.
HSE National Director of Human Resources Ian Tegerdine said there was a growing body of evidence from research that links employee engagement and well-being to patient satisfaction and clinical outcomes.
Speaking on RTÉ's Today with Sean O'Rourke, Mr Tegerdine said while some results of the survey are disappointing they are not surprising, "given where the health service and the country has been over the last few years."
This is the first HSE employee survey and focus groups are being held around Ireland over the coming months to get further detailed input from employees.
The survey was conducted by Ipsos MRBI from September to November 2014.