Angry workers are preparing to ratchet up industrial action against the Irish owned supermarket chain Dunnes Stores, RTÉ News has learned. 
Mandate - the union representing almost two-thirds of workers at the company - will hold a special 'disputes committee' meeting in Dublin on Monday. 
The committee, made up of shop stewards from branches of the chain all over the country, will vote on the next phase of industrial action at the meeting. 
Further industrial action could include one day strikes or even an all out dispute. 
John Douglas, Mandate General Secretary, told the 'This Week' programme on RTÉ Radio today that "members will decide what action they'll take". 
"We'll be deciding that tomorrow," Mr Douglas added. 
"We will be considering what next step we can take. It may be a series of further actions or one-day disputes or we may escalate it. But, that's up to the members to decide", Mr Douglas said. 
Mr Douglas also confirmed the union is seeking legal advice about members it alleges were "targeted" by Dunnes Stores management for striking.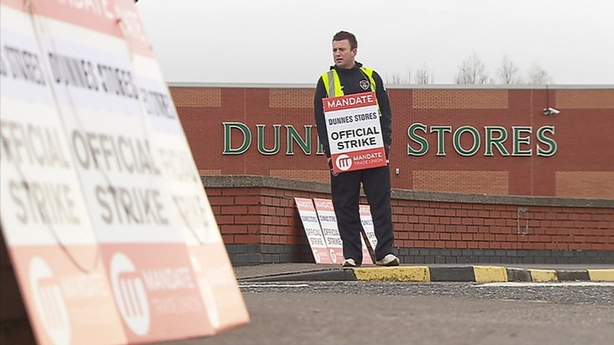 The union, he said, has compiled a dossier of reports from 20 striking workers who claim their working hours, shifts patterns and job responsibilities changed in the aftermath of industrial action on Holy Thursday. 
Mr Douglas has also written to Dunnes Stores calling for an end of what he claims is the victimisation of union members.
He also called for workers allegedly dismissed since the strike to be reinstated. 
One worker, Tony Malone, who Mandate alleges was dismissed after the strike from Dunnes Stores at Marshes Avenue in Dundalk, told the 'This Week' programme on RTÉ radio he would choose to go on strike again if he was still working at the company. 
Asked if his dismissal could scare other workers from further industrial action, Mr Malone said: "It may scare the ones that never striked, but for the ones who did strike, I think, it will just add some fuel to the fire". 
Muireann Dalton - a shop steward at Dunnes Stores in Newtownmountkennedy - who alleges she was moved from her job as a food safety officer to work on the tills at the county Wicklow store, after she appeared on RTÉ's Six One News, is also supporting further strike action. 
Ms Dalton, who is a member of  Mandate's 'disputes committee' who will meet on Monday, told RTÉ's 'This Week' programme: "We can't take this anymore, and we won't take this anymore, and if we don't do another strike day head office will come down hard on us". 
"I myself personally will be pushing for another strike day. This will all go to a vote because the intimidation in stores around the country has been terrible," Ms Dalton added.  
She added she feels there is support amongst Dunnes workers for further strike action.
Mandate is also calling on Jed Nash, Minister for State at the Department of Jobs, Enterprise and Innovation, to tackle the issue by addressing collective bargaining and anti-victimisation legislation.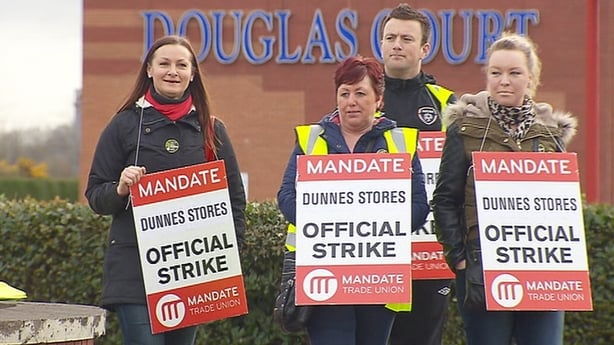 "There is a need for legislation. There's a promise by Minister Nash that the victimisation legislation, which is coupled with the collective bargaining legislation, will be in before June. But, there is also legislation required that gives workers the right to have contracts which reflects actually what they actually do - and that's what's needed and there is a possibility for this government to do that," Mr Douglas told 'This Week'. 
RTÉ news attempted to put a series of questions to Dunnes Stores but nobody was available.
Listen to Mandate workers and its General Secretary John Douglas here.