A new opinion poll suggests there has been a drop in support for Sinn Féin and Independent parties.
The Millward Brown poll, carried out for tomorrow's Sunday Independent, also indicates an increase in support for the Labour Party.
The poll surveyed almost 1,000 people over a ten-day period up to last Thursday.
One in five people still have not decided who they would vote for, if there was an election tomorrow.
However excluding this group, Fine Gael are the most popular party on 25%.
This level of support is unchanged since the last comparable poll in February.
However their coalition partners, the Labour Party, are up two points to 8%.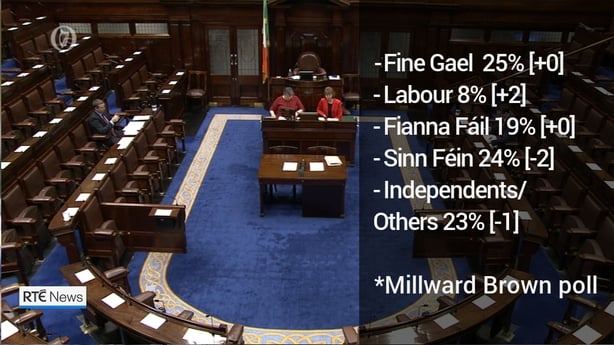 Despite improving economic figures, the Government parties, ranked on a combined 33%, are still a considerable distance from the level of support needed to return as a two-party coalition in the next election.
The poll suggests Opposition parties and Independents are not making any gains in popularity.
Fianna Fáil on 19% are again unchanged in an opinion poll, coming amid criticism within the party about recent poll results.,
Sinn Féin at 24% are down two points and Independents and others drop one point to 23%.
Within that the Green Party are on 3% - up two points, while Lucinda Creighton's Renua and the Socialist Party are on 2% each.