President Barack Obama called Saudi Arabia's King Salman bin Abdulaziz al-Saud today to discuss the deal reached by the US and international  negotiators over Iran's nuclear programme. 
According to the White House, the US  President invited King Salman and the Gulf Cooperation Council to Camp David for a summit to continue conversations on Iran.
Earlier today Iran and six world powers agreed on a framework to curb Iran's nuclear programme for at least a decade after eight days of marathon talks in Switzerland.
The tentative agreement clears the way for talks on a future comprehensive settlement that should ease Western fears that Iran is seeking to build an atomic bomb and in return lift economic sanctions on the Islamic Republic.
In a statement earlier the US President welcomed the outcome saying it was a good deal, comparing it to nuclear arms control deals struck by his predecessors with the Soviet Union that "made our world safer" during the Cold War.
"Today, the United States, together with our allies and partners, has reached an historic understanding with Iran, which if fully implemented, will prevent it from obtaining a nuclear weapon," he declared.
Under the outline deal, Iran would shut down more than two-thirds of its centrifuges producing uranium that could be used to build a bomb, and dismantle a reactor that could produce plutonium and accept intrusive verification.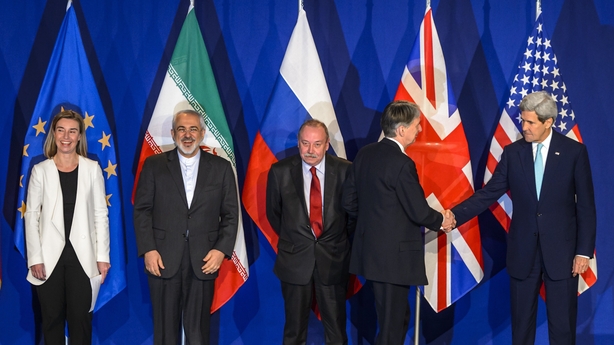 "Today we have taken a decisive step, we have reached parameters," EU foreign policy chief Federica Mogherini told a news conference. "The political determination, the good will of all parties made it possible.
"This is a crucial decision laying the agreed basis for the final text of joint comprehensive plan of action. We can now start drafting the text and annexes," Ms Mogherini, who has acted as a coordinator for the six powers - Britain, China,France, Germany, Russia and the US - said.
In a statement this evening UN Secretary-General Ban Ki-moon said a comprehensive deal reached by 30 June on Tehran's nuclear programme could "enable all countries to cooperate urgently to deal with the many serious security challenges they face."
The UN Secretary-General congratulated them on reaching a framework agreement on curbing Iran's nuclear programme for at least a decade that clears the way for talks on a future comprehensive settlement.  
The framework, fiercely opposed by Israel, includes limits on Iran's enrichment of uranium for ten years.
Iran's Foreign Minister Javad Zarif cautioned "we're still some time away from reaching where we want to be."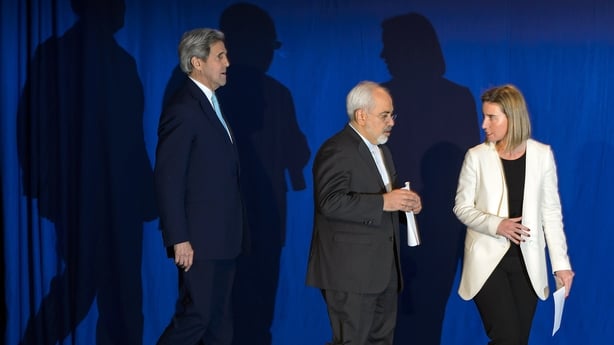 A Western official said the sides had agreed that the comprehensive settlement would require Iran to dilute or ship abroad most of its stocks of enriched uranium, and leave just 6,000 out of the 19,000 centrifuges it operates for enrichment.
The deal wrapped up eight days of talks, extended after a deadline of midnight on Tuesday, aiming to achieve a political accord that could serve as the basis of a final deal by 30 June.
Western countries say enriched uranium can be used to make a weapon, which they aim to prevent.
Iran says it wants it only for a peaceful nuclear energy programme.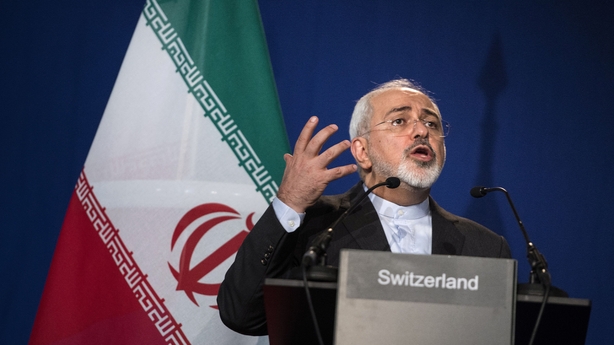 Mr Zarif said that other realms of Iran and US relations had nothing to do with the agreement.
"This was an attempt to resolve the nuclear issue...We have serious differences with the United States," he said.
"We have built mutual distrust in the past... So what I hope is that through courageous implementation of this some of that trust could be remedied. But that is for us all to wait and see."