Minister for Defence Simon Coveney has admitted there is an issue with six ambulances bought by the Defence Forces, for a total cost of almost €900,000.
Minister Coveney said he became aware of a health and safety assessment on the ambulances in the last few weeks.
The Forces' Advisory Group assessment on safety concluded that the risk of back injury was so great that the ambulances' role should be reconsidered.
It found health and safety issues around the loading and unloading of the ambulance's stretcher.
These included one medic sometimes having to carry the weight of the patient and the stretcher.
The Health and Safety assessment was released to RTÉ News under the Freedom of Information Act.
Three years ago the Department of Defence requested tenders to supply of four wheel drive ambulances.
They were required to travel in extreme weather conditions and on rough ground to evacuate injured troops.
Two ambulance were bought in 2012 and a further four last year with each costing more than €148,000.
Minister Coveney said the problem of loading and unloading patients onto the ambulances was not noticed when the first two were vehicles were purchased in 2012.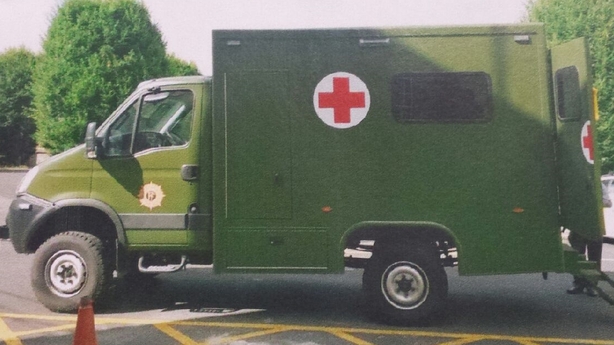 However, staff concerns resulted in a risk assessment being carried out.
To deal with this problem in the short term the safety group recommended that only staff of a higher level of physical stature should be rostered for the new ambulances.
But the assessment found that ultimately the ambulances expose staff to such risk of injury that their future role should be reconsidered.
The Defence Forces says it is working closely with the manufactures to come up with a solution to the problem.
Minister Coveney said he is confident a cost effective solution can be found to the problem soon.