Thousands of staff at Dunnes Stores staged a one-day strike today in a dispute over low-hour contracts, job and income security and the right to trade union representation.
The industrial action affects 109 stores countrywide.
Mandate trade union General Secretary John Douglas said more than 6,000 of the union's members at Dunnes Stores were due to take part in the strike. 
Speaking this morning on RTÉ's Morning Ireland, Mr Douglas said his members want decent jobs so they can contribute to society.
"There are over 6,000 workers on strike this morning in a fight for decent pay and decent conditions of employment.
"That's all these workers want. They only want certainty on how much money they are going to earn week-to-week.
"At the moment, 80% of Dunnes Stores workers haven't a clue, beyond 15 hours, how many hours they are going to work from week-to-week. So, you can't plan your life, you can't plan your future and there's no financial security and it's unfair," he said.
Mandate members reluctant to talk, such is the relationship with management. #DunnesStores @morningireland pic.twitter.com/8Vi4N9Vjrm

— Petula Martyn (@petulamartyn) April 2, 2015
Mandate also accused the retailer of refusing to negotiate with them or be willing to attend the Labour Court.
Pickets have been placed on 14 of the 15 Dunnes Stores outlets in Co Cork.
Almost 600 of the 850 staff at these stores are Mandate workers, with the exception of North Main St where the staff are members of SIPTU.
Pickets began at the Charleville and Mallow stores at 6am.
Among the major stores in Co Cork are Douglas Court, Bishopstown, and St Patrick Street - the company's flagship store where the business first started in 1944.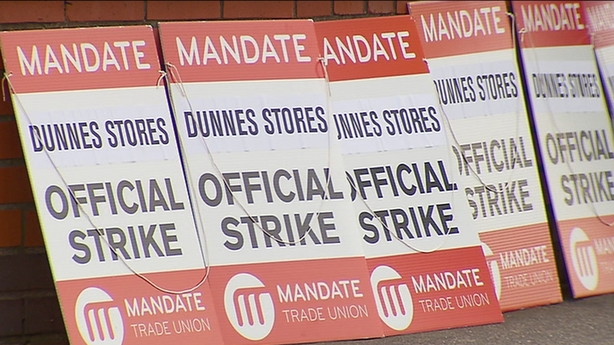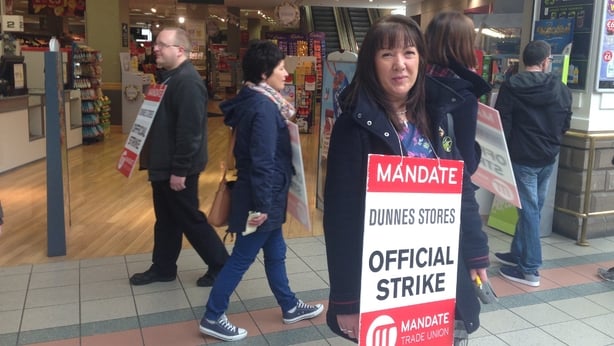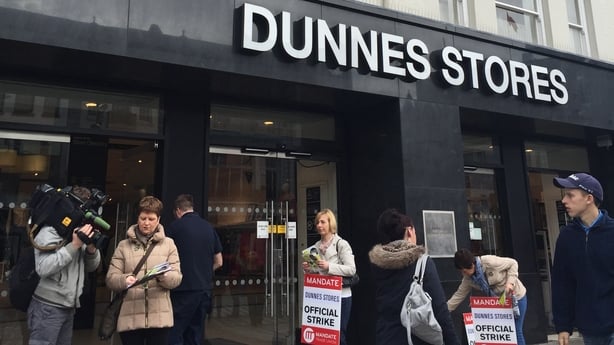 Around 300 Mandate workers also placed pickets on the three Co Kerry stores, two in Tralee and one in Killarney.
Their protest began just after 5.30am at the North Circular Road store in Tralee and will continue until close of business at 11pm.
DUNNES STORES is offering 20% off in its online store today as thousands of its workers picket outside stores pic.twitter.com/UOVsDhh3eW

— Colm Hand (@ColmHand) April 2, 2015
Workers marched from the GPO to the Henry Street store this evening.
Dunnes workers march down Henry street. pic.twitter.com/2uZ8fQ7Gqt

— Sinéad Hussey (@SineadHus) April 2, 2015
The workers have support from politicians across the political spectrum, including Taoiseach Enda Kenny who backed their right to clarity regarding their working lives.
Tánaiste Joan Burton met workers protesting on Henry Street earlier today.
Staff members picketing outside Dunnes Stores in St Stephen's Green in Dublin were joined by Fianna Fáil's Micheál Martin, and Sinn Féin President Gerry Adams and Deputy Leader Mary Lou McDonald.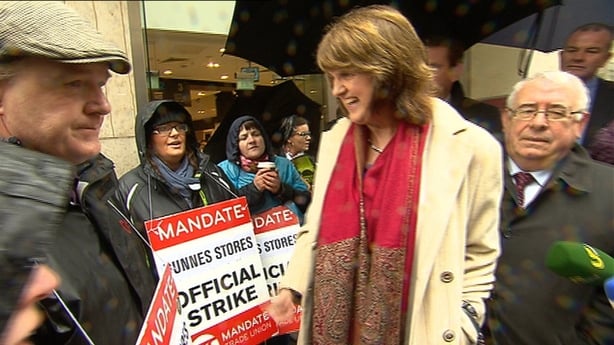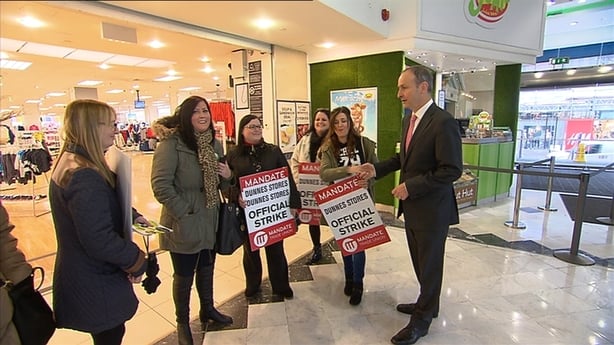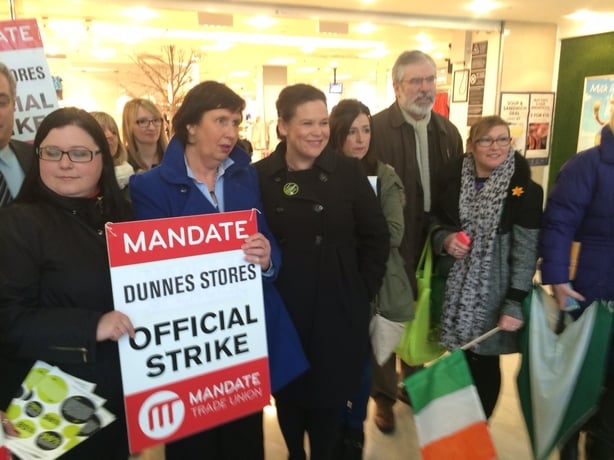 While Dunnes management has not issued any formal comment, in a recent letter to staff they warned that the strike could harm the company and lead to redundancies.
They also accused the union of engineering a dispute in pursuit of union negotiating rights.
The Irish Congress of Trade Unions has urged its members to respect the picket.
The NUJ called on all of its members to support Mandate in its dispute with the retailer.
If you're passing a Dunnes Stores today, sign petition & support workers on strike. #Decency4Dunnes #DunnesStores #solidarity #Ireland

— NUJ (@NUJofficial) April 2, 2015
Dunnes Stores workers in Waterford on strike pic.twitter.com/hAX1tlmUuk

— Damien Tiernan (@damienrte) April 2, 2015

SIPTU General President Jack O'Connor said the struggle of Dunnes Stores workers is one that is critical to the defence of the living standards of all workers in Ireland.
Mr O'Connor visited picket lines outside Dunnes Stores in Dublin city centre.
He said,"these workers are fighting against a race to the bottom which all working people in Ireland are facing."
Workers at Dunnes Stores in Northern Ireland are not on strike today because they are not trade union organised.
A picket supporting the Dunnes workers on both sides of the border was held outside a Dunnes store in Belfast city centre this afternoon.
The protest was organised by the Belfast Trades Council and supported by members from several unions and officials from the ICTU.