Minister of State at the Department of Social Protection Kevin Humphreys has said that rent supplement is being increased on a case-by-case basis, but that the Government will not add to rent inflation by increasing rent supplement across the board.
Speaking on RTÉ's News At One, Mr Humphreys said 1,000 people have had their rent supplement increased well above the limits.
He said that there are 70,000 tenants receiving rent supplement, representing about 35% of the market. 
Mr Humphreys said that if the rent supplement was to be increased, it would be at a further cost of €86m to the taxpayer and it would push people on low incomes and students out of the rental market.
He said that supply area needs to be tackled and that is what the Government is doing.
Mr Humphreys' comments come after a homelessness charity accused Tánaiste Joan Burton of signing the eviction notice of hundreds of families in the coming months.
Speaking on RTÉ's Morning Ireland, Mike Allen, Head of Advocacy for Focus Ireland, criticised the refusal of Ms Burton to increase the level of rent for those on rent supplement. 
He contested the Government's claim that an increase could inflate prices in the sector saying that prices had increased by around 20% over the past two years without the Government increasing rent allowance. 
Mr Allen said they were seeking legal advice to see if the Government was stepping outside its powers in making the decision.
He said since Christmas more than 100 families have been made homeless in Dublin, with 66 made homeless in February alone.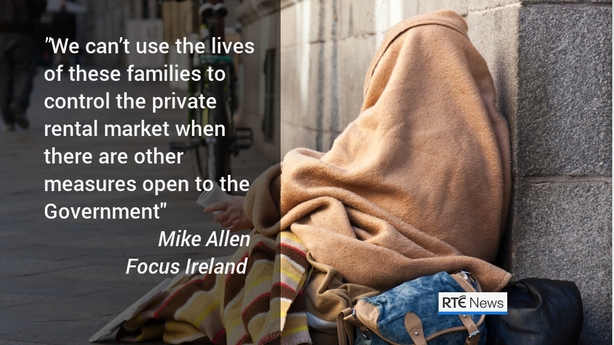 11 of those had previously escaped homelessness, while the other 55 families had no experience of homelessness. They are now living in B&Bs or single hotel rooms. 
He added that all of these families had been living in privately rented accommodation and inability to pay rent was the most significant factor that led to their becoming homeless.
Mr Allen said "what the Tánaiste has done is to sign eviction notices for hundreds of further families over the coming months. That is the inevitable consequence of what has been done."
Mr Allen also mentioned that Minister for the Environment Alan Kelly said at the Labour Party conference that he is going to introduce rent certainty, but the Tánaiste has shown no reference to that.
He said the charity would support a form of rent control but said at the moment it appeared that one Government department was doing one thing while another is doing another and that hundreds of families are falling between the cracks.