Yemen's government has said Saudi-led airstrikes against its Houthi militia opponents would not last long on the second day of a campaign against the Iranian-allied militia that risks escalating a regional proxy conflict.
Warplanes targeted the Houthi forces controlling Yemen's capital and their northern heartland, while Morocco has said it would join the rapidly-assembled Sunni Muslim coalition against the Shia Muslim group.
However, Pakistan, named by Saudi Arabia yesterday as a partner, said it had made no decision on whether to contribute, although it pledged to defend the kingdom against any threat to its solidarity.
The Saudi Arabian move is the latest front in a growing regional contest for power with Iran that is also playing out in Syria, where Iran backs President Bashar al-Assad's government against mainly Sunni rebels, and in Iraq, where Iranian-backed Shia militias are playing a major role in fighting.
Sunni monarchies in the Gulf are backing embattled Yemeni president Abd-Rabbu Mansour Hadi and his fellow Sunnis in the country's south against the Shia advance.             
Yemen's foreign minister Riyadh Yaseen, asked if the campaign would last days, weeks or more, told Saudi-owned al-Arabiya television: "I expect that this operation will not go on for long, I think it will be days."
He said the door was still open for dialogue with the Houthis, while in a Facebook posting, Mr Hadi urged Yemenis to be patient, saying the "rebels" would soon be gone.             
Houthi fighters and forces allied to former president Ali Abdullah Saleh entered the southern provinces of Abyan and Shabwa today through the central province of Bayda, extending their reach into the south, according to tribal sources.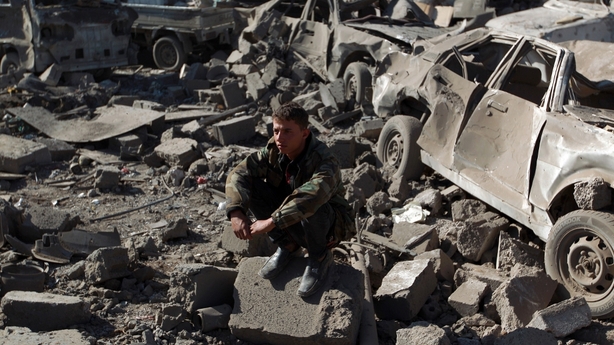 The fighters entered the city of Lodar in Abyan after clashes with tribal forces loyal to Mr Hadi, and also took over Bayhan in Shabwa, where they faced less resistance.
Mosques in the Saudi capital of Riyadh preached fiery sermons against the Houthis and their Iranian allies, describing the fight as a religious duty.
Saudi Arabia's top clerical council issued a fatwa yesterday giving its blessing to the campaign.
n the Iranian capital Tehran, Friday prayer leader Ayatollah Kazem Sadeghi described the attacks as "an aggression and interference in Yemen's internal affairs".
Residents said aircraft targeted bases around Sanaa of Republican Guards allied to the Houthis, including one near the presidential compound in a southern district, around dawn and also struck near a military installation that houses missiles.
The Republican Guards are loyal to former president Mr Saleh, the Houthi's main ally who retains wide power despite having stepped down in 2011 after Arab Spring protests.
Earlier air strikes south of the city and in the oil-producing Marib region appeared to target military installations also affiliated with Saleh.
Yemeni oil flows through the Marib pipeline, its main export route, at a rate of around 70,000 barrels per day.
The well-armed tribes are the de facto authority in the central province so their support for the air strikes was significant.
Warplanes also hit two districts in the Houthis' northerly home province of Saada, tribal sources said.
The strikes hit a market in Kataf al-Bokaa in the north of Saada, killing or wounding 15 people, they said.
Shada district was also struck.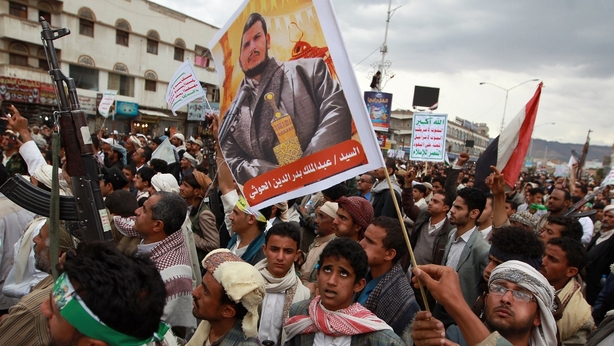 The coalition began air strikes yesterday  to try to rollback Houthi gains in the Arabian Peninsula country and to shore up the authority of Mr Hadi, who has been holed up in Aden after fleeing Sanaa in February.
Mr Hadi left Aden on Thursday and is due to attend an Arab summit meeting in Egypt on Saturday, where he aims to build Arab support for the air strikes.
He arrived in Saudi Arabia by way of Oman, where a foreign ministry official said he had had a medical check up before heading on to the kingdom.
The Saudi campaign raised morale among some Gulf Arabs who view Iran's growing influence in the region with suspicion.
In his first reaction to the attacks, Houthi leader Abdel-Malek al-Houthi called Saudi Arabia a bad neighbour and "Satan's horn", saying in a televised speech Yemenis would confront the "criminal, unjust and unjustified aggression".
Iran denounced the surprise assault on the Houthis, and demanded an immediate halt to Saudi-led military operations and, today, accused Turkish President Tayyip Erdogan on Friday of fomenting strife in the Middle East, rebuffing his accusation that Iran was trying to dominate the region.
While US officials have downplayed the scope of the ties between Iran and the Houthis, Saudi ambassador to Washington Adel al-Jubeir said members of Iran's Revolutionary Guards and Iranian-backed Hezbollah are on the ground advising the Houthis.
Saudi Brigadier General Ahmed Asseri, spokesman for the operation, told a news conference there were no plans at this stage for ground force operations, but if the need arose, Saudi and allied ground forces would repel "any aggression."