British Prime Minister David Cameron and Labour leader Ed Miliband set out their general election pitches in the first major television debate of the UK general election campaign last night.
The Conservative leader urged the electorate to vote for a "strong economy", while his Labour rival insisted: "We can do a lot better than this. We're a great country."
An ICM opinion poll for the Guardian newspaper found that 54% of those questioned thought Mr Cameron "won" the Battle for Number 10 interview show, with 46% plumping for Mr Miliband.
Comparing how the two leaders fared on Twitter during their sessions with Jeremy Paxman and Kay Burley, Mr Miliband was mentioned in 95,032 tweets and Mr Cameron in just 77,482 up to the time he finished his audience Q&A.
Mr Cameron was faced with questions about his friend Jeremy Clarkson - saying the BBC's decision to sack him was "absolutely right for them" - and admitted that he would not be able to live on the kind of exclusive zero-hours contract that the coalition has outlawed.
Mr Miliband told a studio audience his relationship with brother David was still "healing" after their battle for the Labour leadership, but said he still thought he was the right man for the job.
Mr Cameron and Mr Miliband were faced with questions from Mr Paxman and questions from a studio audience in the special Sky News/Channel 4 live general election programme.
Despite being in the same TV studio, the prime minister and Labour leader did not go head-to-head, after Mr Cameron refused to take part in a one-to-one debate.
Mr Cameron said the UK was "immeasurably stronger" after five years of his premiership and claimed that "we've turned the economy round".
He defended his stewardship of the National Health Service, after an audience member accused him of breaking his promise not to impose a top-down reorganisation on the health service.
The Conservative leader said: "You are going to have to make this huge choice in 42 days' time. What I have learnt in the last five years is that nothing you want to do will work without a strong and growing economy.
"The schools we want for our children, the hospitals we want when we are ill. These things need that strong economy."
Mr Miliband said: "I think this is a choice between those who think this is as good as it gets for Britain and those who think we can do a lot better than this.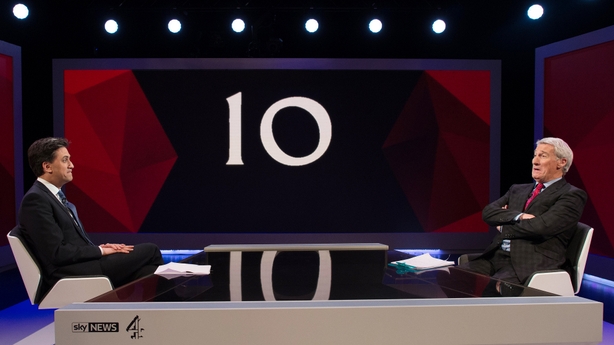 "I don't think it's good enough that we've got 700,000 people on zero hours contracts and I think we can do something about it.
"The prime minister said he couldn't live on a zero hours contract, well I couldn't either, so let's do something about it."
Asked by an audience member: "You seem gloomy most of the time - are things really so bad", Mr Miliband replied: "No, but they could be a lot better."