Nationals of more than 15 countries were among the victims of yesterday's Germanwings plane crash in the French Alps.
Germany
At least 72 Germans were killed in the crash.
The deaths of 16 teenage students and two young teachers left the lakeside town of Haltern am See in a state of shock.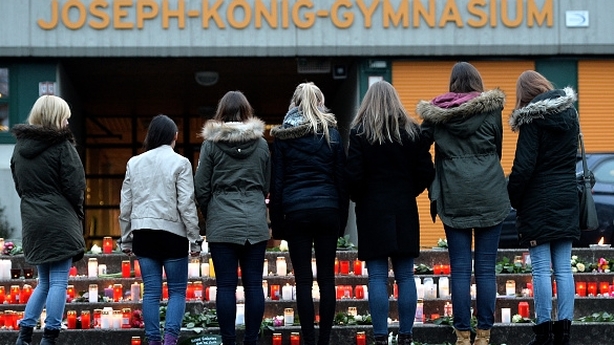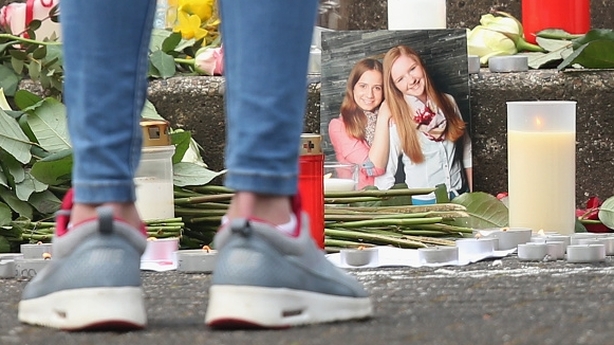 The 14 girls, two boys and two teachers had been on a Spanish language exchange programme.
The 16 German students, all about 15 years old, had started learning Spanish at the start of the school year and were picked from 40 applicants to attend the popular language exchange programme.
Two star opera singers, one of them accompanied by her baby, also died in the crash.
Bass-baritone Oleg Bryjak, 54, and contralto Maria Radner, 33, were flying to their home city of Duesseldorf after starring in Richard Wagner's opera "Siegfried" at Barcelona's opera house, the Gran Teatre del Liceu.
The theatre said Radner was travelling with her husband and baby - one of two infants to perish on the flight.
Radner was born in Duesseldorf and was heading back to her home.
Kazakh-born Bryjak lived in Duesseldorf and was a member of the city's opera. 
Spain
Germanwings company executive Thomas Winkelmann estimated there had been 35 Spanish victims, a figure far lower than the 49 cited by the Spanish government.
Britain
Marina Bandres Lopez-Belio, a 37-year-old Spanish woman living in England, was killed with her seven-month-old son Julian Pracz Bandres, a British national, when the Germanwings Airbus A320 went down.
"Marina was visiting her family in Spain for her uncle's funeral. She bought the tickets at the last moment, and decided to return to Manchester quickly as she wanted to return to her daily routine as soon as possible," her husband said.
Another British victim, Paul Andrew Bramley, 28, had been on holiday in Barcelona with friends and was flying back to Britain via Duesseldorf to see his family.
The third British victim was named as 50-year-old Martyn Matthews.
His wife Sharon, daughter Jade and son Nathan said they were "devastated" and asked for privacy to cope with their loss.
Foreign Secretary Philip Hammond warned there may still be more British victims.
Morocco
A newly-married Moroccan couple headed for a new life in Germany were also on the doomed Germanwings plane, a relative said.
Mohamed Ettahrioui, 24, and his bride, Asmaa Ouahoud El Allaoui, 23, were married in Barcelona on Saturday.
The Moroccan consul in Barcelona told the country's Medias24 website the couple were about "to start their new married life" in the Duesseldorf area.
The bride had grown up in Spain while her groom lived the past four years in Germany, according to Moroccan media.
Mexico
Two Mexican women were among the victims, the foreign ministry said.
The women were identified as Daniela Ayon Razo and Dora Isela Salas Vazquez, who had dual Mexican and Spanish citizenship.
Mexican media said Ayon was a 36-year-old yoga expert and globetrotter from Tampico, on the northeastern coastal state of Tamaulipas.
She earned a master's degree in business communications in Barcelona, where the Germany-bound flight originated.
Isela is a native of the northern industrial hub of Monterrey who had been living in Barcelona for 11 years.
Chile
A Chilean woman who travelled to Barcelona to watch a football match was also on the plane, local authorities said.
She was identified as Patricia Alegria, a lawyer who lived in Venezuela but had gone to Switzerland on business, Chile's ambassador to France, Patricio Hales, told the Bio Bio radio station.
He said Ms Alegria went to Barcelona over the weekend to watch the Barcelona-Real Madrid match, and yesterday boarded the flight to Duesseldorf.
United States
The US State Department said a mother and her adult daughter were among the dead. A third US citizen whose name was being withheld "out of respect for the family" also died in the crash, a spokeswoman said.
"Booz Allen and our employees are mourning the sudden andshocking death of Yvonne Selke, an employee of nearly 23 years,and her daughter, Emily," Betty Thompson, Booz Allen executive vice president, said in a statement.             
"Yvonne was a wonderful co-worker and a dedicated employee," she said.                 
Emily Selke was mourned on Facebook by her sorority, Gamma Sigma Sigma, at Drexel University in Philadelphia, where she graduated in 2013.
Germanwings has also counted victims from Australia, Argentina, Iran, Venezuela, the Netherlands, Colombia, Japan, Denmark, Belgium and Israel.