The first of the fast-track developments planned for Dublin's docklands has been given the go ahead by the city council.
The planning permission for the site on Sir John Rogerson's Quay will involve 58 apartments and 9,000 square metres of office space.
The site, which was formerly owned by a Sean Dunne company, is being developed by TIO investments and is part of a scheme called The Reveal Developments.
Dublin City Council gave permission under a Strategic Zone Development (SDZ) plan which means it cannot be appealed to An Bord Pleanála.
City councillors voted in November 2013 to designate a total of 22 hectares in the North and South Docklands as SDZ.
This landbank - the same size as the existing Customs House Docks/IFSC area - has the potential to cater for 23,000 office workers and 5,800 residents.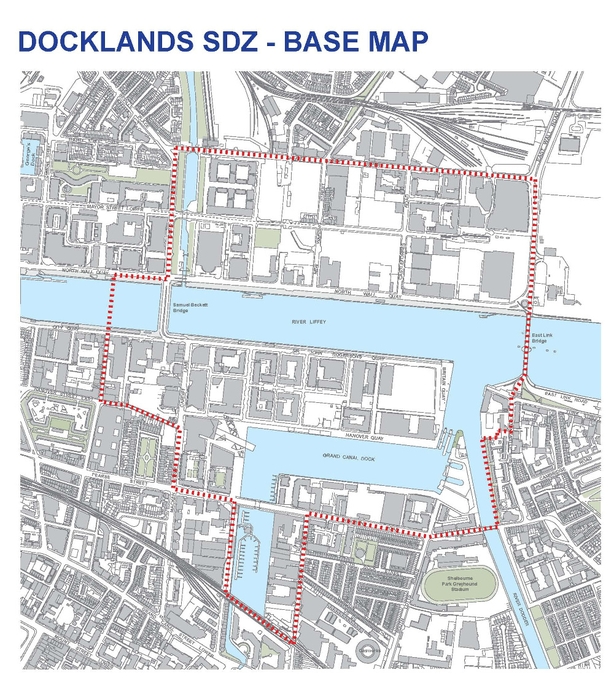 As long as planning applications meet criteria set out in the SDZ plan, they can be expected to be granted permission and it cuts the length of the planning process from three years to 18 months.
The city council's chief executive Owen Keegan welcomed the decision on the Sir John Rogerson's site, which is also the first permission granted since the council took over from the Dublin Docklands Development Authority.
"Dublin City Council is also actively working to deliver key new public infrastructure for the area, to support and be delivered alongside this and other planned key investments, and has established a dedicated office and team of staff working full time on the SDZ project."
Other planned redevelopments include the Boland Mills site for which the council has requested some changes.
The city council is planning two new bridges in the docklands and a programme of investment in streets and public spaces.