Helicopters began airlifting the remains of the victims of a Germanwings plane crash from the disaster site in the French Alps late this afternoon, a source close to the investigation has said.
The operation to recover the remains of the 150 passengers and crew killed in the Airbus A320 crash was later called off for the night, the source added.
The mountain crash site, which is situated at about 1,500m altitude, is accessible only by helicopter or an arduous hike on foot.
Investigators have retrieved cockpit voice recordings from one of the black boxes of the plane.
They expect a preliminary read-out of their content in days, an official said this evening.
The development came as French President Francois Hollande, Germany Chancellor Angela Merkel and Spanish Prime Minister Mariano Rajoy travelled to the crash site in a remote French Alpine region to pay tribute to the 150 victims, mostly German and Spanish.
However, while Mr Hollande promised that authorities would not rest until the causes of the crash were known, France's BEA air incident investigation bureau said it was still far too early to draw meaningful conclusions on why the plane, operated by the Germanwings budget arm of Lufthansa, went down.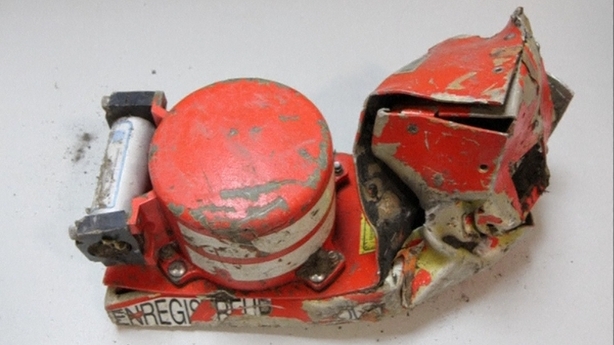 "We have just been able to extract a usable audio data file," BEA director Remi Jouty told a news conference at its headquarters outside Paris.
"We have not yet been able to study and to establish an exact timing for all the sounds and words heard on this file," he said.
He expected initial analysis in "a matter of days" but that rough read-out could be subject to errors and that more work would be needed for a full interpretation.
Although he said "words" had been heard on the tape, Mr Jouty would not confirm whether that meant the Airbus A320's pilots were conscious and he gave no details of the recordings.
Interior Minister Bernard Cazeneuve earlier said a terror attack was not the main hypothesis being worked on.
Mr Jouty said, however, that no theory could be excluded at this point.
While stressing it was too early to form a clear picture, he ruled out a mid-air explosion having taken place and said the crash scenario did not appear to be linked to depressurisation.
Victims of the French Alps plane crash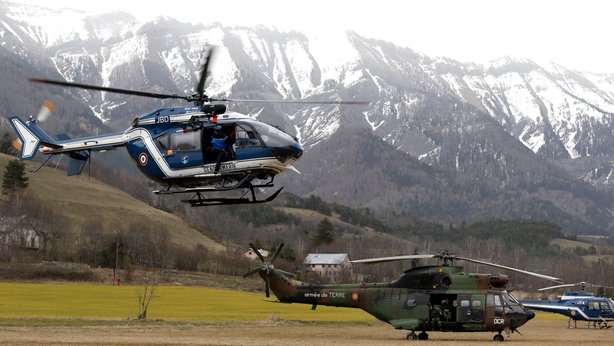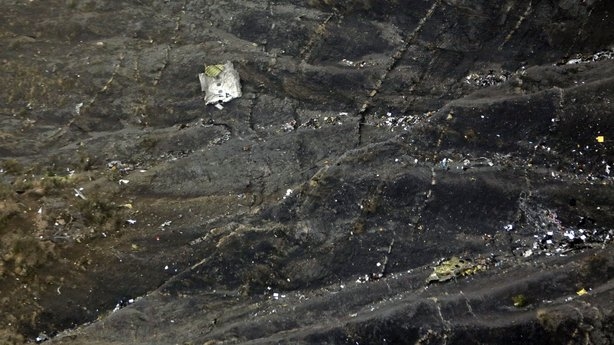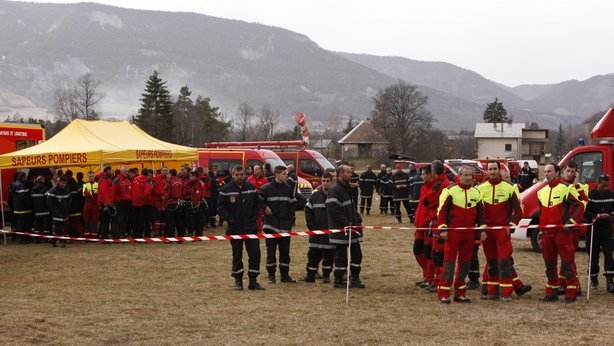 Mr Jouty said the second black box had not yet been found but could not confirm Mr Hollande's remark that its casing had.
Among the new details, he said the airliner had flown in a straight line directly into the mountain - but would not say whether that suggested at the hand of a pilot or auto-pilot.
Germanwings said 72 Germans were killed in the crash, the first major air passenger disaster on French soil since the 2000 Concorde accident just outside Paris.
Spanish officials said 51 Spaniards were among the victims.
US State Department spokeswoman Jen Psaki said a Booz Allen Hamilton Inc contractor named Yvonne Selke and her daughter, Emily, were on the flight along with a third US citizen whose name was being withheld "out of respect for the family".
Other victims included a Moroccan and citizens of Britain, Argentina, Australia, Belgium, Colombia, Denmark, Israel, Japan, Mexico, Iran and the Netherlands, officials said.
However, DNA checks to identify them could take weeks, the French government said.
Mr Hollande, Ms Merkel and Mr Rajoy thanked search teams and met residents in the village of Seyne-les-Alpes, where the salvaging operation has been set up.
A majority of victims are German or Spanish.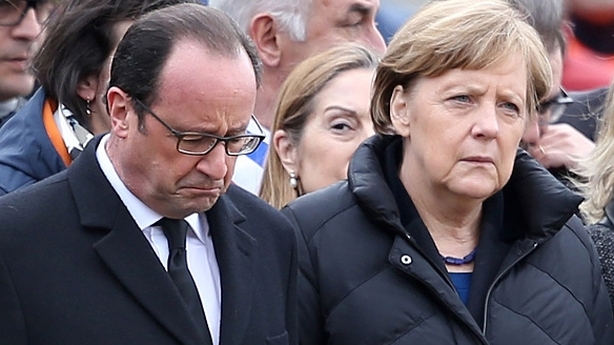 "France stands by you," a visibly moved President Hollande said.
"Dear Angela, dear Mariano, rest assured ... we will find out everything," Mr Hollande said, pledging to get to the bottom of what caused the crash. "France stands by you."
Ms Merkel replied: "It feels good that in a difficult hour like this that we're standing so closely together in friendship. Dear Francois, I'd like to say to you a heartfelt 'thank you' in the name of millions of Germans who are deeply appreciative of this German-Franco friendship."
A tribute ceremony took place on a site with a view in the distance of the mountain against which the Airbus crashed.
French Alps plane crash: What we know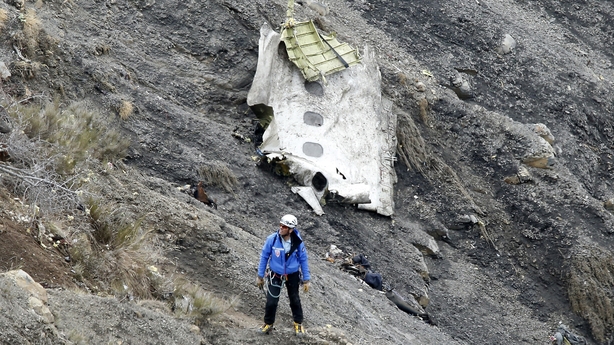 Earlier, Lufthansa said it could not explain why the Airbus run by its low-cost Germanwings unit crashed.
"It is inexplicable this could happen to a plane free of technical problems and with an experienced, Lufthansa-trained pilot," its CEO Carsten Spohr told reporters in Frankfurt.
Lufthansa said the 24-year-old plane had just on Monday had repairs to the hatch through which the nose wheel descends for landing.
A spokeswoman said that was not a safety issue but that repairs had been done to reduce noise.
Police and forensic teams on foot and in helicopters investigated the site about 100km north of Nice, where the airliner slammed into mountains in what aviation officials was a sharp descent but not freefall.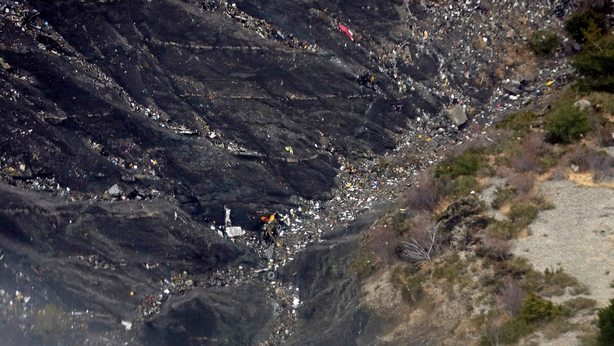 "When we go to a crash site we expect to find part of the fuselage. But here we see nothing at all," pilot Xavier Roy, coordinating air operations, said of the confetti of debris.
Roy said teams of investigators had been dropped by helicopter onto the site and were working roped together at altitudes of around 2,000m.
Germanwings said it cancelled one flight today and was using 11 planes from other carriers for about 40 flights after some of its crew members had refused to fly.
Employees laid candles and flowers by Germanwings headquarters at Cologne/Bonn airport, while Lufthansa and Germanwings staff worldwide held a moment of silence at 10.53am local time, the moment the plane went missing.
Among the victims were 16 teenagers and two teachers from the Joseph-Koenig-Gymnasium high school in the town of Haltern am See in northwest Germany.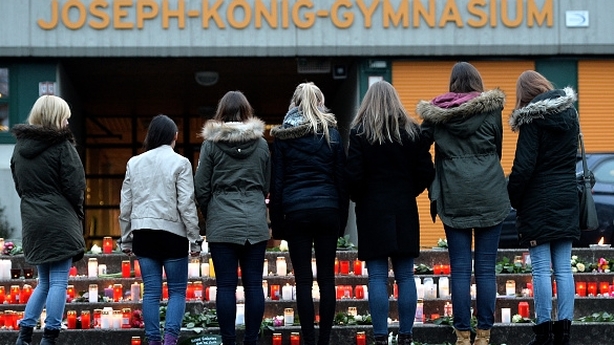 They were on their way home after a Spanish exchange visit near Barcelona.
"On Tuesday last week we sent off 16 happy young people, with two happy young colleagues, on a journey and what was meant to be a happy trip ... has ended in tragedy," headmaster Ulrich Wessel told reporters.
Barcelona's Liceu opera house said two singers, Kazakhstan-born Oleg Bryjak and German Maria Radner, died while returning to Duesseldorf after performing in Wagner's "Siegfried".              
Germanwings said yesterday the plane started descending a minute after reaching cruising height and lost altitude for eight minutes.
Experts said that while the Airbus had descended rapidly, it did not seem to have simply fallen out of the sky.
The A320 is one of the world's most used passenger jets and has a good safety record.
At 24-years-old, the plane was older than many others at Lufthansa, where the average for its fleet is 11-and-a-half years.
It was delivered to Lufthansa in 1991 and had clocked up around 58,000 flight hours over 46,000 flights, Airbus said.