Tens of thousands of people attended an anti-water charges protest in Dublin today.
The demonstration was organised by the Right2Water group, a coalition of community groups, political parties and trade unions.
March organisers stated over 80,000 people took part, while observers said the figure was between 30,000 and 40,000.
The garda press office did not provide an estimate.
This was the first national water charges demonstration of this year.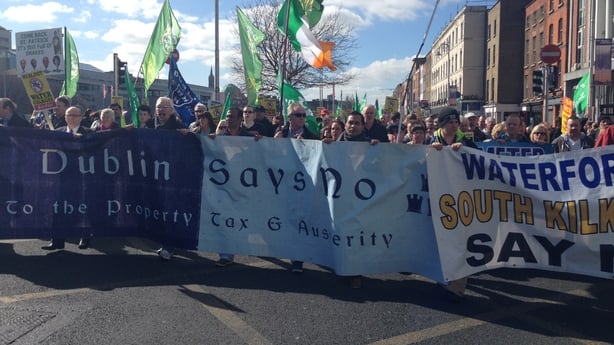 Three separate groups assembled at Connolly Station, Heuston Station and Merrion Square at 1pm and congregated at O'Connell Bridge.
Demonstrators then converged on O'Connell St, with banners from counties across Ireland as well as from many parts of Dublin visible.
Marchers on O'Connell street #waterprotest pic.twitter.com/sHwDPmgn5v

— Colman O'Sullivan (@colmanos) March 21, 2015
From a stage at the Parnell monument many of the speakers said the turnout for the protest showed the anti-water charges movement is not going away.
There were also calls on those present not to pay their water bills, the first of which will issue next month.
Speaking on RTÉ's Saturday with Claire Byrne, TD Paul Murphy said the protest was not "aimed so much at the Government, but aimed at the people".
He encouraged people to have confidence in the anti-water charge movement, which he said was still strong. 
They're already advertising the next event #waterprotest pic.twitter.com/4hOppeGHlG

— Colman O'Sullivan (@colmanos) March 21, 2015