Police staff, teachers and civil servants are among 264 suspected paedophiles who have been charged since the start of a major operation in the UK targeting people who access child abuse images online.
The National Crime Agency (NCA) disclosed that 745 suspects have been arrested under Operation Notarise, which launched just over a year ago.
Of those charged, 47 were employed in positions of trust or voluntary roles with access to children.
The NCA said 518 children have been "safeguarded" as a result of the operation.
Those charged include eight teachers, a former UK Border Agency officer, three civil servants and one government employee, a retired "police worker", three medical workers, a retired justice of the peace as well as a banker.
Around 10,000 devices have been seized by investigators.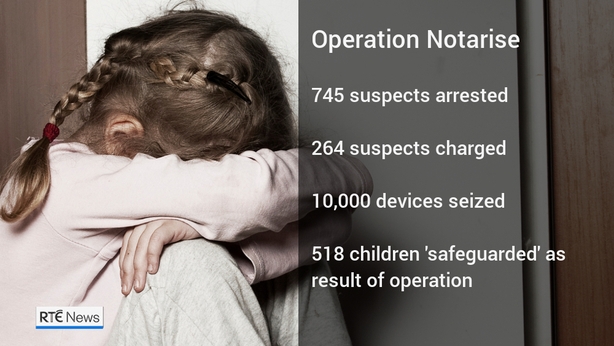 So far 16 suspects held as part of the operation have been given cautions for offences involving indecent images of children, the NCA revealed.
NCA Deputy Director General Phil Gormley said hundreds more suspects remain under investigation.
He said: "This is an ongoing and dynamic investigation so these figures will be out of date almost as soon as I've given them."
Mr Gormley said the scale of offending uncovered was "depressingly large".
It was also revealed that there have been 328 arrests linked to Project Spade, a Canada-led investigation into the buying and selling of child pornography.
Authorities have come under fire for failing to act quickly enough on information garnered from the operation.
NCA Director General Keith Bristow admitted today that "further difficult lessons" may lay ahead.
He said: "I've been pretty consistent in saying that whilst it happened before the NCA came along, in my judgment not everything that should have been done was done then.
"I couldn't be clearer that none of this is zero risk, I couldn't be clearer that there will be other cases of people who are in a position of trust - which is the most emotive part of this - that have not been identified quickly enough and may have continued to offend.
"I can assure you we are doing everything in our collective power to make sure we improve the response and it is improving significantly."
Mr Bristow said the threshold used to assess referrals of material has changed partly because of Spade.
The previous approach saw images judged on the basis of their severity but that has been changed so that the starting point is to assess the risk the individual who accesses the picture poses to children.
He said: "That doesn't mean there is zero risk. In my judgment there will be further difficult lessons as we understand more around child sexual exploitation."
Mr Bristow referred to the challenges posed by the likelihood of "further budget pressures" in the next parliament and highlighted the issue of how policing is shared across different law enforcement agencies.
He said: "Austerity doesn't seem to be something that is going to go away any time soon.
"My judgment is we need to give some serious thought to how the capabilities we have are distributed around the national, regional and local police forces.
"If there is going to be less overall resource available, how is it we ensure that the public are protected and part of that is about making sure the capabilities are distributed in a very rational way.
"This isn't an NCA land grab. There are some things we do at the moment that may be better done by local police forces or by regions.
"Equally, I suspect some of the high-end law enforcement capabilities that might be distributed elsewhere, probably the NCA ought to do more of that."