Tens of thousands of people have attended parades across Ireland to mark St Patrick's Day.
The largest event took place in Dublin where comedian Brendan O'Carroll led the 3,000 or so participants as Grand Marshal through the capital.
Crowds also attended events in Cork, Limerick, Galway, Waterford and many other towns and communities.
Large gatherings were also held in Belfast, Derry, Armagh, Newry, Enniskillen, Omagh and Downpatrick.
President Michael D Higgins and his wife Sabina attended the parade in Dublin.
The president said it was a day of pride for Irish people and those of Irish descent all over the world.
Mrs Higgins said it was a day for all to enjoy.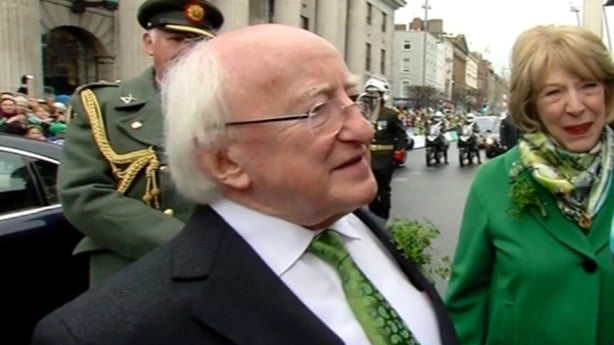 The theme of this year's St Patrick's Festival Parade was 'Celebrate Now' in recognition of Ireland's achievements in contemporary arts and culture.
It featured performers from home and abroad.
The parade started at Parnell Square before travelling to O'Connell Street, Westmoreland Street, Dame Street and Lord Edward Street - finishing up near St Patrick's Cathedral.
Taoiseach Enda Kenny held a number of engagements in Washington to mark St Patrick's Day.
He presented US President Barack Obama with the traditional bowl of shamrock at the White House and also held  a bilateral meeting with the US President. 
Read our blog of St. Patrick's Day as it happened.
Ireland's earliest St Patrick's Day parade took place in Dingle, Co Kerry at 6am.
Over 1,000 people joined the Dingle Fife and Drum Band for the annual march around the town.
The tradition dates back to the Land War of the 1880s when the authorities banned marching on St Patrick's Day between sunrise and sunset. 
The Dingle Fife and Drum Band played a selection of rousing marching tunes as they completed a circuit of the town.
Separately, 431 Irish soldiers are celebrating St Patrick's Day in 16 countries on different peace support missions across the globe. 
The Defence Forces said personnel deployed form Mali to Syria, Lebanon to Afghanistan, completed their duties first before celebrating the National Day. 
Over 180 troops serving with the largest Irish overseas contingent in South Lebanon were presented with shamrock by the Defence Forces Chief of Staff Lieutenant General Conor O'Boyle.  
138 soldiers in the Golan Heights also went on parade for the occasion.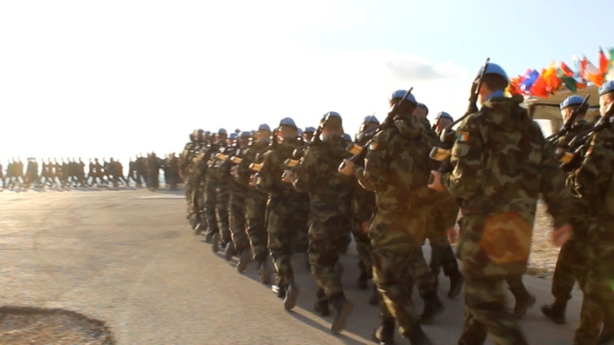 Smaller contingents held celebrations in the Congo, Sierra Leone, Western Sahara, Kosovo and Bosnia.
For the first time in its history, the Stormont Building, home of the Northern Ireland Assembly, was lit up green to mark the celebration.