Brazil's public prosecutor has formally accused the ruling Workers' Party treasurer Joao Vaccari of corruption, including money laundering, relating to the corruption scandal enveloping state-owned oil firm Petrobras.
Prosecutors say they have "ample proof" that Mr Vaccari solicited donations from former Petrobras services chief Renato Duque and executives at engineering firms accused of funneling money from the oil company, prosecutor Deltan Dallagnol said.
Mr Vaccari, one of the biggest names yet to fall under suspicion in a snowballing scandal that has gripped Brazil, allegedly received donations worth €1.1m at current rates.
The accusation comes a day after mass anti-government protests brought more than a million people on to the streets.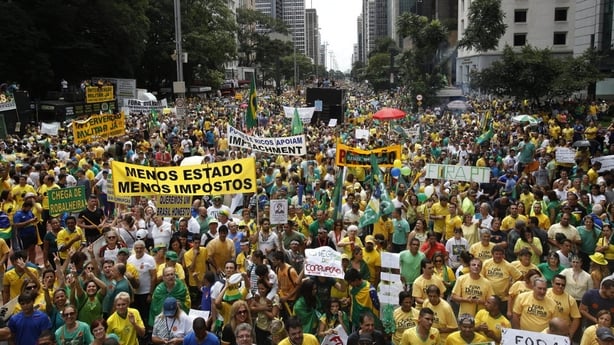 Ms Rousseff said her leftist government must talk to the people following the protests.
"The government has an obligation to open a dialogue" and act with "humility," Ms Rousseff told a news conference in Brasilia in her first public appearance following the huge demonstrations in 83 cities.
The corruption scheme comprised a 10-year program of kickbacks and political payoffs that allegedly siphoned off €3.6bn from Petrobras via inflated contracts.
Ms Rousseff, who was re-elected to a second term in October but whose poll ratings have since plunged, chaired the Petrobras board during much of the alleged corruption period.
She is not being investigated, but leaders of her ruling coalition in Congress have been named in an ever-widening probe, along with a who's who of Brazilian politicians.
So far, 13 senators, 22 deputies and two governors have been placed under investigation.